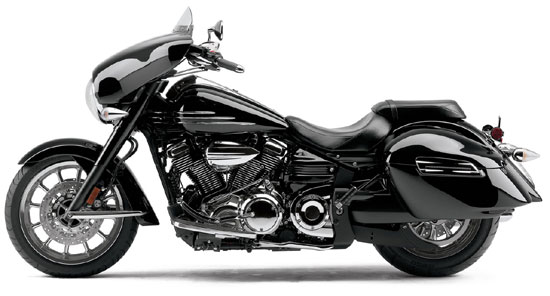 Back to 2010 Yamaha Motorcycle Index Page
Click photos to enlarge.
They make great desktop images.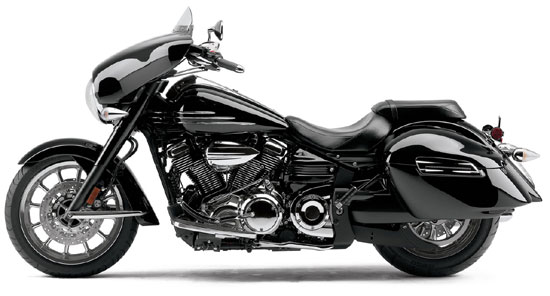 2010 Yamaha Stratoliner Deluxe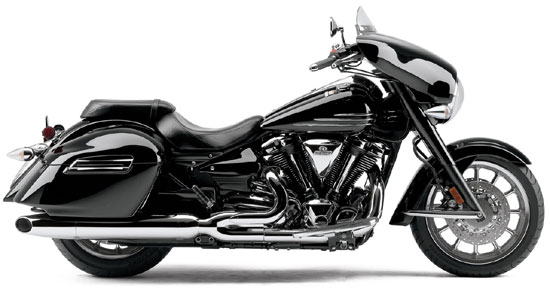 2010 Yamaha Stratoliner Deluxe

2010 Yamaha Stratoliner Deluxe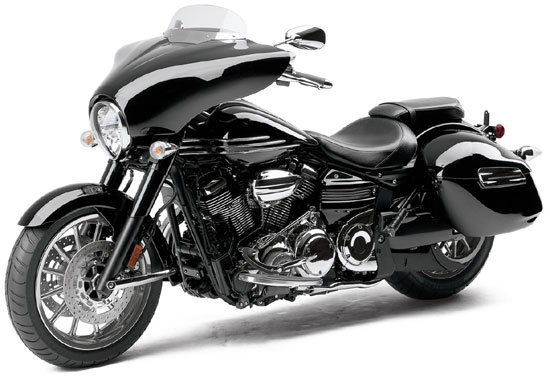 2010 Yamaha Stratoliner Deluxe


– 2010 Yamaha Stratoliner Deluxe

2010 Yamaha Stratoliner Deluxe
The new Stratoliner with a large, sculpted fairing, shorty windscreen and locking hardbags for ultimate style.
Introducing the new 2010 Yamaha Stratoliner Deluxe. Comfort, convenience and style are the best adjectives to describe this new casual full dress touring mount. From its authentic air cooled V-Twin engine with EFI to the sleek "New-classic" styling lines of the new fairing, the 2010 Stratoliner Deluxe is ready for some serious road time.
Crosstown or out of town.
Think all baggers are created equal? Think again. The new 2010 Yamaha Stratoliner Deluxe is one of the most powerful and stylish. Big, wind shearing fairing with Ipod jack, high fidelity speakers, and cool shorty windscreen; roomy color-matched locking, quick-release hard sidebags; powerful fuel injected 113-cubic-inch pushrod V-Twin engine; long and low aluminum frame for incredible handling; and a distinctive neo-streamline design. It's easy to see why the new 2010 Stratoliner Deluxe is in a class all its own.
Take our award winning Stratoliner and mix in the most popular touring amenities available today and you have the stylish new Stratoliner Deluxe.
Featuring a hard fairing with an aggressive mini windshield and colour matched hard bags, the Deluxe is ready to impress. Plug in your iPod, turn up the tunes with the handlebar mounted audio controller and let the miles fade into the distance.
Highlights:
Fuel Consumption * 16.5kpl/45mpg(Imp)
New audio ready fairing
New hard saddlebags

All new for 2010

" The Stratoliner Deluxe comes standard with a fairing that includes integrated speakers and an iPod® jack, plus a convenient, handlebar-mounted audio control system.

" A pair of large, color-matched, locking hard sidebags make the Stratoliner Deluxe excellent for long hauls and short trips, and offer even more capacity than the Stratoliner sidebags.

" Powerful and beautiful 113-cubic-inch (1854cc) air-cooled, pushrod V-twin produces great thrust at any speed.

" Twin-bore downdraft electronic fuel injection ensures optimum engine efficiency and throttle response in the widest possible range of conditions.

" Neo-streamline design gives the Stratoliner Deluxe a completely distinctive look and the fairing offers excellent weather protection.

" Long and low aluminum frame provides great looks and light handling unlike any other full-size cruiser.

" A sculpted seat makes the Stratoliner Deluxe an excellent place to sit on long rides.

" The Star® Accessories Catalog is packed full of high-quality parts that invite Star owners to fully express their individuality.
" New model based on the XV1900 Stratoliner platform

" Classic design hard fairing with mini windshield.

" Fairing amenities includes integrated speakers and pre-wired for easy connection of an iPod player.

" Convenient handlebar mounted audio controller.

" Beautifully styled, colour matched hard saddlebags.

Features and Benefits (USA):
Key Features:

Engine:

" 113-cubic-inch (1854cc) air-cooled, pushrod 48-degree V-twin has massive looks and performance.

" Four pushrod-activated valves and two spark plugs per cylinder. Provide optimum combustion efficiency.

" Ceramic-composite plated cylinders for superior heat dissipation with forged pistons cooled by oil jets. Provides outstanding reliability and longer engine life.

" 9.48:1 compression ratio and aggressive cam timing increase power output across the board.

" Computer-controlled, twin-bore, fuel injection monitors multiple engine parameters to calculate perfect mixture under all conditions; wide-angle 12-hole fuel injectors provide excellent atomization.

" Exhaust Ultimate Power valve (EXUP®) inside the two-into-one exhaust system boosts torque in the 2500-3000-rpm range.

" Special custom-machining of the cooling fin edges gives a jewel-like appearance to the engine as light hits it from different angles.

" 3300 rpm at 75 mph gives some idea of the Stratoliner Deluxe's power and cruisability. Maximum torque is reached at only 2500 rpm.

Chassis/Suspension:

" Aluminum frame is light, rigid, and requires few welds for a smooth, clean look. A light, Controlled-Fill swingarm casting complements the bike's streamline style and reduces unsprung weight for great handling.

" 46mm fork tubes serve up an excellent ride and a sweet appearance.

" A tucked-out-of-sight single shock with adjustable spring preload out back provides a smooth ride under varying loads.

" A thick, richly chromed 1.25-inch handlebar in chrome clamps carries the Stratoliner Deluxe's switchgear wiring on the inside.

" Flangeless, teardrop fuel tank carries a full 4.5 gallons of fuel.

" Polished, 12-spoke wheels evoke a thick spoke look, but carry modern tubeless radial tires; a 130/70-18 front and a fat, 190/60-17 rear for excellent grip.

" Front brake master cylinder with integrated lever operates a pair of 298mm front discs squeezed by strong monoblock calipers for excellent power, feel, and great style.

" Strong-and-light belt final drive routes power smoothly and efficiently to the rear wheel.

" Floating floorboards and an adjustable heel/toe shifter help provide a comfortable, low-effort ride.

Additional Features:

" Neo-streamline design gives the Stratoliner Deluxe a completely distinctive look and the fairing offers excellent weather protection.

" A sculpted seat makes the Stratoliner Deluxe an excellent place to sit on long rides. Improves long range comfort.

" Position beams within the main headlight housing provide great visibility.

" Left-thumb operated high-beam switch, and right-thumb activated accessory driving light switch for great visibility.

" Jewel-like fit and finish, and Star quality paint, chrome and attention to detail are evident all over the Stratoliner Deluxe.

" Classic clock-style instrumentation complement Stratoliner Deluxe's neo-retro look and contains analog speedometer, tachometer and fuel gauge, along with twin digital tripmeters and odometer.

" Bright multi-reflector headlight, LED taillight and amber turn signals behind clear lenses give a custom look.
Features and Benefits (Canada)
Engine:
" 1854cc, air-cooled, long-stroke, OHV, 4 valves per cylinder, 48°, V-twin powerplant produces massive torque and class leading acceleration.

" Traditional pushrod valve actuation keeps engine height down for a lower centre of gravity and ensures more uniform heat dissipation due to absence of a cam chain case. A lower centre of gravity helps to insure light, easy handling.

" Four-valve cylinder heads provide optimal breathing efficiency for great power delivery at all rpms. The two spark plugs per cylinder means faster, more complete combustion for maximum power output.

" Cylinder head design utilizes a pent roof combustion chamber design and features an oil passage near the exhaust valve seat to improve cooling and durability. The new heads also feature engine mounting points on each side of the head for increased chassis rigidity for exceptional handling.

" Large size valves increase engine horsepower and torque. The intake valves are 36mm in diameter while the exhaust valves are 31mm.

" Specially designed valve train includes short design intake and exhaust rocker arms that reduce inertia during high-rpm use.

" High performance spec twin, crankcase-mounted, high-lift cams ensure strong torque and class leading acceleration.

" Mechanical centrifugal decompression mechanism located in each of the exhaust camshafts insures fast, easy starts. This system reduces weight and complexity since no solenoid etc. is required.

" Hydraulic valve lifters driven by the twin camshafts deliver exceptional performance and significantly reduce maintenance and tune-up requirements.

" Large-diameter pistons are both durable and lightweight. Yamaha's exclusive "controlled forged construction" keeps the pistons light for faster response and reduce vibration and reciprocating mass. The pistons feature an Alumite coating to reduce friction.

" The dry sump oil lubrication system has been optimized to ensure maximum lubrication and cooling. Special oil nozzles direct oil at the bottom of the pistons to cool and lubricate them.

" Special "dual chamber" crankcase design. The front section is for the crank assembly while the rear is for the transmission. Two, 3-rotor high capacity oil pumps optimizes oil flow in each of the two main sections of the engine.

" Ceramic composite-plated cylinders provide uniform heat dissipation, reduce weight, reduce friction and increase cylinder service life.

" Cooling fin thickness and depth is optimized for maximum heat dissipation, thereby eliminating the need for liquid cooling, while maintaining that traditional, stylish air-cooled engine appearance.

" Optimized "damper-less" crankshaft allows the rider to feel the directness of the engine's power. For each rotation of the rear wheel, in 5th gear, the crank spins 3.14 times providing an outstanding rear wheel driving force feeling to the rider.

" Compact design dual counterbalancers reduce vibration for exceptional rider and passenger comfort. The balancers are positioned on either end of the crankshaft to vibration.

" "Tri-axis" crankcase layout means the crankshaft, main axle and drive shaft are specially arranged to minimize the size of the engine cases and centralize mass.

" 43mm, twin-bore, downdraft throttle body fuel injection (FI) with throttle position sensor (TPS) ensures great throttle response and maximum power throughout the rev range. This system is a "closed loop" system since it utilizes an oxygen sensor in the exhaust to monitor the concentration of oxygen and adjust the FI system if necessary. The benefits of fuel injection include chokeless operation, increased fuel economy, instant throttle response and reduced emissions.

" The 12-hole, 2-directional Mikuni fuel injectors produce a wide spray pattern for complete cylinder filling. This special spray pattern combined with the dual spark plug heads ensure complete combustion for maximum power. An Idle Speed Control (ISC) has been adopted to ensure stable idling performance.

" High capacity electronic fuel pump is located in the sub tank under the seat.

" State-of-the-art Electronic Control Unit (ECU) ensures precisely metered fuel delivery and optimal ignition spark control using 3D transistorized coil ignition mapping for each cylinder.

" 3.5 litre dual inlet air filter box is located under the tank. There are intake ducts at the front and rear of the air box for maximum breathing efficiency. This design not only maximizes air flow but also reduces weight. A viscous paper type air filter is used.

" Air Induction System (AIS) injects fresh oxygen at the exhaust port to insure complete combustion thereby reducing harmful exhaust emissions (HC & CO) while a special air cut valve reduces backfiring when decelerating or coasting off throttle.

" High-performance, 2-into-1-exhaust system features large size header pipes for maximum flow. The single muffler contains a 3-way honey comb matrix catalyzer to reduce harmful exhaust emissions. The stylish muffler helps to boost torque and horsepower while producing a throaty, V-twin growl.

" The exhaust system also features a lightweight titanium EXUP exhaust power valve most commonly found on high performance sport bikes. The EXUP system not only provides crisp throttle response and eliminates "flat spots" but also improves acceleration and reduces fuel consumption and harmful emissions.

" Dry sump lubrication system means a more compact engine design since the oil tank is not part of the engine, which lowers the centre of gravity for great handling and a light feel. A handy, spin-on oil filter means fast, easy oil changes.

" Frame mounted oil cooler is a first on a Yamaha cruiser. The cooler maintains consistent oil temperatures for optimum cooling and lubrication of this massive V-twin powerplant.

" Smooth-shifting, 5-speed transmission features optimized gear ratios for strong acceleration and relaxed cruising at highway speeds.

" 2-piece heel-and-toe shifter adds versatility and enhances the overall cruising experience. The 2-piece design allows the rider to individually adjust front and rear portions to suit foot size or remove the rear section if not desired.

" Heavy duty 10 plate clutch is designed to compliment engine power characteristics. This clutch is operated by a hydraulic master cylinder instead of a cable. The hydraulic clutch design is low maintenance, self adjusting and very stylish.

" Low-maintenance belt drive system not only significantly reduces maintenance but is also clean and quiet. A belt drive system uses less power than a shaft drive and reduces unsprung weight for great rear suspension performance.

Chassis/Suspension

" Aluminium, die cast, double-cradle frame reduces weight, while balancing strength and rigidity. The critical head pipe area features box type construction for additional strength. The frame not provides excellent handling characteristics but also compliments the beautiful flowing lines of the rest of the chassis and bodywork. The engine is rigidly mounted in the frame for added rigidity.

" Lightweight C.F. die cast aluminium swingarm offers superb rigidity and ensures excellent stability and handling. The C.F. die casting process allows for beautiful shapes that are both strong and light. This new swingarm is a fashion statement in aluminium and compliments the rest of the Stratoliner's eye catching styling.

" Rigid 46mm front fork offers 130mm (5.1″) of wheel travel for exceptionally stable handling and great ride comfort. The fork features "slash cut" large diameter blacked-out fork shrouds to enhance the "neo-streamliner" styling.

" Beefy, cast aluminium, top and bottom triple clamps help increase fork rigidity and reduce weight.

" Link rear suspension features a spring preload adjustable single rear shock delivering outstanding ride comfort and precise handling. The shock is horizontally positioned under the engine for a lower center of gravity and is hidden to provide that classic "hardtail" look. Rear wheel travel is 110mm (4.3″).

" Powerful dual 298mm floating front discs are squeezed by ultra rigid, 4-piston, monoblock calipers provide sport-bike spec stopping power. Providing exceptional stopping power, these brakes also provide great lever feel and feedback.

" Huge 320mm rear disc is squeezed by a single piston caliper mounted below the swingarm for a lower center of gravity and that customized "hidden look".

" Lightweight polished 12 spoke cast aluminium mag wheels reduce weight and enhance handling and styling. The front wheel is MT 4.00×18 while the rear wheel is a MT 5.50×17. Both are fitted with tubeless radial tires that provide excellent traction and reduced rolling resistance.

" Two-piece seat design features a wide, flat profile for excellent rider comfort. The passenger seat features a small lip at the rear of the seat providing a secure feeling for the passenger.

" Teardrop shaped rider floorboards with floating rubber inserts that reduce vibration.

" 51w /55w high efficiency Irradiation headlight. This is a 2 bulb design, one for low beam and one for high beam. The unique headlight body compliments the "neo-streamline" styling.

" Steel fenders front and rear can be easily customized or painted to suit personal preferences. The front fender features a classic chromed fender stay.

" Flangeless teardrop style fuel tank. This is the first flangeless tank used on a Yamaha cruiser. There are no welds visible, providing that custom look. The total fuel capacity is 17 litres thanks to a 3 litre sub tank located low in the frame below the seat. A high pressure electric fuel pump with quick connect fittings provide fuel to the EFI system.

" Large 1.25″ diameter handlebars. All electrical wires are hidden inside the handle bars for that clean custom look. Selected meter functions can be controlled by buttons on the back of RHS switch.

" Fuel tank mounted instrument panel. This panel has the classic "clock" image face. Just below the large analogue speedo is an analogue tach and fuel gauge. Other functions include digital odometer, dual tripmeters, fuel reserve trip counter and clock. Background illumination can be adjusted to suit personal preferences.

" Classic design hard fairing with mini windshield provides a unique styling cue while offering great wind and weather protection. This handlebar mounted fairing includes integrated speakers and is pre-wired for easy connection of an Ipod player.

" Convenient handlebar mounted audio controller.

" Beautifully styled, colour matched hard saddlebags provide ample storage for causal weekend tours.


Details

" Industry-leading, Star Family fit and finish creates a machine as stunning as it is powerful.

" Extra wide, brake and clutch levers provide that quality feel and look.

" Highly visible, clear look LED taillight

" Self-canceling turn signals (15 seconds or 150 meters) with stylish clear lenses.

" Stylish 3D speed lines on the fuel tank

" Low-fuel warning light

" Low maintenance sealed battery

" Fork lock integrated into main ignition switch for extra convenience

" Numerous blacked out components including: forks, handlebar switches, selected engine covers
2010 Yamaha Stratoliner Deluxe – USA Specifications
MSRP* $17,490 (Raven) Available from January 2010


Engine
Type 113-cubic-inch (1854cc) air-cooled 48° V-twin; pushrod OHV, 4 valves/cylinder

Bore x Stroke 100mm x 118mm

Compression Ratio 9.48:1

Fuel Delivery Twin-Bore electronic fuel injection;throttle position sensor

Ignition TCI: Transistor Controlled Ignition

Transmission 5-speed; multiplate wet clutch

Final Drive Belt


Chassis
Frame Aluminum

Suspension/Front 46mm telescopic fork; adjustable preload, 5.1-in travel

Suspension/Rear Single shock; 4.3-in travel

Brakes/Front Dual hydraulic disc, 298mm

Brakes/Rear Hydraulic disc, 320mm

Tires/Front 130/70-18

Tires/Rear 190/60-17

Wheels 12-spoke cast


Dimensions
Length 101.6 in

Width 43.3 in

Height 59.6 in

Seat Height 27.8 in

Wheelbase 67.5 in

Ground Clearance 6.1 in

Fuel Capacity 4.5 gal

Fuel Economy** N/A

Wet Weight N/A


Other
Warranty 1 Year (Limited Factory Warranty)







2010 Yamaha Stratoliner Deluxe – Canada Specifications
MSRP: $22,999 CDN
Engine Air-cooled, OHV, 8-valve, 48°, V-twin w/EFI
Displacement 1,854cc
Bore and Stroke 100 x 118 mm
Compression Ratio 9.5:1
Maximum Torque 17.1 kg-m (123.7 ft-lbs.) @ 2,500rpm
Fuel Delivery Dual 43mm cross bore downdraft throttle body F.I.
Estimated Fuel Consumption* 16.5kpl / 46mpg (Imp)
Lubrication Dry sump / 5.2 litres
Ignition / Starting Digital TCI/ Electric
Transmission 5-speed
Final Drive Belt

Suspension (Front) 46 mm fork
Suspension (Rear) Adj. link single shocks
Brakes (Front) Dual 298 mm disc
Brakes (Rear) 320 mm disc
Tires (Front) 130/70R18
Tires (Rear) 190/60R17

Length 2,580 mm (101.6″)
Wheelbase 1,715 mm (67.5″)
Ground Clearance 155 mm (6.1″)
Seat Height 705 mm (27.8″)
Fuel Capacity 17 litres (3.7 Imp. gal.)
Wet Weight approx. 368kg (810 lb)

Colour(s) Metallic Black
* Fuel economy estimates are based on US EPA exhaust emission certification data obtained by Yamaha and converted into Canadian measurements. Your actual mileage will vary depending on road condition, how you ride, maintain your vehicle, accessories, cargo and operator/passenger weight.

Specifications, appearance, and price of product are subject to change without notice.
* MSRP does not include freight, PDI (Pre Delivery Inspection), pre-rigging (boats), or taxes. Dealer may sell for less.