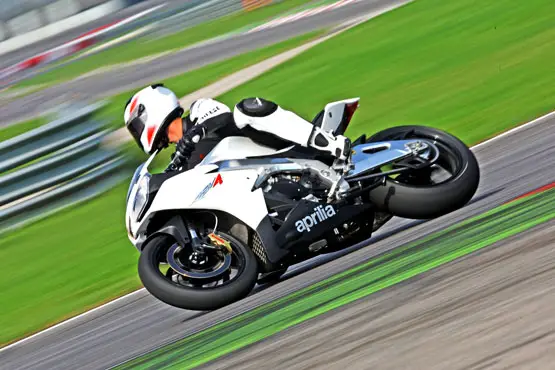 Back to 2011 Aprilia Motorcycle Index Page
Click photos to enlarge.
They make great desktop images.
– 2011 Aprilia RSV4 R

2011 Aprilia RSV4 R
Aprilia RSV4 R brings the technology and unique character of the V4 that redefined sports performance on the track within the reach of all enthusiasts.

With the advent of the R version, the Aprilia RSV4 – the bike that took the world by storm and set new standards for sports performance, both on the road and on the circuits of the SBK World Championship – is now accessible to an even broader group of enthusiasts.

2011 Aprilia RSV4 R Features
RSV4 R maintains the same features that make the Aprilia RSV4 project so unique:

the narrow 180 hp V4 engine, Ride-by-Wire integrated electronic management, dual injectors, race bred frame and suspension and extreme compactness.
September 25th, 2009 – Aprilia officially presents the new RSV4 R against the backdrop of the twelfth round of the World Superbike Championship.

Christened by Max Biaggi, the Aprilia RSV4 R is the latest product of the project that has brought Aprilia back to the pinnacle of the motorcycle world, both on the world's circuits and on the road.

A revolutionary project – starting from a blank piece of paper and drawing from the marque's unparalleled success on the racetrack – that led to the inception of the RSV4 SBK, the bike that Biaggi rode straight to victory in the World Superbike Championship, and a production bike which, in its Factory guise dedicated to circuit racing professionals, redefined the limits for the supersports genre.

Aprilia now presents the RSV4 R, a bike born from the same project in a new, more accessible guise, conceived to bring this fantastic machine within reach of expert riders who want to experience its technological supremacy.

To offer you the same sensations as you carve a perfect line from apex to apex that Max Biaggi experiences on the track in the World Superbike Championship, the Aprilia RSV4 R maintains all the features that make the superbike project so unique:

– COMPACTNESS: Minimised dimensions and weight, a 65° V4 engine as narrow as a twin, a chassis architecture defined around the engine and an effective but essential fairing.
– ENGINE PERFORMANCE: Class leading power, the torque of a twin, combined with the smooth power delivery and flexibility of a four cylinder, and dual injectors per cylinder. Technical and architectural solutions worthy of a genuine race prototype.
– ELECTRONICS: Second generation Ride by Wire with multiple maps (track, sport and road).
– CHASSIS ARCHITECTURE: Class beating solutions true to Aprilia traditions. The aluminium frame is built around the engine for maximum effectiveness both on the track and on the road. Suspension is completely adjustable.
– ITALIAN DESIGN: The unique style of the RSV4 R is the product of a painstaking design process and was conceived and developed in Aprilia's own design centre. The styling solutions enhance the bike's class beating compactness, which is further emphasised by the spectacular, ultra-short tail fairing.
With 33 world championship titles (with number 34 – the 2009 World Constructor's Championship in the 125 cc class – already a mathematical certainty), 271 MotoGP World Championship wins and 9 Superbike wins under its belt, and with an unparalleled wealth of expertise and experience, Aprilia embarked on the RSV4 project with a single goal: to build the fastest bike on the track.

The engine of the RSV4 R is the most innovative and powerful unit ever built by Aprilia and is one of the highest performance engines available today: It is a super compact, 999.6 cc 65° narrow V-four cylinder engine designed for maximum power (180 hp), where cutting edge powerplant engineering comes together with the most advanced electronic engine management solutions. The V4 employs multimap Ride by Wire technology in conjunction with a state of the art electronic injection system with dual injectors, a solution opening up new frontiers for engine management, with practically infinite possibilities for development in terms of power delivery control. The RSV4 boasts a unique engine, the only V4 available today powering a roadgoing hypersports bike, further emphasising the exclusiveness of the RSV4 project.
Aprilia RSV4 R is a pure hypersports bike created to be ridden on the track. Both the frame and swingarm are made from aluminium using the same construction technology applied in GP machines, with variable thickness cast elements mated to pressed elements. The suspension is completely adjustable, the Brembo brakes boast monobloc callipers and radial calliper mounts and the wheels are made from aluminium.

The unique design, with its ultra-compact dimensions, essential fairing (showcasing the mechanicals of the RSV4 R in all their visual glory) and triple headlight are hallmark traits identifying the RSV4 as the world's most exclusive motorcycle.

---
2011 Aprilia RSV4 R – Specifications
American MSRP: $15,999 USD
Canadian MSRP: $19,495 CDN
Engine type Aprilia longitudinal 65° V-4 cylinder, 4-stroke, liquid cooling system, double overhead camshafts (DOHC), four valves per cylinder
Bore x stroke 78 x 52.3 mm
Total engine capacity 999.6 cc
Compression ratio 13:1
Maximum power at crankshaft 180 CV (132.4 kW) at 12,500 rpm
Maximum torque at crankshaft 115 Nm at 10,000 rpm
Fuel system Airbox with front dynamic air intakes.
4 Weber-Marelli 48-mm throttle bodies with 8 injectors and latest generation Rideby-Wire engine management. Choice of three different engine maps selectable by the rider with bike in motion: T (Track), S (Sport), R (Road)
Ignition Magneti Marelli digital electronic ignition system integrated in engine control system, with one spark plug per cylinder and "stick-coil"-type coils
Exhaust system 4 into 2 into 1 layout, single lambda probe, lateral single silencer with engine control unit-controlled butterfly valve and integrated trivalent catalytic converter (Euro 3)
Lubrication Wet sump lubrication system with oil radiator and two oil pumps (lubrication and cooling)
Clutch Multi-disc oil-bath, with mechanical slipper system
Frame Aluminium dual spar frame with cast and pressed elements.
Sachs steering damper
Front suspension Upside-down Showa fork with .. 43 mm stanchions. Aluminium radial calliper mounts. Completely adjustable spring preload and hydraulic compression and rebound damping. Wheel travel 120 mm
Rear suspension Double braced aluminium swingarm; mixed low thickness and sheet casting technology.
Sachs piggy back monoshock with completely adjustable: spring preload, wheelbase, hydraulic compression and rebound damping. APS progressive linkage. Wheel travel 130 mm
Front: Dual 320-mm diameter floating stainless steel disc with lightweight stainless steel rotor and aluminium flange with 6 pins. Brembo monobloc radial callipers with 4 .. 34-mm opposite. Sintered pads. Radial pump and metal braided brake hose

Brakes
Rear: 220-mm diameter disc; Brembo calliper with two .. 32 mm isolated pistons.
Sintered pads. Pump with integrated tank and metal braided hose
Rims Front: Aluminium alloy with 6 split spokes – 3.5"X17"
Rear: Aluminium alloy with 5 split spokes – 6"X17"
Tyres Radial tubeless.
Front: 120/70 ZR 17
Rear: 190/55 ZR 17 (alternative: 190/50 ZR 17)
Dimensions Max. length: 2040 mm
Max. width: 735 mm (at the handlebar)
Max. height: 1120 mm
Min. height from the ground: 130 mm
Saddle height: 845 mm
Centre to centre distance: 1420 mm
Trail: 105 mm
Steering angle: 24.5°
Kerb weight 184 kg *
Tank 17 litres (4-litre reserve included)
*Kerb weight, without battery and fluids.
---
2011 Aprilia RSV4 R – Europe Specifications
United Kingdom MSRP: £See Dealer for pricing
TBA