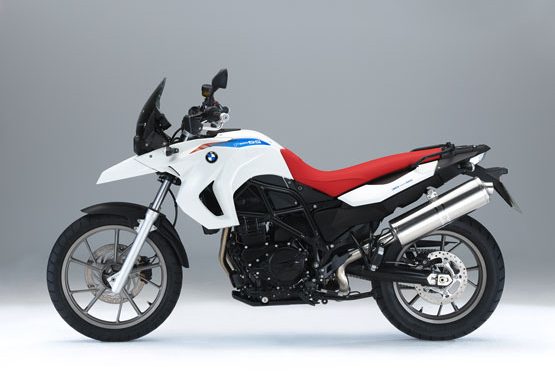 Back to 2011 BMW Motorcycle Index Page
Click photos to enlarge.
They make great desktop images.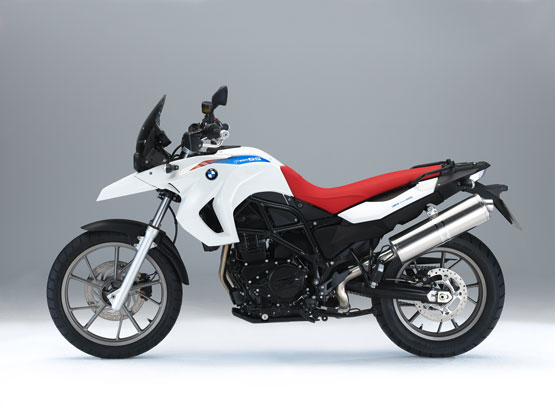 2011 BMW F650GS 30 Years GS Special Model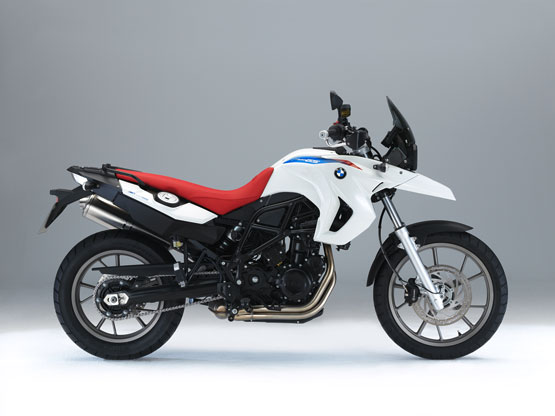 2011 BMW F650GS 30 Years GS Special Model
– 2011 BMW F650GS 30 Years GS Special Model

2011 BMW F650GS 30 Years GS Special Model
The tenth BMW Motorrad Days very much centred on the 30-year anniversary of the BMW GS models. There is virtually no other motorcycle that has shaped the character of the brand BMW Motorrad like the "GS". In September 1980, BMW Motorrad entered entirely new territory with this model which founded the segment of the large travel enduro bikes. The bold venture certainly paid off: the GS now is the top-selling motorcycle in its class in Europe.
At a press conference at BMW Motorrad Days, BMW Motorrad took a look back at this success story of the last three decades and presented famous personalities, each of whom has written their very own chapter of GS history.
"At a difficult time, the GS models not only gave BMW Motorrad fresh growth momentum but above all a future," said Hendrik von Kuenheim, General Director BMW Motorrad in his welcome speech. "BMW GS motorcycles have since become the ultimate symbol of 'freedom on two wheels' – an integral part of our model range… Our concept has often been copied, but never equalled."
Key personalities tell of their experiences.
As Karl H. Gerlinger reminisced, Head of BMW Motorrad GmbH in 1980 and responsible for marketing and sales at the time: "There was a lot at stake for us because Eberhard von Kuenheim had given us the clear brief either to get BMW Motorrad back on track for success or else sell it. Thanks to the efforts of our development engineer at the time, Laszlo Peres, we were able to bring out the G/S in just 18 months – and it was a motorcycle concept which was absolutely crazy for that time."
Laszlo Peres, former technician in the BMW testing department – not only an engineer but also an off-road racer himself at the time, added: "I would never have thought that this machine, based on a motor racing prototype, would be so successful. But I'm still proud of it to this day!" So the GS has a lot of motor racing in its genes. For this reason, Gerlinger and Peres were bold enough to enter the GS in off-road racing, too. The Paris-Dakar Rallye, first held in 1979, was a perfect opportunity to draw attention to the new motorcycle concept.
Frenchman Hubert Auriol clinched his first overall victory as early as 1981, going on to repeat the triumph in 1983. Auriol reminisced: "The first Dakar victory on an almost serial production bike was a surprise for everyone, especially since none of us had any experience of the desert. We were a small team, we had to improvise a lot and we didn't have the technical support there is today. In those days it was pure adventure!"
Jutta Kleinschmidt, who won the women's category of the Dakar Rallye on a GS in 1992, also recalled her experiences. She still owns the Dakar bike she was given by BMW Motorrad at the time and was keen to point out that the GS is still the perfect machine for the desert and adventurous trips.
British actor and author Charley Boorman also associates the Dakar Rallye and adventure trips with the GS. In 2004 he rode a R 1150 from London to New York with Ewan McGregor in 115 days, covering a total of 30,395 km. In 2006 he entered the Dakar Rallye. "For me it was a dream comes true. These trips on the GS changed my life!" he said.
Right on time for the anniversary, BMW Motorrad also presented the BMW Special Models "30 Years GS".
A draw was held for two of these machines: Georg Opalka from Ingolstadt won a BMW F 800 GS "30 Years GS" on Friday evening, while Wolfgang Kracker from Salzburg was pleased to receive a BMW R 1200 GS "30 Years GS" on Saturday evening.
Award ceremony for outstanding GS models.
The event program of the tenth BMW Motorrad Days included a competition in three classes organised by BMW Motorrad. Awards went to the oldest GS, the GS with the highest mileage and the most impressive GS creation involving visual or technical changes.
The three winners in each category received a cup and vouchers for BMW Motorrad Rider's Equipment worth 500 EUR, 250 EUR and 100 EUR. The cup for the oldest GS in its original state went to Johann Filleböck, owner of the 431st serial production BMW R 80 G/S. The runner-up was Simon Bender, whose BMW R 80 G/S with the chassis number 1348 dates back to 1980. Stefan Emslander won third prize for his 1981 BMW R 80 G/S.
A woman was one step ahead among the bikes with the highest mileage. Over a period of 13 years, Heidi Lupko has covered a record-breaking 525,177 kilometres on her BMW R 80 GS Basic. She has travelled through virtually all countries in Europe and South America – and was never once let down by her motorcycle. Second place in this class went to Carlo de Sinnica, who has managed a remarkable 357,405 kilometres on his BMW R 80 G/S. Daniel Zimmermann finished third: the speedometer of his BMW R 80 G/S showed an impressive 286,016 kilometres.
Choosing the most unusual GS creation was more difficult. Celebrity jury members Hubert Auriol, Charley Boorman, Karl Gerlinger, Jutta Kleinschmidt and Laszlo Peres finally awarded first prize to Ulrich Beppler's GS, which was upgraded with exquisite components such as carbon parts. The second and third prizes went to Ralf Fillemann and Manfred Paul.
Rarities from the BMW Classic treasure trove.
BMW Classic put on a special exhibition in the exhibition area featuring milestones from three decades of GS which traced the success story of the then new concept of the large travel enduro.
What is more, a special magazine entitled "BMW Classic live SPECIAL – 30 Years of GS" was published, providing 64 pages of information on the background and historical development of this pioneering bike. It is available in German, English, French, Italian and Japanese from authorised BMW Motorrad dealers and costs five EUR in Germany.
How would you like to ride a bike which allows you to do virtually anything? A bike that takes you from your motorcycling lessons to your first tour, from winding mountain passes to stretches of motorway and gravel tracks? A bike that is as economical as you would expect of a modern machine but always provides pure riding fun? And one which makes you look good whether you are five feet or six feet tall? If so, we proudly present the new entry-level bike for the BMW Motorrad premium class. Welcome to one of the most state-of-the-art 2-cylinder machines, with 71 bhp and full torque across the entire engine speed range. With a torsionally stiff space frame which not only looks good but also allows plenty of space for the many extra highlights such as the large airbox and the fuel tank under the seat. The cast iron wheels with moderate dimensions are ideal both for city cruising and for covering lengthy straights at speed. State-of-the-art ABS is of course available as an optional extra. And with bright, elegant colours you will be an eye-catcher at every break – weather on the mountain pass or in front of the ice cream parlour. It gets you everywhere – simply unstoppable! How about a quick ride?
The 2011 F 650 GS offers more power and more thrills per mile than ever before in the form of a 71 hp, torque-filled, twin cylinder engine. From touring, to off-road exploring, to sporty handling on the tarmac, this middleweight machine, based on the much anticipated F 800 GS, does anything and everything the ambitious motorcyclist could ever want. With a rigid steel tube trellis frame, it's sturdy. With a double-sided swing arm and chain drive, it's reliable. And with a low seat height and narrow design, it's ideal for darting through trees or traffic. Cast aluminum wheels and telescopic forks keep the ride smooth and precise at all times. Throw in disengageable ABS and even Tire Pressure Monitoring as options, and you get a road-hungry, enduro-styled motorcycle that can tackle anything in its path and beg for more.

---
2011 BMW F650GS 30 Years GS Special Model – Specifications
USA MSRP: See Dealer for Current Pricing
Canada MSRP: See Dealer for Current Pricing
Engine

Type Water-cooled, 2-cylinder, 4-stroke, four valves per cylinder, two overhead camshafts, dry sump lubrication

Bore x stroke 82 mm x 75.6 mm

Capacity 798 cc

Rated output 71 hp (52 kW) at 7,000 rpm

Max. torque 55 lb/ft (75 Nm) at 4,500 rpm

Compression ratio 12.0 : 1

Mixture control / engine management Electronic intake pipe injection / digital engine management (BMS-K)

Emission control Closed-loop 3-way catalytic converter, emission standard EU-3



Performance / fuel consumption

Maximum speed Approx. 115 mph (185 km/h)

Fuel consumption per 100 km at constant 90 km/h 3.7 l

Fuel consumption per 100 km at constant 120 km/h 5.2 l

Fuel type Unleaded Regular



Electrical system

Alternator three-phase alternator 400 W

Battery 12 V / 14 Ah, maintenance-free

Power transmission

Clutch Multiple-disc clutch in oil bath, mechanically operated

Gearbox Constant mesh 6-speed gearbox integrated into crankcase


Drive Endless O-ring chain with shock damping in rear wheel hub



Chassis / brakes

Frame Tubular steel space frame, load-bearing engine

Front wheel location / suspension Telescopic fork, Ø 41 mm

Rear wheel location / suspension Cast aluminium dual swing arm, central spring strut, spring pre-load hydraulically adjustable (continuously variable) at handwheel, rebound damping adjustable

Suspension travel front / rear 7.1 inches (180 mm) / 6.7 inches (170 mm)

Wheelbase 62.0 inches (1575 mm)

Castor 3.6 inches (92 mm)

Steering head angle 64°

Wheels Cast aluminium

Rim, front 2.50 x 19″

Rim, rear 3.50 x 17″

Tyres, front 110/80 – 19 tubeless

Tyres, rear 140/80 – 17 tubeless

Brake, front Single disc, diameter 11.8 inches (300 mm), double-piston floating caliper

Brake, rear Single disc, diameter 10.4 inches (265 mm), single-piston floating caliper

ABS Optional extra: BMW Motorrad ABS (can be switched off)

Dimensions / weights

Length 89.7 inches (2280 mm)

Width (incl. mirrors) 33.2 inches (890 mm)

Height (excl. mirrors) 48.8 inches (1240 mm)

Seat height, unladen weight 32.3 inches (820 mm) (low seat: 31.3 inches [790 mm]; lowered suspension: 30.1 inches [765 mm])

Inner leg curve, unladen weight 71.7 inches (1820 mm) (low seat: 70.1 inches [1780 mm]; lowered suspension: 67.3 inches [1,710 mm])

Unladen weight, road ready, fully fuelled 1) 439 lbs (199 kg)

Dry weight 2) 377 lbs (171 kg)

Permitted total weight 952 lbs (432 kg) (with lowered suspension 769 lbs [349 kg])

Payload (with standard equipment) 522 lbs (237 kg) (with lowered suspension 331 lbs [150 kg])

Usable tank volume 4.2 U.S. gallons

Reserve approx. 1 U.S. gallon

Technical data relate to the unladen weight (DIN)

1) According to guideline 93/93/EWG with all fluids, fuelled with at least 90% of usable tank volume
2) Unladen weight without fluids