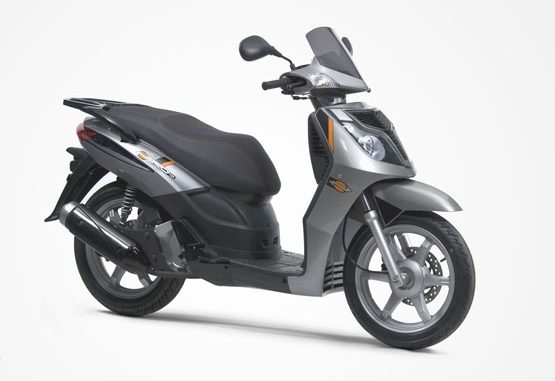 Back to 2011 Benelli Motorcycle Index Page
Click photos to enlarge.
They make great desktop images.
– 2011 Benelli Caffenero 125

2011 Benelli Caffenero 125
Caffénero, a scooter with classical lines, is the ideal for the urban mobility.

MOTOBI CaffèNero is synonimous of absolute technical and aesthetical value at a price which is among the lowest in its category.

The double front light and the integrated indicators give an extremely compact and aggressive character to Caffénero.

The flat footrest and the 16" wheels provide a great riding smoothness in the urban traffic.

The front disc DIA 240mm, in addition to the rear disc of the same diameter, allow a reduced braking space and greater safety for the user.

The vehicle is available with rear bag in the same colour of the scooter included in the final price.

The engine of CaffèNero is available in two displacements (125 and 150) and both versions are equipped with liquid cooling system.

CaffèNero is presented in the colours: grey. Other colurs to be defined;

Availability: February 2011
---
2011 Benelli Caffenero 125 – Specifications
American MSRP: See your local Benelli dealer for pricing
Canadian MSRP: See your local Benelli dealer for pricing
MOTORE / ENGINE

TIPO
Monocilindrico, 4 tempi, raffreddamento a liquido, 2 valvole, singolo
asse a camme in testa
TYPE
Single cylinder, 4 stroke, liquid cooled, 2 valves, single overhead
camshaft

CILINDRATA
124,6 c.c.
DISPLACEMENT

ALESAGGIO x CORSA
52,4 x 57,8 mm
BORE x STROKE

RAPPORTO DI COMPRESSIONE
10,4:1
COMPRESSION RATIO

POTENZA MASSIMA
8,9 kW (12,1 CV) @ 8250 rpm
RATED OUTPUT

COPPIA MASSIMA
12,5 Nm (1,27 kgm) @ 6000 rpm
MAX. TORQUE

ALIMENTAZIONE Carburatore ̠26 mm РPD26JE
FUEL SUPPLY Carburetor ̠26 mm РPD26JE

LUBRIFICAZIONE A carter umido
LUBRICATION Wet crankcase

CAPACITA' TOTALE 1000c.c. (Motore/Engine)
120c.c. (Scatola OIL CAPACITY riduttore/Gearbox)
IMPIANTO DI SCARICO Con catalizzatore

EXHAUST SYSTEM With catalytic converter
OMOLOGAZIONE
Euro 3
CERTIFICATION

FRIZIONE Automatica centrifuga a secco
CLUTCH Automatic centrifugal dry clutch

TRASMISSIONE PRIMARIA Cinghia trapezoidale
PRIMARY DRIVE V belt
TRASMISSIONE FINALE Riduttore ad ingranaggi in bagno d'olio
FINAL DRIVE Gears in oil bath

IMPIANTO ELETTRICO / ELECTRIC EQUIPMENT

ACCENSIONE
CDI
IGNITION

CANDELA
NGK CR8E
SPARK PLUG

AVVIAMENTO ELETTRICO
STARTING ELECTRIC

CICLISTICA / CHASSIS

TELAIO Monoculla sdoppiata in tubi d'acciaio ad alta resistenza
FRAME Split single cradle frame in high tensile strength steel tube

SOSPENSIONE ANTERIORE Forcella telescopica idraulica con steli ø33 mm
FRONT SUSPENSION Hydraulic telescopic fork ø33 mm

ESCURSIONE SOSP. ANTERIORE
70 mm
FRONT SUSPENSION STROKE

SOSPENSIONE POSTERIORE Motore oscillante con doppio ammortizzatore idraulico
REAR SUSPENSION Floating engine with double hydraulic rear dumper

ESCURSIONE SOSP.POSTERIORE
50mm
REAR SUSPENSION STROKE

FRENO ANTERIORE Disco in acciaio ø240 mm con pinza flottante a 2 pistoncini
FRONT BRAKE Steel disk ø240 mm with floating double piston caliper

FRENO POSTERIORE Disco in acciaio ø240 mm con pinza flottante a 2 pistoncini
REAR BRAKE Steel disk ø240 mm with floating double piston caliper

TIPO CERCHIO ANTERIORE In lega di alluminio
FRONT RIM TYPE Aluminium alloy

DIMENSIONI CERCHIO ANTERIORE
2,50″x16″
FRONT RIM DIMENSIONS

TIPO CERCHIO POSTERIORE In lega di alluminio
REAR RIM TYPE Aluminium alloy

DIMENSIONE CERCHIO POSTERIORE
2,75″x16″
REAR RIM DIMENSION

PNEUMATICO ANTERIORE
100/80 – 16 50S
FRONT TYRE

PNEUMATICO POSTERIORE
110/80 – 16 60S (120/80 – 16 60P)
REAR TYRE

DIMENSIONI / DIMENSIONS

LUNGHEZZA
2070 mm
LENGHT

LARGHEZZA SENZA SPECCHI
715 mm
WIDHT EXCLUDING MIRRORS

ALTEZZA SENZA SPECCHI
1260 mm
HEIGHT EXCLUDING MIRRORS

ALTEZZA SELLA
800 mm
SEAT HEIGHT

INTERASSE
1360 mm
WHEELBASE

ALTEZZA DA TERRA** N.D.
GROUND CLEARANCE** N.D.

AVANCORSA N.D.
TRAIL N.D.

INCLINAZIONE CANNOTTO
STERZO
N.D.
STEERING PIPE ANGLE N.D.

MASSA A SECCO*
125 kg
UNLADEN WEIGHT*

MASSA IN ORDINE DI MARCIA**
130 kg
ROAD READY WEIGHT**

MASSA MASSIMA AMMISSIBILE
285 kg
PERMITTED TOTAL WEIGHT

CAPACITA' SERBATOIO
7,4 l
USABLE TANK VOLUME

RISERVA
Nd
RESERVE

* senza i liquidi di esercizio / without fluids
** secondo direttiva 93/93/CEE con serbatoio riempito al 90% / According to guideline 93/93/CEE with all fluids, fuelled with at least 90% of usable tank
volume