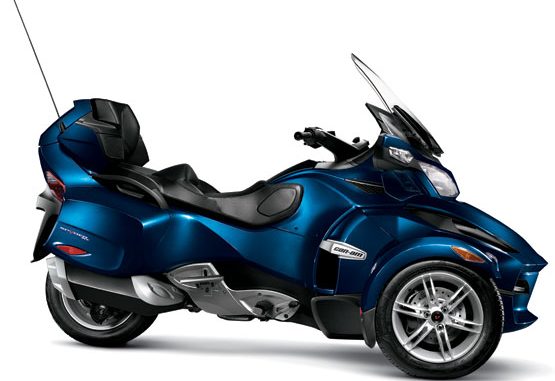 Back to 2011 Can-Am Motorcycle Index Page
Click photos to enlarge.
They make great desktop images.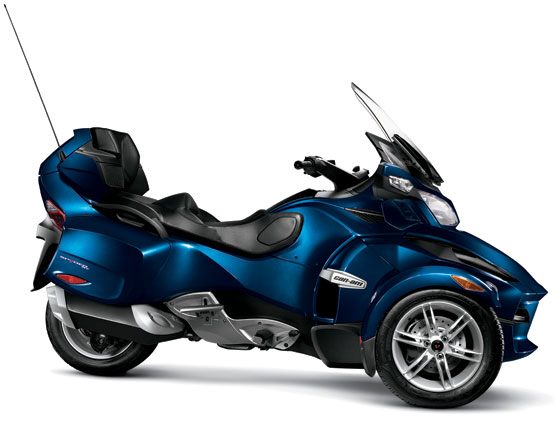 2011 Can-Am Spyder RT Audio and Convenience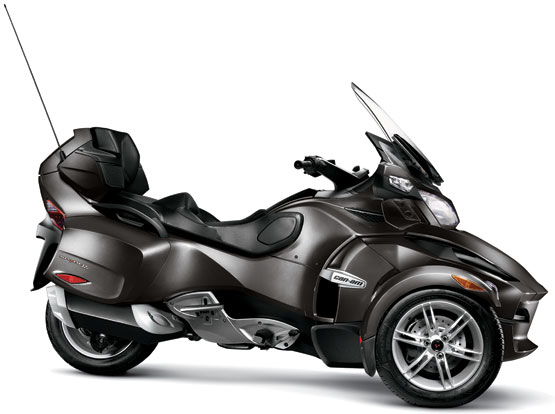 2011 Can-Am Spyder RT Audio and Convenience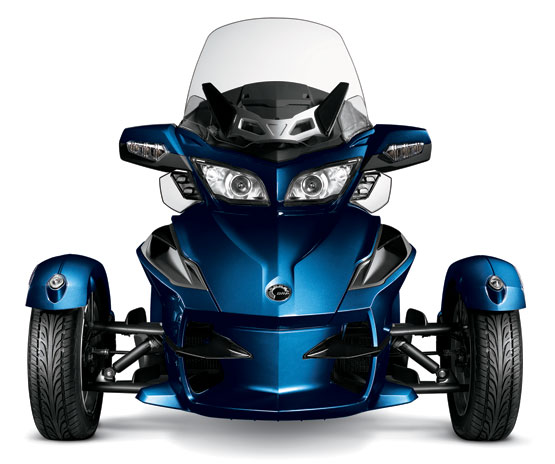 2011 Can-Am Spyder RT Audio and Convenience
– 2011 Can-Am Spyder RT Audio and Convenience

2011 Can-Am Spyder RT Audio and Convenience
The 2011 Can-Am Spyder RT Audio and Convenience represents technology, comfort and convenience all coming together for the best experience on extended expeditions. Its advanced Vehicle Stability System (VSS), cruise control and optional semi-automatic transmission keep you in total control, while a premium saddle, heated hand grips and optional audio system ensure a luxurious experience for you and your companion. In addition, it offers a cavernous 41 US gal (155 l) of cargo capacity.
2011 Can-Am Spyder RT Features
New for 2011:
Updated front suspension reduces body roll.

Optimized rider airflow management system includes a new electric height windshield and new wind deflectors to better balance airflow.

New coloration: Pure Magnesium Metallic and Viper Red.

New Spyder RT Limited package offering: Exclusive Pearl White coloration, factory-installed GPS navigation system, embroidered Spyder RT Limited seat, semi-rigid travel bags and travel cover.
The Spyder RT Audio & Convenience package offers all the standard Spyder RT features, PLUS:
. AM/FM audio system with handlebar controls
. Two front speakers
. Complete iPod‡ integration with full-feature handlebar control
. Speed-compensating volume
. Heated passenger handgrips with intensity controls
. Secondary gauges (fuel information, engine temperature)
. Push-button electronic front cargo release
. Transmissions available: SM5 . 5-speed manual with reverse OR
SE5 . 5-speed semi-automatic with reverse
Colors Available: Pure Magnesium Metallic, Orbital Blue Metallic
2011 Can-Am Spyder RT Audio and Convenience – Specifications
MSRP: TBA. See your local Can-Am dealer.
Engine
Manufacturer BRP-Rotax®
Type 998cc, V-twin, liquid-cooled, DOHC 4
Bore & Stroke 3.82 in. (97 mm) x 2.68 in. (68 mm)
Injection Multi-point EFI system with 2 in. (51 mm) throttle body
Power 100 hp (71 kW @ 7500 RPM)
Torque 80 lb.-ft. (104 Nm @ 5000 RPM)
Transmissions 5-speed manual (SM5) with reverse OR
5-speed semi-automatic (SE5) with reverse
Magneto 650 Watts
Starter Electric
Battery 12 volts / 21 amps/hour, sealed maintenance-free

CHASSIS
Frame SST Spyder
Front suspension Double A-arm with anti-roll bar
Front suspension travel 5.94 in. (151 mm)
Rear suspension Swing-arm with pneumatic adjustable preload
Rear suspension travel 5.71 in. (145 mm)
Brake type Foot-operated, fully-integrated hydraulic 3-wheel braking system
Front Brake 4-piston calipers with (250 mm x 6 mm) discs
Rear Brake Single-piston sliding pins caliper with (250 mm x 6 mm) disc
EBD Electronic Brake Distribution
ABS Anti-lock Braking System
Parking brake Electro-mechanical system engages the rear caliper
Tires/Front 165 / 65 R14
Tire/Rear 225 / 50 R15
Front wheel Aluminum 6-spoke Metallic Silver 14 x 5 in. (355 mm x 127 mm)
Rear wheel Aluminum Metallic Silver 15 x 7 in. (381 mm x 178 mm)

SAFETY & SECURITY
VSS Vehicle Stability System
SCS Stability Control System
TCS Traction Control System
ABS Anti-lock Braking System
DPS Dynamic Power Steering

DIMENSIONS
L x W x H 105 x 61.9 x 58 in. (2,667 x 1,572 x 1,473 mm)
Wheelbase 67.2 in. (1,708 mm)
Seat height 30.4 in. (772 mm)
Ground clearance 4.5 in. (115 mm)
Dry weight 929 lb. (421 kg)
Total storage capacity 41 US gal. (155 l)
Front load capacity 35 lb. (15.9 kg)
Maximum vehicle load 525 lb. (240 kg)
Fuel capacity 6.6 US gal. (25 l)

FEATURES
Instrumentation Multi-function dot-matrix/dual analog gauge: digital speedometer,
tachometer, odometer, trip & hour meters, gear position,
temperature, engine lights, electronic fuel gauge, clock
Anti-theft system D.E.S.S. (Digitally Encoded Security System)
Lighting 2 halogen headlamps (60W) with tail light/brake light
Touring windshield Push-button electric height adjustment
Wind deflectors 2 driver wind deflectors
Cruise control Electronic
Heated grips Heated driver handlebar grips, High/Low/Off
Touring saddle Ultra comfort saddle with passenger backrest & driver lumbar support
Passenger floorboard Manually adjustable
Passenger armrests Standard on all Spyder RT Audio and Convenience models
RECC Roadster Electronic Command Center with LED accent lighting
Power outlet 12V lighter type, in rear cargo area
Trailer lock Barrel for RT-622 trailer (Trailer optional)
Warranty 2 years
Transmission SM5 – 5-speed manual with reverse
Colors Available: Pure Magnesium Metallic, Orbital Blue Metallic
Can-Am Media Press Release
BRP REFINES 2011 CAN-AM SPYDER ROADSTER LINE-UP, ADDS ULTRA LUXURIOUS RT LIMITED
Valcourt, Qu̩bec September 1, 2010 РAfter an outstanding launch of the Can-Am Spyder RT touring roadster last season, BRP turns its attention to refinement, pulse-quickening style and unmatched luxury for its 2011 Can-Am Spyder model line.
New for 2011 is the Spyder RT Limited roadster, an ultra-luxurious touring model with an integrated GPS, semi-rigid travel bags, travel cover and striking Pearl White coloration. This model year, BRP designers also made the top-of-the-line Spyder RS-S sport roadster even more aggressive with two new two-tone colour schemes and an array of blacked-out components. In addition to new packages and colorations, BRP engineers refined the entire line-up to make the Spyder roadster experience easier, more comfortable and more fun.
"Listening and responding to the feedback of our consumers and dealers is an important part of who we are at BRP," said Yves Leduc, vice-president and general manager, North America division. "The rapidly growing group of Can-Am Spyder owners and dealers are not shy about sharing their ideas and suggestions, and our product development team put their feedback at the heart of the 2011 Spyder roadsters."
On the market for more than three years, the Can-Am Spyder roadster is a global phenomenon, distributed through authorized BRP dealers in over 58 countries.
With its unique Y-architecture – two wheels in front, one in back – the Can-Am Spyder roadster is a totally unique way to experience the freedom of open air riding. The stability of the three-wheel design and an automotive-derived BOSCH-engineered vehicle stability system (VSS) that integrates anti-lock brakes, traction control and stability control, enables the driver to have an exhilarating open-air experience with unmatched peace-of-mind – be they novice or powersports veteran.
Catering to the long-distance rider wanting to sacrifice nothing for comfort and style is the new Can-Am Spyder RT Limited feature package. It starts with all the luxury features of the Spyder RT-S package, such as premium audio system and adjust-on-the-fly rear air suspension, and adds a handlebar-mounted Garmin Zumo‡ 660 GPS, four custom-fit semi-rigid travel bags and a travel cover. A striking Pearl White colour and specially embroidered seat finish off what is a luxurious factory offering in riding.
For roadster sport enthusiasts, BRP designers make the styling of the top-of-the-line Can-Am Spyder RS-S even more aggressive. Both new metallic colour choices – Alloy Orange and Pure Magnesium – are complemented with a black two-tone colour scheme and a host of black elements, including six-spoke alloy wheels, fenders and carbon-black aluminum components.
Several other 2011 Can-Am Spyder RS and Spyder RT models feature new colour choices, most notably the addition of Viper Red as an option for the Spyder RT-S package.
"When you're riding any Spyder roadster model, you can feel the excitement its design generates with people all around the world," said Chris Dawson, vice-president and general manager, International division. "Our designers are constantly working on new colours, trims and accessories that will keep that intense emotional connection people have with the Spyder; it can be seen in the new look of the RS-S and elegance of the RT Limited models."
BRP's Can-Am Spyder development team also focused on key refinements. A new calibration for the front shocks on Spyder RT models reduces body roll, adding even more confidence in corners. Revisions to the windshield and deflectors keep RT drivers and passengers cooler in warm conditions without reducing protection. And the hood of Spyder RS roadsters can now be opened with just one hand and the engine running. Every roadster is improved in some way for 2011.
BRP also presents the 2011 edition of its Can-Am Spyder Parts, Accessories and Riding Gear collections. Whether for long or short rides, BRP takes the worry out of packing with its new and expanded Can-Am Spyder storage solutions. Spyder RT riders will be able to add more eye-catching style to their mounts with 18 new chrome accessories and HID Xenon lights. Customized style will be a cinch for long distance riders with the RT-622 trailer's new colours.
High style and leading edge technology also meet in the 2011 Can Am Spyder clothing line-up, with the revolutionary Kavalier jacket as the perfect case in point. This jacket offers body temperature regulation with a combination of Sympatex‡, Outlast‡ and UV reflection technologies; 100% water and wind resistance without compromising breathability; and abrasion resistance with a mix of Cordura‡ 500 and 1000, and stitch-free Super‡ fabric. These products and the complete line-up will be available at Can-Am Spyder dealers as well as online, starting in November 2010.
Bombardier Recreational Products Inc. (BRP), a privately-held company, is a world leader in the design, development, manufacturing, distribution and marketing of motorised recreational vehicles. Its portfolio of brands and products includes: Ski-Doo and Lynx snowmobiles, Sea-Doo watercraft and boats, Evinrude and Johnson outboard engines, direct injection technologies such as E-TEC, Can-Am all-terrain and side-by-side vehicles and roadsters, as well as Rotax engines. BRP products are distributed in more than 90 countries.
Sea-Doo, Ski-Doo, Lynx, Evinrude, Johnson, Can-Am, Rotax, Spyder, RT, RT-S, RS, RS-S, E-TEC and the BRP logo are trademarks of Bombardier Recreational Products Inc. or its affiliates. ‡ All other trademarks are the property of their respective owners.