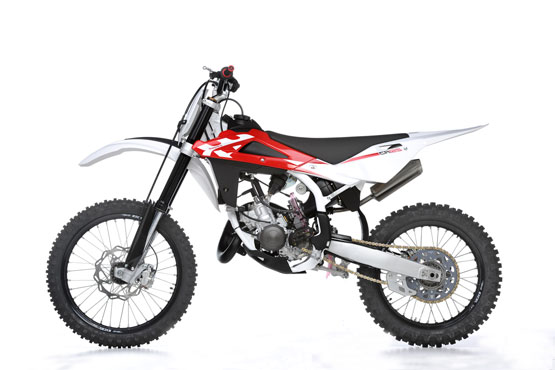 Back to 2011 Husqvarna Motorcycle Index Page
Click photos to enlarge.
They make great desktop images.
– 2011 Husqvarna CR125

2011 Husqvarna CR125 Review
CR125. The CR 125 is the ideal machine for young motocross enthusiasts wanting to make a start in the sport.

Husqvarna has always had a strong championship presence in the small two-stroke 125cc Enduro and Motocross sector, models which since their entry to the market in 1988 have become a technical benchmark for the category.
The 2011 version of the CR125 has been further updated with technical modificationsderiving from Husqvarna's experience in the European Motocross championship.
The biggest technical modifications made to the CR125 involved the mechanical features, with a new chassis, modified particularly under the cradle, now more streamlined and less obtrusive than the previous version. The engine mountings are also different, reinforced and with new cylinder head fittings. The filter housing is a new design making it more water resistant. Wheels: the polished hubs and the wave disc brakes are new.
The exhaust has a new muffler and the same clutch housing as that on the TC/TE250 models, more robust and efficient. The livery has been redesigned to follow the new design for all Husqvarna two and four stroke models, with In Mould graphics, integrated to the plastic.
The history of motocross was written by Husqvarna. Since introducing two-stroke engines in the 60s to returning to four-strokes in the 90s, it has always been Husqvarna that set the rules in this sport.
Thanks to development work carried out during the motocross world championships by the official team, the team manager and the test rider Andrea Bartolini, Husqvarna can now offer a completely renewed range of two and four-stroke machines for 2011.
Reinforced, redesigned frames, new suspension, new exhaust systems and a new modern, aggressive look are the main features that the following motocross models all share: CR 125, TC 250, TC 450.
Summary of new items on motocross models for 2011:
– NEW IPD (IN–MOULD PLASTIC DECORATION) GRAPHICS ON TANK SIDES AND NUMBER PLATE HOLDER
– NEW STRONGER, MORE FLEXIBLE PLASTICS
– NEW 48 MM SEALED CARTRIDGE KAYABA FORKS
– NEW FORK CLAMPS FOR KAYABA FORKS
– NEW EXHAUST PIPE (CR125) FOR IMPROVED POWER DISTRIBUTION
– NEW SILENCER (CR 125)
– FRAME REINFORCED AT CRITICAL POINTS
– REAR SWING ARM SHORTENED BY 15 MM (TC) FOR IMPROVED TRACTION AND HANDLING
– NEW RADIATOR CONNECTORS AND HOSES. (TC MODELS ONLY)
– NEW MORE POWERFUL WATER PUMP (TC ONLY)
– NEW SACHS REAR SHOCK ABSORBER (CR 125)
---
2011 Husqvarna CR125 – International Specifications
MSRP* $ See your local Husqvarna dealer for pricing.

CARATTERISTICHE GENERALI
General features
DIMENSIONI, PESO, CAPACITÀ/
Dimensions, weight, capacities
INTERASSE / Wheelbase ………………………. mm/in. 1460 / 57.48
LUNGHEZZA TOTALE / Overall lenght ……. mm/in. 2215 / 87.2
LARGHEZZA MAX. / Overall width ………… mm/in. 820 / 32.28
ALTEZZA MAX. / Overall height …………….. mm/in. 1305 / 51.38
ALTEZZA SELLA / Saddle height …………… mm/in. 985 / 38.78
ALTEZZA MIN.DA TERRA /
Min. ground clearance …………………………… mm/in. 325 / 12.79
AVANCORSA / Trail ……………………………… mm/in. 111 / 4.37
PESO A SECCO/
Dry weight …………………………………………… Kg/lb. 92 / 202.8
CAPACITÀ SERBATOIO CARBURANTE /
Fuel tank capacity ………………………………… l 7
U.S. Gallons 1.85
Imp. Gallons 1.54
Q.TA' OLIO NEL BASAMENTO
Transmission oil ……………………………………. l 0,80
U.S. Quarts 0.84
Imp. Quarts 0.70
MOTORE / Engine
CARATTERISTICHE / Characteristics
TIPO / Type
MONOCILINDRICO 2 TEMPI / Single cylinder, two stroke
ALESAGGIO / Bore ………………………………. mm/in. 54 / 2.12
CORSA / Stroke ……………………………………. mm/in. 54,5 / 2.14
CILINDRATA / Displacement …………………… cm3/cu.in. 124,82 / 7.61
RAPPORTO DI COMPRESSIONE (A LUCI CHIUSE) /
Compression ratio (at closed ports) ……………………………………….. 8,8: 1
AVVIAMENTO / Starting ………………………… A PEDALE / Kick starter
RAFFREDDAMENTO / Cooling ………………… A LIQUIDO / By liquid
RADIATORI ACQUA / Water radiator ………. N°/No 2
DISTRIBUZIONE / Timing system
TIPO / Type
VALVOLA LAMELLARE IN ASPIRAZIONE NEL CARTER, VALVOLA
"H.T.S." A COMANDO MECCANICO SULLO SCARICO / Reed valve in
the crankcase and "H.T.S." valve with mechanic control on the
exhaust port
DIAGRAMMA DISTRIBUZIONE/ Valve timing
SCARICO / Exhaust …………………………………………………………………184°
ASPIRAZIONE / Intake ……………………………… LAMELLARE / Reed valve
TRAVASO / Transfer ………………………………………………………………128°
LUBRIFICAZIONE / Lubrication
MOTORE / Engine
MISCELA BENZINA-OLIO AL 3% / Fuel-oil premixture of 33:1
CAMBIO -TRASMISSIONE PRIMARIA / Transmission-primary drive
MEDIANTE L'OLIO CONTENUTO NEL BASAMENTO / By the oil
contained in the crankcase
ACCENSIONE / Ignition
TIPO / Type
ELETTRONICA A SCARICA CAPACITIVA CON ANTICIPO VARIABILE A
CONTROLLO DIGITALE / C.D.I. electronic, with variable advance
(digital control)
TIPO CANDELA / Spark plug type …………… "CHAMPION" QN84/"NGK"
BR 9EG
DISTANZA ELETTRODI / Spark plug gap …. mm/in 0,6 / 0.0236
ALIMENTAZIONE/ Fuel system
MARCA E TIPO DI CARBURATORE / Carburetor manufacturer and
type …………………………………………………………………….. "MIKUNI" TMX 38
DIAMETRO DIFFUSORE / Venturi diameter . mm/in. 38 / 1.49
FRIZIONE / Clutch
TIPO / Type
MULTIDISCO IN BAGNO D'OLIO CON COMANDO MECCANICO / Wet,
multiplate type; mechanic control
N°DISCHI CONDUTTORI / Driving disc no ………………………………………. 7
N°DISCHI CONDOTTI / Driven disc no …………………………………………… 6
TRASMISSIONE PRIMARIA / Primary drive
PIGNONE MOTORE / Engine sprocket ……… Z/Teeth 22
CORONA FRIZIONE / Clutch gear ……………. Z/Teeth 71
RAPPORTO DI TRASMISSIONE / Transmission ratio 3.227
CAMBIO VELOCITÀ/ Transmission
TIPO / Type
CON INGRANAGGI SEMPRE IN PRESA / Constant mesh gear type
N°MARCE / Speed gears no ………………………………………………………… 6
RAPPORTI DI TRASMISSIONE / Internal ratios
…………………………………………………………… 1ª/1st 2,357 (33/14)
…………………………………………………………… 2ª/2nd 1,866 (28/15)
…………………………………………………………… 3ª/3rd 1,579 (30/19)
…………………………………………………………… 4ª/4th 1,350 (27/20)
…………………………………………………………… 5ª/5th 1,181 (26/22)
…………………………………………………………… 6ª/6th 1,000 (21/21)
TRASMISSIONE SECONDARIA / Secondary drive
PIGNONE USCITA CAMBIO /
Transmission sprocket ………………………….. Z/Teeth 13
CORONA POSTERIORE /
Rear wheel sprocket …………………………….. Z/Teeth 50
RAPPORTO DI TRASMISSIONE /
Transmission ratio ……………………………………………………………….. 3,846
CATENA DI TRASMISSIONE / Driving chain
MARCA E TIPO / Manufacturer and type …. "REGINA" 135RX-5/8″x1/4″;
……………………………………………………………….. "D.I.D." 520V6-5/8″x1/4″
RAPPORTI TOTALI DI TRASMISSIONE / Overall ratios
…………………………………………………………… 1ª/1st 29,258
…………………………………………………………… 2ª/2nd 23,170
…………………………………………………………… 3ª/3rd 19,599
…………………………………………………………… 4ª/4th 16,757
…………………………………………………………… 5ª/5th 14,669
…………………………………………………………… 6ª/6th 12,412

CR125
CARATTERISTICHE TECNICHE / Technicaldata
MOTOTELAIO / Chassis
TELAIO / Frame
TIPO / Type
MONOTRAVE IN ACCIAIO IN TUBI A SEZIONE CIRCOLARE, RETTANGOLARE
ED ELLISSOIDALE; TELAIETTO POSTERIORE IN LEGA
LEGGERA / Steel single tube cradle (round, rectangular and ellipsoidal
tubes); rear frame in light alloy
SOSPENSIONE ANTERIORE / Front suspension
TIPO / Type
FORCELLA TELEIDRAULICA A STELI ROVESCIATI E PERNO AVANZATO;
REGOLAZIONE FRENO IDRAULICO IN COMPRESSIONE ED
ESTENSIONE / "Upside-Down" telescopic hydraulic fork with
advanced axle; compression and rebound stroke adjustment
Ø STELI / Fork legs dia. …………………………. mm/in. 48 /1.89
CORSA SULL'ASSE GAMBE /
Travel on legs axis ……………………………….. mm/in. 300 / 11.8
MARCA FORCELLA /
Front fork manufacturer …………………………………………………"KAYABA"
SOSPENSIONE POSTERIORE / Rear suspension
TIPO / Type
PROGRESSIVA "SOFT DAMP" CON MONOAMMORTIZZATORE
IDRAULICO; REGOLAZIONE DEL PRECARICO DELLA MOLLA E DEL
FRENO IDRAULICO IN COMPRESSIONE (DOPPIA) ED ESTENSIONE /
Progressive "Soft Damp" type with single hydraulic shock absorber;
spring preload adjustment, compression and rebound adjustment
(compression stroke: double adjustment)
CORSA RUOTA / Wheel travel ……………….. mm/in. 296 / 11.6
MARCA AMMORTIZZATORE /
Shock absorber manufacturer ………………………………………….. "SACHS"
FRENO ANTERIORE / Front brake
TIPO / Type
A DISCO FISSO, TIPO "WAVE", CON COMANDO IDRAULICO E PINZA
FLOTTANTE / Fixed disc, "Wave" type, with hydraulic control and
floating caliper
Ø DISCO / Disc dia. ……………………………….. mm/in 260 / 10.24
FRENO POSTERIORE / Rear brake
TIPO / Type
A DISCO FLOTTANTE, TIPO "WAVE", CON COMANDO IDRAULICO E
PINZA FLOTTANTE / Floating disc, "Wave" type, with hydraulic control
and floating caliper
Ø DISCO / Disc dia. ……………………………….. mm/in 240 / 9.45
CERCHIO ANTERIORE / Front rim
MATERIALE / Material…………………………. LEGA LEGGERA / Light alloy
DIMENSIONI / Size …………………………………. 1,60″x21″
CERCHIO POSTERIORE / Rear rim
MATERIALE / Material…………………………. LEGA LEGGERA / Light alloy
DIMENSIONI / Size …………………………………. 2,15″x19″
PNEUMATICO ANTERIORE / Front tire
TIPO / Type ………………………………………………….. "PIRELLI" 51R-MT 32A
DIMENSIONI / Size …………………………………………………………. 80/100-21″
PNEUMATICO POSTERIORE / Rear tire
TIPO / Type …………………………………………….. "PIRELLI" NHS (57)-MT 32
DIMENSIONI / Size …………………………………………………………. 100/90-19″
CR125
CARATTERISTICHE TECNICHE / Technicaldata