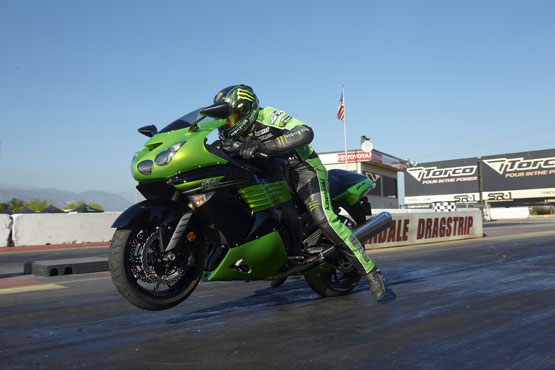 Back to 2011 Kawasaki Motorcycle Index Page
Click photos to enlarge.
They make great desktop images.
– 2011 Kawasaki Ninja ZX-14

2011 Kawasaki Ninja ZX-14
For more than 40 years, Kawasaki has shocked and awed the motorcycle world with its big-bore streetbikes. From the arm-stretching 500cc H1 of 1969 to the legendary 903cc Z-1 of 1973, and from the high-tech Ninja® ZX™-10s and -11s of the '80s and '90s to the sublime ZX-12s and -14s of the new millennium, Team Green™ has continuously kicked butt and taken names in the large-displacement sportbike category.

2011 Kawasaki Ninja ZX-14 motorcycle model Features
Key Features
• 1,352cc inline-four with DFI® provides smooth power while producing impressive amounts of horsepower
• Lightweight aluminum monocoque frame is narrow, strong and rigid
• Radial-mounted front brake calipers and radial-pump front brake master cylinder combine for superior braking power and control
• Six-speed transmission
• Fully adjustable suspension allows for excellent control and feedback
• Hydraulic clutch offers precise clutch engagement and optimal feel
• Natural yet aggressive ergonomics
• Multi-function LCD instrumentation offers a wealth of information and is easy to read
• Standard rear seat cowl adds to bike's aerodynamic styling

1,352cc Four-cylinder, DOHC Engine
• Tuned to provide smooth power across a very wide rev range while producing impressive horsepower numbers
• Chrome composite-plated aluminum cylinder bores are lightweight, durable, and quickly carry heat away from the combustion chamber and piston for supreme durability at high power outputs
• Carefully designed engine is compact and narrow
• Low mechanical noise via special piston profile and urethane insulation sheet on the inside of the magnesium chain cover

High-flow Exhaust System
• Airflow into the exhaust from the large secondary air ports in the cylinder head and head cover, plus a third honeycomb catalyzer in the collector, help meet strict Euro III emissions standards
• Internal silencer construction minimizes impact of emissions regulations while maintaining impressive top-end power
• Exhaust connecting tube entrances are designed to enhance low-rpm response

Gear-driven Dual Engine Balancers
• Already in perfect primary balance, the engine features dual secondary balancers that virtually eliminate unwanted vibrations for extremely smooth operation and reduced rider fatigue

Ram Air Induction
• Central ram air duct draws cooler, higher-pressure air from the face of the fairing and efficiently guides it through the air cleaner and into the engine for maximum power output

Digital Fuel Injection
• 44mm Mikuni throttle bodies are fitted with sub-throttle valves controlled by the ECU to provide precise response, smooth DFI performance and help meet Euro III emissions requirements
• Intake porting optimizes flow characteristics
• Injectors deliver lateral spray at a 20-degree angle to disperse the finely atomized fuel over a wide area
• Fine-atomizing injectors produce a 75micron droplet size
• 32-bit ECU works with dual throttle valve system to further enhance throttle response and control

Digital Ignition
• Digital Timing Advance enhances low
• and mid-range power
• Individual spark plug-mounted ignition coils fire each of the four spark plugs independently to achieve the optimum timing for that cylinder
• ECU includes an idle speed control system for easier starting and warm-up

Radial Pump Clutch Master Cylinder
• Hydraulic clutch features a radial-pump clutch master cylinder for smooth and precise clutch engagement and optimal feel

Next-generation Monocoque Aluminum Frame
• Lightweight monocoque frame is a hollow aluminum box that arches over the engine from the steering head to the swingarm pivot. It is narrow, strong, rigid and very light
• Frame's cast aluminum sections – steering head and swingarm pivot areas – are produced via a die-casting process for weight savings
• Rigidly mounted engine is a stressed frame member, which increases the frame's torsional rigidity and saves approximately four pounds
• Engine is positioned forward in the frame, with the wheelbase and front/rear weight balance carefully designed to achieve high-speed stability and responsive handling
• Massive head pipe casting contributes to frame rigidity
• Frame houses the air box and air filter in a space-saving design that simplifies air cleaner maintenance
• Battery is also housed within the frame and is easily accessible through the back side of the frame

Suspension
• Inverted 43mm cartridge-type front fork utilizes damping rates that offer firm initial action to resist front-end dive when braking
• Stepless damping adjustment improves suspension performance
• Excellent control and feedback from fully adjustable bottom-link Uni-Trak® rear suspension
• Linkage rates allow linear suspension action
• Bottom-link design helps create a lower center of gravity, which makes the motorcycle more nimble
• Wheel rim center ribs are slightly offset so tire balance weights can be located precisely along the wheel's centerline

Radial-mount Calipers and Petal-type Discs
• Radial mounted four-piston front brake calipers offer greater rigidity than traditional caliper mounting to improve brake feel
• A separate brake pad is used for each piston. Individual pads provide increased cooling efficiency and can absorb more heat without deforming so they maintain a consistent brake feel longer
• Petal-type design brake discs provide better cooling and warp resistance
• Radial-pump front brake master cylinder improves brake performance and lever feel

Wind Tunnel-designed Bodywork
• Monocoque frame is positioned over the engine so the sleek fairing is uninterrupted by protruding frame spars, adding to the extremely long and low styling
• Both the front and rear turn signals are integrated into the bodywork and have clear lenses to enhance appearance
• Quadruple projector beam headlights give the ZX-14 a distinctive front fairing. The outer lights contain position lamps and high beams, while the low beams are located in the center lamps
• Lightweight Denso radiator with high-density cores provides maximum cooling efficiency

Full Instrumentation
• White faced dual analog speedometer and tachometer are easy to read
• Multi-function LCD digital display includes an odometer, two trip meters, fuel gauge, gear position indicator and clock
• Programmable shift indicator lamp illuminates at pre-set rpm to signal rider upshift
• Programmable clutch engagement lamp illuminates at pre-set rpm to signal the rider to engage the clutch
• Controller Area Network (CAN) interface between the gauges uses fewer wires yet allows a greater volume of information, such as estimated fuel mileage, to be exchanged



2011 Kawasaki Ninja ZX-14 – USA Specifications
MSRP: $13,599 USD
Engine: Four-stroke, liquid-cooled, DOHC, four valve per cylinder, inline-four
Displacement: 1,352cc
Bore x stroke: 84.0 x 61.0mm
Compression ratio: 12.0:1
Fuel system: DFI® with four 44mm Mikuni throttle bodies
Ignition: TCBI with Digital Advance
Transmission: Six-speed
Final drive: X-Ring chain
Rake / trail: 23 degrees / 3.7 in.
Front tire: 120/70 ZR17
Rear tire: 190/50 ZR17
Wheelbase: 57.5 in.
Front suspension / wheel travel: 43mm inverted cartridge fork with adjustable preload, 13-way compression and 11-way rebound damping adjustment / 4.6 in.
Rear suspension / wheel travel: Bottom-link Uni-Trak® and gas-charged shock with adjustable preload, stepless rebound and compression damping adjustments, adjustable ride height / 4.8 in.
Front brakes: Dual semi-floating 310 mm petal discs with dual radial-mounted four-piston calipers
Rear brakes: Single 250mm petal disc with twin-piston caliper
Overall length: 85.4 in.
Overall width: 29.9 in.
Overall height: 46.1 in.
Ground clearance: 4.9 in.
Seat height: 31.5 in.
Curb weight: 566.7 lbs.
Fuel capacity: 5.8 gal.
Color: Candy Lime Green / Ebony, Ebony
Warranty: 12 Months
2011 Kawasaki Ninja ZX-14 – Canada Specifications
MSRP: $16,099 CDN

ENGINE
Type 4-stroke, liquid cooled, In-Line Four
Displacement 1352 cc
Bore and Stroke 84.0 x 61.0 mm
Compression Ratio 12.0 :1
Fuel Injection ø 44 mm x 4 (Keihin)
Valve System DOHC, 16 valves
Lubrication Forced lubrication, wet sump

DRIVETRAIN
Transmission 6-speed, return, positive neutral finder
Clutch Wet multi-disc, hydraulic actuation
Final Reduction Ratio 2.412 (41/17)
Final Drive Sealed Chain
Primary Reduction Ratio 1.541 (94/61)
Gear Ratios: 1st 2.625 (42/16)
2nd 1.947 (37/19)
3rd 1.545 (34/22)
4th 1.333 (32/24)
5th 1.154 (30/26)
6th 1.036 (29/28)

FRAME
Type Monocoque, aluminum
Tires: Front 120/70ZR17
Wheel Travel: Front 117 mm
Tires: Rear 190/50ZR17
Wheel Travel: Rear 122 mm
Caster (Rake) 23º
Trail 94 mm
Steering Angle (Left/Right) 30º/30º

SUSPENSION
Suspension, Front 43 mm inverted fork. 13-click compression damping, 11-click rebound damping, and stepless ride height
Suspension, Rear Bottom-Link Uni-Trak with gas charged shock. Stepless compression damping, stepless rebound damping, and stepless spring preload

BRAKES
Front: Type Dual semi-floating 310 mm drilled, petal style discs
Front: Calipers Dual, opposed 4-piston, 4-pad, radial mount
Rear: Type Single 250 mm drilled, petal style disc
Rear: Calipers Opposed 2-piston

PERFORMANCE
Maximum Power 193PS @ 9,500rpm
Maximum Power w/ Ram Air 203PS @ 9,500rpm
Maximum Torque 154 N-m @7,500rpm

DIMENSIONS
Overall Length 2,170 mm
Overall Width 760 mm
Overall Height 1,170 mm
Wheelbase 1,460 mm
Seat Height 800 mm
Curb Mass 257 kg
Fuel Capacity 22 litres
Fuel Consumption 6.7 L/100 km (42 MPG)

DETAILS
MSRP* $16,099.00
Colours Ebony
Warranty 12 months

ADDITIONAL COST OPTIONS
Good Times Protection Plan 24 or 36 months (Kawasaki GTPP coverage begins after the standard limited warranty expires)
* The Manufacturer's Suggested Retail Price does not include freight, pre-delivery inspection or applicable taxes. The final price is at the discretion of the dealer. Prices and Specifications are subject to change without prior notice.
The specifications mentioned here apply to and have been achieved by production models under standard operating conditions. We intend only to give a fair description of the vehicle and its performance capabilities but these specifications may not apply to every machine supplied for sale. Kawasaki Heavy Industries, Ltd. reserves the right to alter specifications without prior notice. Equipment illustrated and specifications may vary to meet individual markets. Available colours may vary by market.