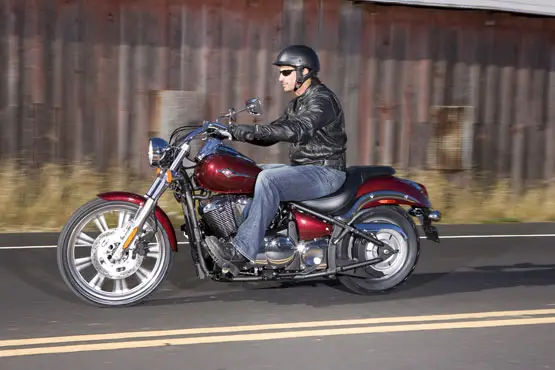 Back to 2011 Kawasaki Motorcycle Index Page
Click photos to enlarge.
They make great desktop images.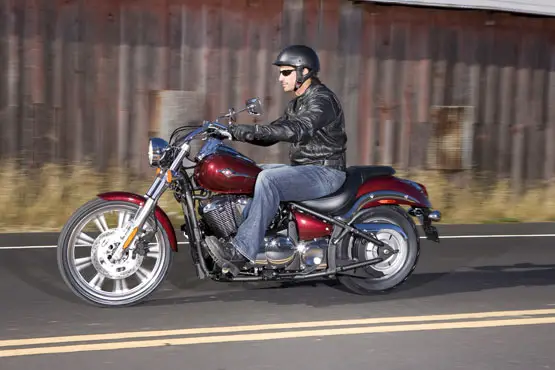 2011 Kawasaki Vulcan 900 Custom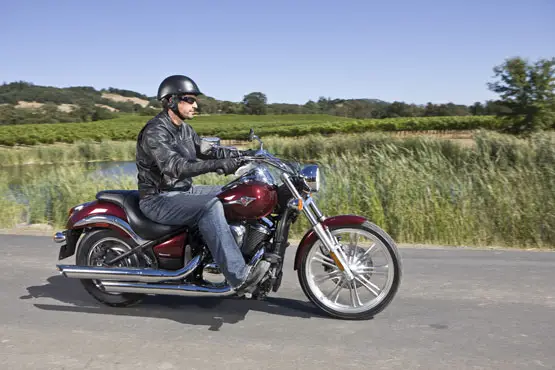 2011 Kawasaki Vulcan 900 Custom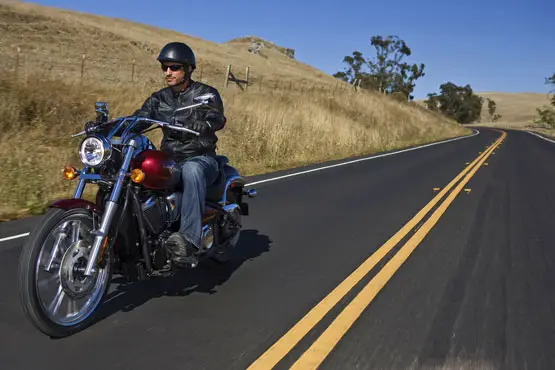 2011 Kawasaki Vulcan 900 Custom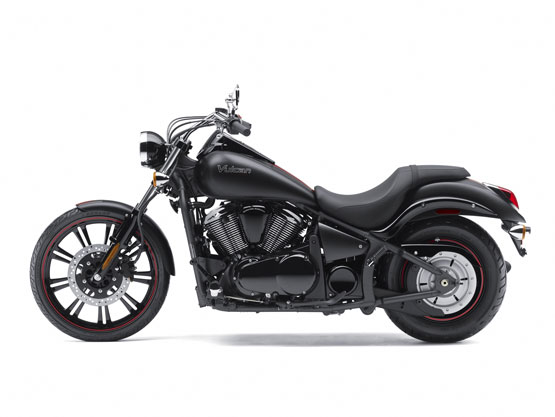 2011 Kawasaki Vulcan 900 Custom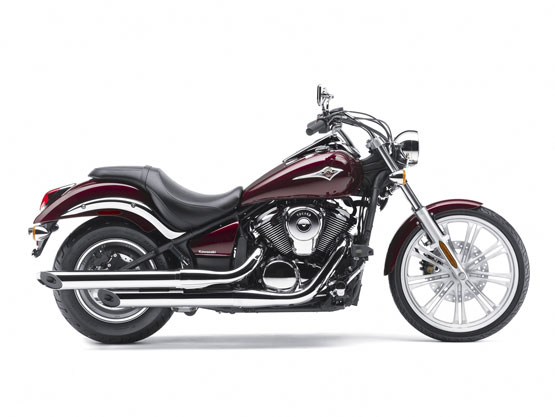 2011 Kawasaki Vulcan 900 Custom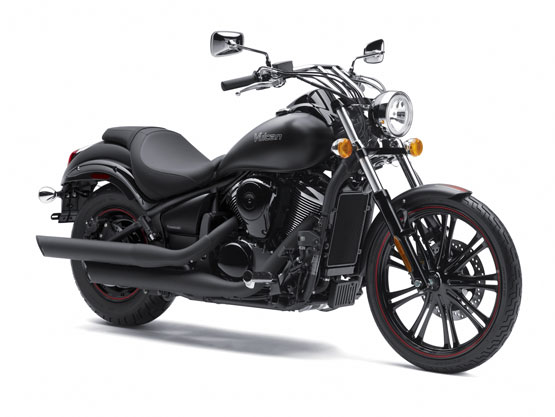 2011 Kawasaki Vulcan 900 Custom


– 2011 Kawasaki Vulcan 900 Custom

2011 Kawasaki Vulcan 900 Custom
The Epitome of Custom
Drawing from both current and classic styling influences, the Vulcan® 900 Custom and Custom Special Edition cruisers are a distinctive mix of back-in-the-day style and up-to-date imagery; an aggressive flat handlebar and forward footpegs place the rider in a stylish profile that enhances the overall visual appeal when rolling down Main Street. Stylish cast wheels, including a solid-look rear wheel, complete the classic V-twin look. And the 180-series rear tire, the largest in its class, accentuates its big bike style. But you won't pay big bike bucks to get this affordable middleweight.
These stylish machines have more to offer than just good looks. Like its siblings, the Vulcan 900 Custom has a fuel-injected 903cc engine that produces exceptional roll-on acceleration rivaling the get-up-and-go of much larger motorcycles – yet it's wrapped in a nimble chassis that lets it turn and handle like no heavyweight motorcycle can.
The 900 Custom's unique, edgy design shows it can stand out from the crowd. Kawasaki engineers and designers concentrated on delivering a motorcycle with a customized appearance typically found only on expensive two-wheel offerings. A massive rear tire, light-looking front end accentuated by a thin 21-inch cast wheel, and sculpted bodywork top the stand-out features of the Vulcan 900 Custom.
Perhaps one of the most striking examples of this Vulcan cruiser's distinctive look is its large-diameter 21-inch front cast wheel – itself somewhat rare in the custom-building world. The wheel features spokes arranged in pairs for a special visual appeal. Balancing the lightweight look of the front end is a low, wide rear wheel featuring a 180mm tire on a 15-inch cast wheel that gives the rider the feeling of sitting on a one-of-a-kind, made-to-order motorcycle.
Bridging the visual contrast between the front and rear wheels is a sleek and subtle fuel tank. Its flowing lines easily lead the eye along the careful and delicate curves that blend together the highly customized form of this gem of mid-sized cruisers. A matte black frame provides an understated framework for the Kawasaki artistry that is the appealing and gutsy, fuel-injected V-Twin Vulcan 900 Custom. Its stylish aesthetics grace a platform that's perfect for customization with Kawasaki accessories.
Ready for anything from local streets to highway speeds, the Vulcan 900 Custom's good power, excellent stability, easy maneuverability, and startling good looks make this Kawasaki the one to own.
Want an even more exclusive ride? Then the "Special Edition" model may satisfy that craving. The Vulcan 900 Custom SE comes with all the trappings of an expensive handmade creation for a fraction of the cost and none of the maintenance headaches. It features a special black-out treatment on the air cleaner, engine cases, exhaust and forks and the Vulcan 900 Custom SE is finished off with a Special Edition Ebony color scheme mixing flat and high gloss black paint features.
Authentic Kawasaki Accessories are available through Kawasaki dealers.
2011 Kawasaki Vulcan 900 Custom motorcycle model Features
Key Features
– 903cc liquid-cooled V-twin offers the optimal balance of performance and maneuverability
– Stylish cast wheels – solid-look rear and "twin-spoke" front
– Forward-mounted foot controls for laid-back riding position
– Fat 180-series rear tire is largest in class
– Stylish instrumentation includes convenient fuel gauge
– 5.3-gallon fuel tank is largest in class
– Efficient and stylish belt drive for long life
– Digital fuel injection for precise throttle response and improved fuel economy
903cc V-twin SOHC Engine
– Smooth and reliable engine tuned to deliver a healthy dose of torque at low rpm
– Gear-driven balancer allows the use of a single-pin crankshaft without excessive vibration
– Rubber mounted to reduce engine vibration at all speeds
Four-valve Cylinder Head
– Provides maximum valve area for optimum flow, creating more power and low-end torque
– Single overhead cam design is simple, lightweight and practical
– Long intake tracts narrow near the combustion chamber to increase intake flow speed for more efficient filling, increased torque and better low-end response
Liquid and Air Cooling
– Finned cylinders and heads combine with liquid cooling for exceptional thermal control
– Maintains consistent engine temperatures for long engine life and sustained power
– Automatic fan helps keep things cool
Dual Slash-cut Mufflers
– Big slash-cut mufflers look great and contain emission reducing honeycomb catalyzers
Positive Neutral Finder
– Just lift the shift pedal from first gear at a stop to easily find neutral, every time
Electronic Fuel Injection
– Superb performance and rideability thanks to dual throttle bodies with sub-throttles
– The ECU-controlled sub-throttles are located behind the main throttle valve, allowing the DFI® system to provide more precise throttle response, similar to a constant velocity carburetor
– Fine-atomizing fuel injectors produce a fine fuel mist for optimal acceleration, combustion and fuel consumption
Double Cradle Frame
– Very rigid, large-diameter box section backbone allows space for a larger fuel tank, and offers high stability and lightweight handling at low speeds
– Fork offset and frame geometry combine for light, low-effort handling at ultra-low speeds
– Long wheelbase contributes to highway stability
– Triangular swingarm has a hardtail appearance, but utilizes a single shock hidden beneath the seat
– Long and low chassis for minimal seat height, maximum visual impact
Belt Drive
– Lower unsprung weight than shaft drive to improve ride quality and suspension action
– Low maintenance and low noise
41mm Front Fork
– Offers excellent rigidity and 5.9-inches of travel
– 33 degrees of rake and 7.2-inches of trail for excellent straight line stability
Front and Rear Disc Brakes
– A 300mm front and 270mm rear disc are both gripped by twin-piston calipers for some of the best stopping power in the class
Custom Cast 21-inch Front Wheel
– The wheel's 18 "spokes" are arranged in pairs
– Tapered and flanged in two directions, every line and surface of each 3D spoke is exquisitely curved
Wide Rear Tire
– 180mm rear tire provides added stability while projecting a powerful image
– Wider tire than that found on most large-displacement cruisers
– Custom cast 15-inch rear wheel contrasts the "light," tall front wheel
Tank-mounted Speedometer with Turn Signal Indicators and Caution Lamps
– Provides riders crucial information at a glance
– Compact design matches the bike's clean look
Sculpted Bodywork
– Fuel tank features a twin valley design, with a dynamic tension and presence all its own
– Designed to be pleasing to both the eye and to the touch, the tank is composed exclusively of curves with constantly varying radii; the twin valley design theme continues to the rear fender and its hand-sculpted contours
– Bottom of the rear fender features a relatively straight cut, to balance the lines of the motorcycle
Custom Features
– Chromed headlamp, headlamp mount, lower triple clamp and turn signals as well as footpegs, shift lever and rear brake lever
– Clean headlight design is compact and isolated without a central fork cover or headlamp bar
– Small, minimalist fender and lack of front fork covers also contribute to the slender appearance of the front end
– Sporty, straight-style handlebar adds to the bike's custom styling. Instead of handlebar clamps, twin tubes elegantly curve back from the upper triple clamp. Both the handlebar and twin tubes are completely chromed
– Forward-mounted footpegs instead of floorboards add to the custom image and improve rider control
– One-piece "gunfighter" style seat is designed for comfortable rider and passenger accommodation and a custom-style look
– Matte black frame emphasizes the chrome finishing
– Standard toe-operated shift lever instead of a heel-toe shifter compliments the forward footpegs for a more open rider position
Special Edition
– Black-out treatment on air cleaner, engine cases, handlebar, headlight and rear fender struts
– Special Edition Flat Ebony paint mixes flat and high gloss features
2011 Kawasaki Vulcan 900 Custom motorcycle model Technology
Engine

Designed to offer superior acceleration in the mid-speed range (where most riding is actually done), the powerful, liquid-cooled, V-twin engine has the torque to out-accelerate smaller displacement bikes yet with a single downshift can easily keep up with larger displacement bikes.
Oversquare 88 x 74.2mm bore and stroke ensures punchy response and a broad spread of satisfying power. Free-breathing, SOHC, 4-valve heads deliver impressive performance throughout the rev range.
The cylinder head features the same combustion chamber and intake/exhaust porting design concept as that of the mighty VN2000.
The electronic fuel injection system, controlled by dual throttle valves, ensures silky smooth response and easy-to-control torque characteristics.
Automotive-type fine-atomizing injectors improve performance, fuel economy and emissions.
An auto-fast idle system is equipped with an rpm feedback relay ensuring a fixed (ideal) engine speed in all starting conditions. (The feedback is used to control the sub-throttles to obtain the desired rpm.)
Curved intake tracts provide an extremely efficient path for intake flow. Ports narrow as they reach the combustion chamber, increasing intake flow speed for more efficient filling. The result of the highly intake efficiency is improved torque.
Long intake tracts extend well into the air cleaner box. The longer path improves low-end response.
Returnless-type pump inside the fuel tank prevents fuel starvation during hard braking or acceleration. No return fuel line increases reliability.
Crankshaft and gear-driven balancer are matched to the long stroke design for smooth performance.
Like all Kawasaki V-twins, the VN900 engine uses a single crankpin for best strength and strong power feeling.
Lightweight, nut-less connecting rods like those on the VN2000 contribute to low vibration levels.
Deeply chromed engine covers have curved upper surfaces. Their 3D design adds volume and gives a quality appearance.
Five-speed transmission with smooth shift action is geared for a comfortably low rpm at highway cruising speeds.
The transmission is equipped with Kawasaki's exclusive Positive Neutral Finder. Just lift the pedal from first at a stop to find neutral easily, every time.
Like the VN2000, the 900 Custom has a quiet and efficient belt final drive.
In addition to reduced maintenance (compared to chain final drives), belt drives offer a smoother ride quality, less weight, and better efficiency than shaft drives.
Dual slash-cut mufflers give the VN900 a wild air. The mufflers are angled so that they look good when the bike is on its side stand.
Catalysers built into each of the mufflers reduce exhaust emissions.
Chassis

Although the Custom is a Vulcan 900 Series model, in order to achieve its custom image, Kawasaki designers completely re-evaluated its bodywork, treating it as if it were a completely new model.
Every styling detail was closely scrutinized. The floorboards had to go, the front end was completely restyled, rear fender sliced, and the seat reshaped. You can't miss that it has all the right custom cues – the wide fork, small headlight, big 21" wheel, and matching fender.
With generous chrome and rich paint, the Vulcan 900 Custom not only out performs other mid-size cruisers, it looks great doing it. Grab your gear – it's time to show off!
Central to the Vulcan 900 Custom's design is its fuel tank. It naturally draws the eye. Unlike some custom machines that use flashy designs to attract attention, the beauty of the Custom's tank lies in its subtlety. Its delicate twin-valley theme produces a graceful play of light and shadow along the soft curves.
The twin-valley design theme is continued in the rear fender. Like the tank, it is composed exclusively of curves with constantly varying radii, its hand-sculpted contours designed to be pleasing to both the eye and to the touch.
The unique cut of the tail lamp lens contributes to the design of the rear fender.
The key feature in achieving the Custom's light-looking front end is its thin, 21" wheel. The wheel's large diameter also helps raise the front of the bike, further contributing to the light image.
For size alone a more traditional wire-spoke wheel would have sufficed, but a cast design was deemed necessary to achieve the impact of a true custom.
Arranged in pairs, the wheel's 18 "spokes" were designed by hand. Tapered and flanged in two directions, every line and surface of the 3D spokes is exquisitely curved.
Single 300mm drilled front disc delivers impressive stopping power without hiding the front wheel's good looks.
Twin-piston front caliper ensures strong stopping power.
Further contributing to the front end's light appearance is the simplicity of the design of the headlamp area, fork and handlebar.
The crisp, clean lines created by this minimalist approach are accentuated by a liberal use of chrome.
The headlamp itself is small and isolated; there is no central fork cover or headlamp bar. The headlamp, headlamp mount, lower triple clamp and turn signals are all chromed.
The sporty, straight-style handlebar adds to the bike's custom styling. Instead of handlebar clamps, twin tubes elegantly curve back from the upper triple clamp. Both the handlebar and twin tubes are completely chromed.
To accentuate the lightweight image of the front end, the rear was designed to be low and solid looking. This contrast contributes to the Custom's sense of dynamics as the eye travels from the front of the bike to the rear.

The massive 180 mm rear tire gives the rear of the bike a powerful image. The tire's weighty appearance with the large amount of dark rubber juxtaposes the light image created by the front of the bike.
The 15" cast rear wheel was chosen to contrast the "light," tall front wheel. Its solid disc design helps gives the rear a solid "squatting" image.
Powerful twin-piston caliper and 300 mm drilled disc look right at home on this Custom model.
The massive 180 mm rear tire gives the rear of the bike a powerful image. The tire's weighty appearance with the large amount of dark rubber juxtaposes the light image created by the front of the bike.
Designed with custom-style looks in mind, the one-piece "gunfighter" seat comfortably accommodates rider and passenger. The ergonomics of the front part of the seat make use of the same research used to design the Vulcan 900 Classic's ultra-comfy bucket seat.
Using footpegs instead of floorboards contributes to the Custom image.
The shift lever is a standard up-down type (compared to heal-toe shifter).
The chromed footpegs, shift lever and rear brake lever contribute to the Custom's elegant appearance.

2011 Kawasaki Vulcan 900 Custom – USA Specifications
MSRP: $8,549 USD
Engine: Four-stroke, liquid-cooled, SOHC, four valves per cylinder V-twin
Displacement: 903cc / 55.1 cu. in.
Bore x stroke: 88.0 x 74.2mm
Compression ratio: 9.5:1
Maximum torque: 58.2 lb.-ft. @ 3,500 rpm
Cooling: Liquid
Fuel injection: DFI with dual 34mm Keihin throttle bodies (2)
Ignition: TCBI with digital advance
Transmission: Five-speed
Final drive: Belt
Frame: Double cradle, high-tensile steel
Rake / trail: 33 degrees / 7.2 in.
Front suspension / wheel travel: 41mm hydraulic telescopic fork / 5.9 in.
Rear suspension / wheel travel: Uni-Trak® swingarm, 7-way adjustable spring preload / 4.1 in.
Front tire: 80/90×21
Rear tire: 180/70×15
Front brake / rear brake: 300mm hydraulic disc / 270mm hydraulic disc
Overall length: 94.7 in.
Overall width: 35.2 in.
Overall height: 44.1 in.
Seat height: 27.0 in.
Curb weight: 610.8 lbs.
Fuel capacity: 5.3 gal.
Wheelbase: 64.8 in.
Color / Special Edition: Metallic Dark Red/ Flat Ebony (SE)
Warranty: 12 months
2011 Kawasaki Vulcan 900 Custom – Canada Specifications
MSRP: $TBA CDN

ENGINE
Type Liquid-cooled 4-stroke V-Twin
Displacement 903 cc
Bore and Stroke 88 x 74.2 mm
Compression Ratio 9.5:1
Valve System SOHC, 4 valves/cylinder
Fuel Injection Ø 34 mm x 2 with Dual Throttles
Ignition Digital
Starting Electric
Lubrication Forced lubrication, wet sump

SUSPENSION
Front Type 41 mm telescopic fork
Rear Type Uni-Trak. Spring preload: 7-way

DRIVETRAIN
Transmission 5-speed, return
Final Drive Belt
Clutch Wet, multi-disc, positive neutral finder

FRAME
Type Double-cradle, high-tensile steel
Suspension, Front 41 mm telescopic fork
Suspension, Rear Triangle swingarm with Uni-Trak single shock (7-position spring preload adjustment
Wheel travel: Front 150 mm
Wheel travel: Rear 103 mm
Tires: Front 80/90-21M/C (48H)
Tires: Rear 180/70-15M/C (76H)
Caster (Rake) 33°
Trail 182 mm
Steering Angle (Left/Right) 36° / 36°

BRAKES
Rear: Type Single 270mm disc
Rear: Caliper Twin-piston, pin-slide mount
Front: Type Single 300mm disc
Front: Caliper Twin-piston, pin-slide mount

DIMENSIONS
Overall Length 2,405 mm
Overall Width 895 mm
Overall Height 1,120 mm
Wheelbase 1,645 mm
Ground Clearance 140 mm
Seat Height 685 mm
Curb Mass 277 kg
Fuel Capacity 20 liters
Fuel Consumption 5.2 L/100 km (54 MPG)

DETAILS
MSRP* TBA
Colours Metallic Dark Red, Flat Black (Special Edition)
Warranty 12 months

ADDITIONAL COST OPTIONS
Good Times Protection Plan 24 or 36 months (Kawasaki GTPP coverage begins after the standard limited warranty expires)

* The Manufacturer's Suggested Retail Price does not include freight, pre-delivery inspection or applicable taxes. The final price is at the discretion of the dealer. Prices and Specifications are subject to change without prior notice.
The specifications mentioned here apply to and have been achieved by production models under standard operating conditions. We intend only to give a fair description of the vehicle and its performance capabilities but these specifications may not apply to every machine supplied for sale. Kawasaki Heavy Industries, Ltd. reserves the right to alter specifications without prior notice. Equipment illustrated and specifications may vary to meet individual markets. Available colours may vary by market.