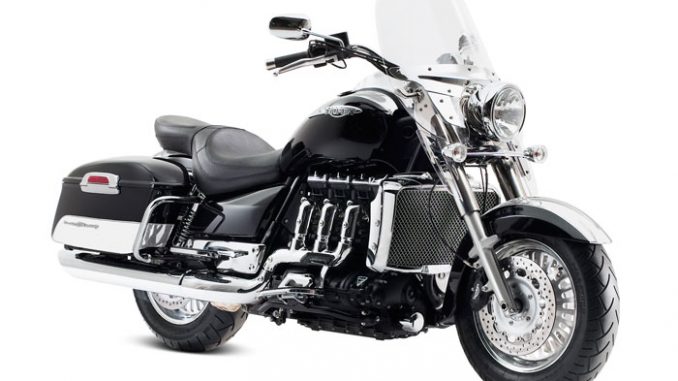 Back to 2011 Triumph Motorcycle Index Page
Click photos to enlarge.
They make great desktop images.

2011 Triumph Rocket III Touring

2011 Triumph Rocket III Touring

2011 Triumph Rocket III Touring

2011 Triumph Rocket III Touring

2011 Triumph Rocket III Touring
– 2011 Triumph Rocket III Touring

2011 Triumph Rocket III Touring
Rocket III Touring. Built for the long haul.
Triumph's critically-acclaimed Rocket III Touring is a true mile eating custom tourer blessed with unique character and that memorable 2.3 litre motor. This iconic engine has been retuned for effortless low down torque. Coupled with high levels of comfort for rider and pillion with sumptuous seats, detachable screen and front and rear footboards this bike is designed to devour the miles with effortless ease. Now with ABS brakes as standard.


Triumph's critically-acclaimed Rocket III Touring is a touring motorcycle built around a retuned version of the iconic turbine like 2.3 liter engine, which has been developed for effortless low down torque, the Rocket III Touring's chassis has been designed specifically for the job in hand.
Suspension has been tuned to achieve high levels of comfort without compromising control, while the with 180mm rear tire and 16 inch wheels make for surprisingly agile handling. Comfort comes from sumptuous rider and passenger seats, detachable screen and footboards front and rear, while color matched, water resistant, hard cases and shrouded front forks with polished lower castings add more than a dash of style and practicality to this highly accomplished motorcycle.
Triumph Rocket III Touring

Combining classic touring cruiser style with the awesome performance of the legendary 2.3 litre
Rocket III engine, the Rocket III Touring has been designed specifically for riders who demand serious long haul capabilities.

With this in mind, Triumph has endowed the 2011 Rocket III Touring with its advanced anti-lock
braking system for the first time, making this range-topping tourer an even more attractive proposition.

At the heart of the Rocket III Touring is Triumph's iconic 2,294cc triple, which has been tuned
specifically for the needs of the touring rider. The engine delivers a mighty 203Nm of torque through
the low maintenance shaft drive system at just 2000rpm, making overtaking in any gear safe and
effortless, even when fully laden with passenger and luggage.

The Rocket III Touringfs chassis has also been developed specifically for its intended purpose and helps deliver a surprisingly nimble ride, thanks to the low centre of gravity, 16h wheels and 180 section rear tyre. Rider and passenger comfort is paramount with the Rocket III Touring. The well appointed seat is constructed using two separate layers of cushioning of different densities, with the pillion also benefiting from an additional gel layer for supreme comfort and eday longf capability. The finely tuned suspension has been developed with comfort and control in mind, while comfort and practicality are enhanced with the standard fitment of quick release screen and 36-litre panniers.

The high specification continues with the adoption of an analogue fuel gauge and LCD clock and
trip computer, all mounted alongside the speedometer in the stylish tank-mounted chrome nacelle.

Teardrop shaped rider and passenger footboards are also a standard feature, while a long list of
optional accessories allows riders to create the Rocket III Touring they want. Accessories include
alternative touring screens, sissy bars, racks and auxiliary lamps, as well as a host of chrome and
leather items to make this already distinctive motorcycle even more striking.

The 2011 Triumph Rocket III Touring comes in two classic colour options: metallic Phantom Black
with hand painted silver coach lining or a two-tone Phantom Black with Crystal White infills.
Accessories Included as Standard:
Drilled oval mirrors
Pannier Embellisher kit
Headlamp visor
Quick release sissy bar
Luggage rack
Rear Fender Rail
Auxiliary lamps
Long haul seat
Roadster windscreen
Engine Dresser bars
Pannier dresser rails
Highway pegs
Adjustable pegs mounts
Adjustable riders backrest
Passenger backrest
2011 Triumph Rocket III Touring Highlights

Engine: Liquid-cooled, DOHC, in-line 3-cylinder

Rear Brakes: Single 316mm disc, Brembo 2-piston floating caliper, ABS

Instruments: Analogue speedometer featuring LCD odometer, trip information, clock and analogue tachometer featuring fuel level indicator, gear position indicator

– Bespoke tourer based on legendary 2.3 litre three-cylinder power plant, the worldfs largest capacity
motorcycle engine

– Standard ABS for 2011 model year

– 203Nm of torque for effortless two-up touring

– High specification includes bespoke hard luggage as standard

– Two year unlimited mileage warranty as standard
2011 Triumph Rocket III Touring Features and Benefits
Rocket III Touring – Triumph's 2.3 litre tourer. King of the cruisers.
Over 15,000 sold since its memorable introduction. Mile after mile is eaten up by this beautiful machine. Designed with touring in mind. Powerful, precise, comfortable and well equipped. One up or two. No one will miss you arriving.

Engine
The Rocket III Touring shares the same engine platform as the Rocket III. Its increased torque at low speeds means that even two-up and fully laden it will accelerate effortlessly for easy overtaking. The engine management system uses sensors to determine the correct fuelling and ignition and tailors the torque curve for each gear ratio. As a result the Rocket III Touring responds quickly, cleanly and strongly at any speed, in any gear.

Seat
The seat has the generous proportion of being 18" wide. The three layer construction with taped seams ensures that water is kept out!

Hard Panniers
The colour-matched, hard panniers come as standard and are lockable using the ignition key. They are quick to detach via two quarter-turn fasteners. They have been designed to be free-standing, are fully sealed and water resistant.

Footboards
Teardrop shaped, chromed aluminium castings with removable wear plates, spring mounted with an anti rattle pivot and rubber down stops.

Screen
A quick release screen comes as standard with great care paid to the details: The polished stainless steel mechanism and unique spring-loaded mounting bobbins lock the screen solidly in place, while lower air deflectors work with the main 'blade' of the screen to deflect turbulence.
---
2011 Triumph Rocket III Touring – USA Specifications
American MSRP: (Including standard accessories): $16,999 / Two-tone – $17,299 USD
Total Accessory Value: $2,815
Engine
Type
Liquid-cooled, DOHC, in-line 3-cylinder
Capacity
2294cc
Bore/Stroke
101.6 x 94.3mm
Compression Ratio
8.7:1
Fuel System
Multipoint sequential electronic fuel injection with twin butterflies and progressive linkage on primary butterflies

Transmission
Final Drive
Shaft
Clutch
Wet, multi-plate
Gearbox
5-speed constant mesh

Cycle Parts
Frame
Tubular steel, twin spine
Swingarm
Twin-sided, steel (houses drive shaft)
Front Wheel
Cast aluminum alloy 25-spoke 16 x 3.5in
Rear Wheel
Cast aluminum alloy 25-spoke 16 x 5.0in
Front Tyre
150/80 R16
Rear Tyre
180/70 R16
Front Suspension
Kayaba 43mm forks with fully shrouded uppers, 120mm travel
Rear Suspension
Kayaba chromed spring twin shocks with 5 position adjustable preload, 105mm wheel travel
Front Brakes
Twin 320mm floating discs, Nissin 4-piston fixed calipers
Rear Brakes
Single 316mm fixed disc, Brembo 2-piston floating caliper

Dimensions
Length
102.4 in
Width (Handlebars)
39.1 in including levers (widest fixed part)
Height
46.5 in (excluded quick release screen & mirrors)
Seat Height
28.7 in
Wheelbase
67.1 in
Rake/Trail
32 degree / 184 mm
Wet weight
869 lbs
Fuel Tank Capacity
5.9 US gals

Performance (measured at crankshaft to 95/1/EC)
Maximum Power EC
105bhp @ 6,000 rpm
Maximun Torque EC
150 ft.lbs @ 2,500 rpm

Colours

Jet Black, Eclipse Blue/Azure Blue, Jet Black/New England White
---
2011 Triumph Rocket III Touring – Canada Specifications
Canadian MSRP: $TBA CDN

Engine
Type
Liquid-cooled, DOHC, in-line 3-cylinder
Capacity
2294cc
Bore/Stroke
101.6 x 94.3mm
Compression Ratio
8.7:1
Fuel System
Multipoint sequential electronic fuel injection with twin butterflies and progressive linkage on primary butterflies

Transmission
Final Drive
Shaft
Clutch
Wet, multi-plate
Gearbox
5-speed constant mesh

Cycle Parts
Frame
Tubular steel, twin spine
Swingarm
Twin-sided, steel (houses drive shaft)
Front Wheel
Cast aluminium alloy 25-spoke 16 x 3.5in
Rear Wheel
Cast aluminium alloy 25-spoke 16 x 5.0in
Front Tyre
150/80 R16
Rear Tyre
180/70 R16
Front Suspension
Kayaba 43mm forks with fully shrouded uppers, 120mm travel
Rear Suspension
Kayaba chromed spring twin shocks with 5 position adjustable preload, 105mm wheel travel
Front Brakes
Twin 320mm floating discs, Nissin 4-piston fixed calipers
Rear Brakes
Single 316mm fixed disc, Brembo 2-piston floating caliper

Dimensions
Length
2603 mm (102.4 in)
Width (Handlebars)
995 mm (39.1 in) including levers (widest fixed part)
Height
1182 (46.5 in) (excluded quick release screen & mirrors)
Seat Height
730 mm (28.7 in)
Wheelbase
1705 mm (67.1 in)
Rake/Trail
32 degree / 184 mm
Wet weight
395 kg (869 lbs)
Fuel Tank Capacity
22.3 litres (5.9 US gals)
Performance (measured at crankshaft to 95/1/EC)
Maximum Power EC
106PS / 105bhp / 78kW @ 6000 rpm
Maximun Torque EC
203Nm / 150 ft.lbs @ 2500 rpm

Colours

Phantom Black, Phantom Black/Crystal White
---
2011 Triumph Rocket III Touring – UK Specifications
United Kingdom MSRP £TBC OTR
Engine and Transmission
Type Liquid-cooled, DOHC, in-line 3-cylinder
Capacity 2294cc
Bore/Stroke 101.6 x 94.3mm
Fuel System Multipoint sequential electronic fuel injection with twin butterflies and progressive linkage on primary butterflies
Exhaust Stainless steel 3 into 1 into 2, large volume catalysts in front of chrome-plated silencers
Final Drive Shaft
Clutch Wet, multi-plate
Gearbox 5-speed constant mesh
Oil Capacity 5.9 litres (1.6 US gals)

Chassis, Running Gear and Displays
Frame Tubular steel, twin spine
Swingarm Twin-sided, steel (houses drive shaft)
Wheel Front Cast aluminium alloy 25-spoke 16 x 3.5in
Rear Cast aluminium alloy 25-spoke 16 x 5.0in
Tyre Front 150/80 R16
Rear 180/70 R16
Suspension Front Kayaba 43mm forks. 120mm travel fully shrouded uppers
Rear Kayaba chromed spring twin shocks with 5 position adjustable preload, 105mm rear wheel travel
Brakes Front Twin 320mm floating discs, Nissin 4-piston fixed calipers
Rear Single 316mm fixed disc, Brembo 2-piston floating caliper
Instrument Display/Functions Analogue speedometer featuring analogue fuel gauge, scroll button on handlebars, LCD trip computer and clock

Dimensions and Capacities
Length 2603 mm (102.4 in)
Width (handlebars) 995mm (39.1in)
Height without mirrors 1182mm (46.5in)
Seat Height 730mm (28.7in)
Wheelbase 1705mm (67.1in)
Rake/Trail 32º/184mm
Fuel Tank Capacity 22.3 litres (5.9 US gals)
Wet Weight (ready to ride) 395 kg (869 lbs)
Performance (measured at crankshaft to 95/1/EC)
Maximum Power 106PS / 105bhp / 78 kW @ 6000rpm
Maximum Torque 203Nm / 150 ft.lbs @ 2500rpm