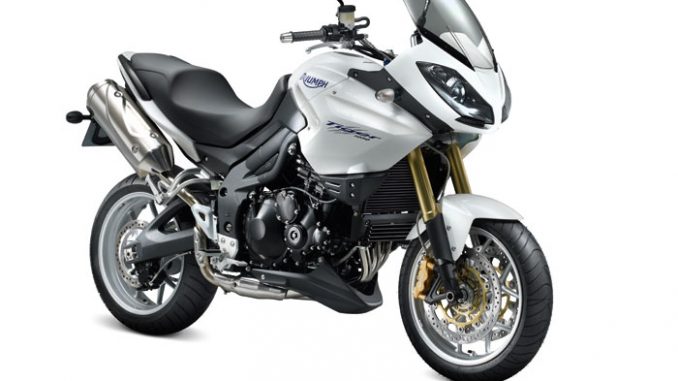 Back to 2011 Triumph Motorcycle Index Page
Click photos to enlarge.
They make great desktop images.
– 2011 Triumph Tiger 1050 ABS

2011 Triumph Tiger 1050 ABS
Scratch. Tour. Commute. Three bikes in one.
The perfect all-rounder? Tackles the urban jungle with aplomb, carves the twisties with ease. Looking for adventure? Get there in style and have fun on the way, one up or two.
With its commanding riding position, muscular 1,050cc triple engine, powerful brakes and high specification sporty chassis making for real fun on the twisties and composure in the traffic. Want one bike for all your needs? Tiger 1050

An all-rounder. The perfect all-rounder, we think. The Tiger is equally at home in the urban jungle as it is prowling on the open road.
The tall riding position gives a commanding view, making passing through rush hour traffic easy. Hit the highway and you will revel in the muscular 1050cc triple which, combined with powerful brakes and a high-specification sporty chassis, make carving through the twisties a real pleasure. And for the long haul the ergonomically designed seat with screen and fairing ensures a comfortable ride regardless of distance. A 5.2 gallon fuel tank, comprehensive instrumentation and optional ABS add to the practicality.
As with all Triumphs, a wide range of official accessories are available, allowing owners to tailor the Tiger to meet their specific needs. These range from practical items such as color matched luggage, heated grips and touring seats, to exquisitely crafted special parts allowing you to create an truly individual look.


Triumph Tiger 1050

A truly versatile motorcycle, the Triumph Tiger 1050 is a rare creature, one that is equally at home
in the urban jungle or wide open prairies.

It is this ability to do all things equally well that has made the Tiger 1050 one of Triumph's best selling
models in recent years and given it a huge following around the world.

Sit astride the Tiger 1050 and you will understand just why so many year-round riders choose one
as their daily ride. The tall (835mm) riding position gives the rider a commanding view over the traffic,
with the well appointed saddle facilitating comfortable day-long riding.

The Tiger 1050fs effortless power comes from a 115PS version of Triumph's legendary 1050cc triple
which delivers 98Nm of torque at just 6250rpm.

But while the Tiger 1050 is perfectly at home on the commute and the open highway, it is on twisting
roads where it really excels.

Triumph has endowed the Tiger 1050 with a chassis that would not be out of place on a sports bike.
The aluminium twin spar frame features a braced aluminium swingarm and light 17h alloy wheels
fitted with sporting road tyres. The 43mm inverted front forks are fully adjustable for preload, rebound
and compression damping, with the rear monoshock unit also adjustable for preload and rebound.

Braking power comes from twin four-piston radial calipers gripping 320mm front brakes.

Combined with the commanding riding position and wide handlebars, the Tiger 1050fs chassis and
engine combination adds up to a motorcycle that inspires confidence and is deceptively easy to ride
quickly. With a fuel capacity of 20 litres, the Tiger 1050 is capable of covering over 200 miles between fuel stops. The Tiger 1050 is available in two metallic colours, Phantom Black and Crystal White.
A number of official Triumph accessories are available for the Tiger 1050. Most popular are the
colour-matched hard luggage, heated grips and gel touring seats, confirming the Tiger 1050fs place
as an all-round workhorse.

A higher-specification Tiger 1050SE is also available. It features ABS brakes as standard, along with
panniers (giving a capacity of 43 litres), centre stand, gel seat and handguards. The Tiger 1050SE
also comes in two distinctive colour schemes: Intense Orange and a two-tone Matt Graphite and
Matt Black combination.
2011 Triumph Tiger 1050 ABS Highlights
Engine: 1050cc Liquid-cooled, 12 valve, DOHC, in-line 3-cylinder

Exhaust: Stainless Steel 3 into 1, high level polished stainless steel silencer

Front Wheel: Cast aluminium alloy multi-spoke 17 x 3.5in

Fuel Capacity: 20 litre (5.3 US gals)

Front Brakes: Twin 320mm floating discs, Nissin 4-piston radial calipers (ABS model available)

– Outstandingly versatile motorcycle with 115PS 1050cc engine

– Sporting chassis with 17h alloy wheels and adjustable 43mm upside down forks

– Comfortable 835mm seat gives a commanding riding position

– SE edition includes panniers, handguards and ABS brakes as standard

– Standard two-year unlimited mileage warranty






2011 Triumph Tiger 1050 ABS Features and Benefits
Tiger 1050 – Superbly competent bike.
One up scratching for fun. Two up adventures. Short or long haul. Commute or holiday. The Tiger 1050 does it all.

Engine
The Tiger's engine delivers power and ear to ear grins. The amazing 1050cc, fuel-injected, three cylinder engine, known for its addictive character, has plenty of torque and impressive amounts of horsepower, with ample reserves of both for those two-up fully laden tours. Peak power of 115PS (113bhp) is delivered at 9400rpm, with 100Nm (74ft.lbf) torque at 6250rpm.

Seat
The comfortable, spacious seat and relaxed rider and pillion ergonomics mean you'll arrive fresh even at the end of the longest day.

Handlebars
High, wide bars give a comfortable riding position and excellent control at all speeds, from urban manoeuvring to motorway cruising.

Suspension
The 43mm upside down fully adjustable forks and spring preload and rebound damping adjustable rear shock keeps the ride comfortable on the worst of roads and gives excellent control when the pace picks up.

Screen
The Tiger screen gives great wind protection for those long journeys without obscuring your view around town.

ABS
Triumph's Antilock Braking System has been carefully designed to boost control under hard braking, working on both wheels independently. This unobtrusive system retains all the sensations of riding, operating at 100 calculations per second to sense the precise moment the wheel is about to lock up, then preventing it from doing so. The system has been specifically tailored to the Tiger, with painstaking calibration over many months to ensure optimum braking performance.
---
2011 Triumph Tiger 1050 ABS – USA Specifications
American MSRP: $TBD USD
Engine
Type
Liquid-cooled, 12 valve, DOHC, in-line 3-cylinder
Capacity
1050cc
Bore/Stroke
79 x 71.4mm
Compression Ratio
12.0:1
Fuel System
Multipoint sequential electronic fuel injection with SAI

Transmission
Final Drive
X ring chain
Clutch
Wet, multi-plate
Gearbox
6-speed

Cycle Parts
Frame
Aluminum beam twin spar
Swingarm
Braced, twin-sided, aluminum alloy
Front Wheel
Cast aluminum alloy, multi spoke, 17 x 3.5in
Rear Wheel
Cast aluminum alloy, multi spoke, 17 x 5.5in
Front Tyre
120/70 ZR 17
Rear Tyre
180/55 ZR 17
Front Suspension
Showa 43mm upside down forks with adjustable preload, rebound and compression damping, 150mm travel
Rear Suspension
Showa Monoshock with adjustable preload and rebound damping 150mm rear wheel travel
Front Brakes
Twin 320mm floating discs, Nissin 4 piston radial calipers (ABS model available)
Rear Brakes
Single 255mm disc, Nissin 2 piston sliding caliper (ABS model available)

Dimensions
Length
83in
Width (Handlebars)
33in
Height
51.9in
Seat Height
32.8in
Wheelbase
59.4in
Rake/Trail
23.2 degree/87.7mm
Wet Weight
502lbs
Fuel Tank Capacity
5.3 USgal

Performance (measured at crankshaft to 95/1/EC)
Maximum Power EC
111bhp @ 9,400 rpm
Maximum Torque EC
72ft.lbs at 6,250 rpm

Colours
Phantom Black, Crystal White
---
2011 Triumph Tiger 1050 ABS – Canada Specifications
Canadian MSRP: $TBA CDN

Type
Liquid-cooled, 12 valve, DOHC, in-line 3-cylinder
Capacity
1050cc
Bore/Stroke
79 x 71.4mm
Compression Ratio
12.0:1
Fuel System
Multipoint sequential electronic fuel injection with SAI (except NZ, ZA, AU)
Transmission
Final Drive
X ring chain
Clutch
Wet, multi-plate
Gearbox
6-speed

Cycle Parts
Frame
Aluminium beam twin spar
Swingarm
Braced, twin-sided, aluminium alloy
Front Wheel
Cast aluminium alloy, multi spoke, 17 x 3.5in
Rear Wheel
Cast aluminium alloy, multi spoke, 17 x 5.5in
Front Tyre
120/70 ZR 17
Rear Tyre
180/55 ZR 17
Front Suspension
Showa 43mm upside down forks with adjustable preload, rebound and compression damping, 150mm travel
Rear Suspension
Showa Monoshock with adjustable preload and rebound damping 150mm rear wheel travel
Front Brakes
Twin 320mm floating discs, Nissin 4 piston radial calipers (ABS model available)
Rear Brakes
Single 255mm disc, Nissin 2 piston sliding caliper (ABS model available)

Dimensions
Length
2110mm (83in)
Width (Handlebars)
840mm (33in)
Height
1320mm (51.9in)
Seat Height
835mm (32.8in)
Wheelbase
1510mm (59.4in)
Rake/Trail
23.2 degree/87.7mm
Wet Weight
228kg 502lbs
Fuel Tank Capacity
20 litres (5.3 USgal)

Performance (measured at crankshaft to 95/1/EC)
Maximum Power EC
113PS /111bhp / 83kW @ 9400 rpm
Maximum Torque EC
98Nm / 72ft.lb at 6250 rpm

Colours
Phantom Black, Crystal White
---
2011 Triumph Tiger 1050 ABS – UK Specifications
United Kingdom MSRP £TBA OTR
Engine and Transmission
Type Liquid-cooled, 12 valve, DOHC, in-line three-cylinder
Capacity 1050cc
Bore/Stroke 79 x 71.4mm
Fuel System Multipoint sequential electronic fuel injection with SAI (except NZ, ZA, AU)
Exhaust Stainless Steel 3 into 1, high level polished stainless steel silencer
Final Drive X ring chain
Clutch Wet, multi-plate
Gearbox 6-speed
Oil Capacity 3.5 litres (0.9 US gals)

Chassis, Running Gear and Displays
Frame Aluminium beam twin-spar
Swingarm Braced, twin-sided, aluminium alloy
Wheel Front Cast aluminium alloy multi-spoke 17 x 3.5in
Rear Cast aluminium alloy multi-spoke 17 x 5.5in
Tyre Front 120/70 ZR 17
Rear 180/55 ZR 17
Suspension Front Showa 43mm upside down forks with adjustable preload, rebound and compression damping, 150mm travel
Rear Showa Monoshock with adjustable preload and rebound damping, 150mm rear wheel travel
Brakes Front Twin 320mm floating discs, Nissin four-piston radial calipers (ABS model available)
Rear Single 255mm disc, two-piston Nissin calipers (ABS model available)
Instrument Display/Functions LCD multi-functional instument pack with digital speedometer, trip computer and analogue tachometer

Dimensions and Capacities
Length 2110mm (83.0in)
Width (handlebars) 840mm (33.0in)
Height without mirrors 1320mm (51.9in)
Seat Height 835mm (32.8in)
Wheelbase 1510mm (59.4in)
Rake/Trail 23.2°/87.7mm
Fuel Tank Capacity 20 litres (5.3 US gals)
Wet Weight (ready to ride) 228 kg (502 lbs)

Performance (measured at crankshaft to 95/1/EC)
Maximum Power 113PS / 111bhp / 83 kW @ 9400rpm
Maximum Torque 98Nm / 72 ft.lbs @ 6250rpm