Back to Total Motorcycle Dunlop Tire/Tyre Guide
Click photos to enlarge.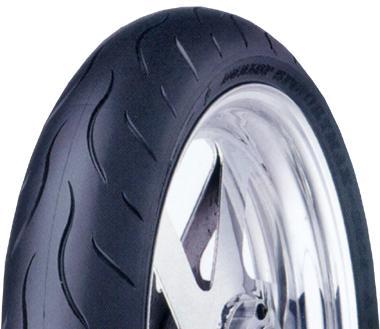 Dunlop D208GP
– Dunlop D208GP
For racers in need of superior track-going performance, Dunlop now offers a new alternative, the D208GP-JLB. These newly developed race-compound tires incorporate cut-angle breaker in front and Jointless Band (JLB) construction in the rear for top-level traction, rider-friendly set-up and exceptionally responsive turning characteristics.
High-Performance/Sport

Thirty-two national road racing championships on DOT tires pave the way to significant advances in sport tire performance for street riders. The record clearly shows no other tire manufacturer can match Dunlop's level of racing dominance. And that means nobody else can build high-performance sport radials like Dunlop.

FEATURES

New version of Dunlop's D208GP supersport tire, developed and manufactured in the USA to specifically meet the needs of racers and sport bike riders in the United States.

Race-tire compound and track-going profile give the all-new D208GP unparalleled grip, excellent drive out of corners, exceptional steering response, and superior on-the-track handling.

New construction delivers increased bump absorption for a smooth ride and offers a more "forgiving" nature that allows racers to change lines through corners as needed.

Jointless Band construction in the rear tire yields bolt-on performance right off the shelf with minimal bike setup.

New D208GP tread pattern is identical to the D208GP national-championship-winning tire and provides maximum footprint area and superior cornering grip.

Sizes
 

SIZE

LOAD/ SPEED INDEX

SIDEWALL

PART #

APPLICABLE RIMS


RECOMMENDED RIM

OVERALL DIAMETER

OVERALL WIDTH

FULL TREAD DEPTH

MAXIMUM LOAD @ PSI

  D208 GP Front

 120/70ZR17

 58W

 BW

 3009-75

 3.50

 23.52

 4.65

 5/32

 520 @ 42

  D208 GP-A Rear

 180/55ZR17

 73W

 BW

 3009-30

 5.50  6.00

 25.22

 7.33

 6/32

 805 @ 42

BW = Black Sidewall
Do not mix these radials with other radials or non-radials, fit only in pairs.
Note: When new tires are fitted, they should not be subjected to sudden acceleration, hard cornering, maximum power or braking for at least 100 miles. Failure to do so may result in loss of control and serious injury. The 100 mile run-in is required to adjust to the feel of new tires versus the worn tires.