You are here: Home — Tire/Tyre Guide — Metzeler — Metzeler MEZ3
Metzeler MEZ3
Back to Total Motorcycle Metzeler Tire/Tyre Guide
Click photos to enlarge.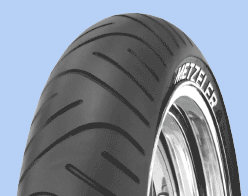 Metzeler MEZ3 Front
– Metzeler MEZ3
FEATURES
Racing version with even more grip for pure sport riding application.
Superior handling ensured by modified contour design; optimal braking force transmission
Tread compound engineered for maximum grip; successful in international Super-sport racing: safety to spare for sport-oriented street riders.


Alternative Tyres

– RENNSPORT
– SPORTEC M-1
Sizes
MEZ3F Front
110/70ZR17TL 54W(B) MEZ3F
120/70ZR17TL(58W) MEZ3F

MEZ3 Rear
190/50ZR17TL(73W)(H) RACING MEZ3
190/50ZR17TL(73W) MEZ3
180/55ZR17TL(73W) MEZ3
160/60ZR17TL(69W)(B) MEZ3
170/60ZR17TL(72W) MEZ3