You are here: Home — Tire/Tyre Guide — Michelin — Michelin Commander
Michelin Commander
Back to Total Motorcycle Michelin Tire/Tyre Guide
Click photos to enlarge.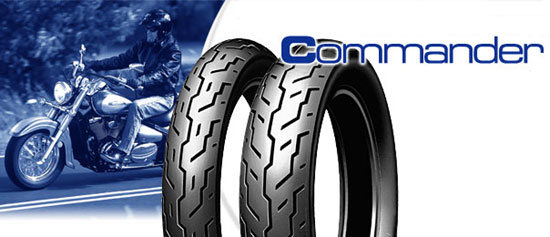 Michelin Commander
– Michelin Commander
FEATURES
Premium cruiser tyre

Developed for the cruiser rider who demands performance
Impressive handling and comfort
Cruiser riders understand good looks are just as important as high performance. With its easy-steering profile, ultra-comfortable highway ride and distinctive styling, the Michelin Commander combines a custom look with superb handling and precise steering. Yet it still delivers the long mileage that serious cruiser riders expect. It's a tyre for those who ride for the simple pleasure of riding.
Sizes

FRONT
130/90 – 16
MT 90 B – 16
150/80 – 16
100/90 – 18
110/90 – 18
120/90 – 18
90/90 – 19
100/90 – 19
110/90 – 19
3.00 – 19
80/90 – 21
MH 90 – 21

REAR
140/90 15
150/90 – 15
170/80 – 15
130/90 – 16
140/90 – 16
150/80 – 16
MT 90 B – 16