You are here: Home — Tire/Tyre Guide — Pirelli — Pirelli Diablo Strada
Pirelli Diablo Strada
Back to Total Motorcycle Pirelli Tire/Tyre Guide
Click photos to enlarge.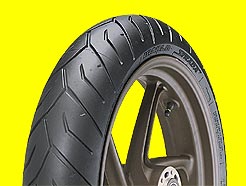 Pirelli Diablo Strada Front
– Pirelli Diablo Strada
FEATURES

The ideal tyre for people who love long touring journeys, but don't want to sacrifice the sporty side of riding.

– Co-designed front and rear profile design, to guarantee a sporty performance on all kind of roads.
– Functional and distinctive front and rear tread design to maximise water dispersal.
– High Grip compound to guarantee constant performance all through the long life of the tyre.


Alternative tyres
– SCORPION SYNC
– DRAGON GTS MTR24


Sizes
Front: DIABLO STRADA
120/60ZR17M/CTL (55W) DSTRA
120/70ZR17M/CTL (58W) DSTRA
110/80ZR18M/CTL (58W) DSTRA

Rear: DIABLO STRADA
180/55ZR17M/CTL (73W)(E) DSTRA
180/55ZR17M/CTL(73W) DSTRA
160/60ZR17M/CTL(69W) DSTRA
170/60ZR17M/CTL(72W) DSTRA
150/70ZR17M/CTL(69W) DSTRA