You are here: Home — Tire/Tyre Guide — Pirelli — Pirelli Diablo Wet
Pirelli Diablo Wet
Back to Total Motorcycle Pirelli Tire/Tyre Guide
Click photos to enlarge.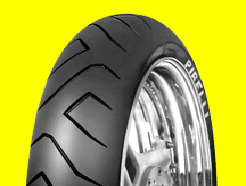 Pirelli Diablo Wet Front
– Pirelli Diablo Wet
FEATURES

From the experience of PIRELLI in F.I.M. World Superbike Championship a new tread pattern especially developed for Intermediate applications is available in two new 16.5" sizes.
A complete range for an extended use in all categories including Superbike, Supersport and Superstock.

– New 16.5″ tyre with a brand new tread design to guarantee performance and control under intermediate weather conditions.
– Engineered together with the Diablo Wet Front, the new 16.5″ tyre is the perfect choice in wet conditions.


Alternative Tyres

– DRAGON SLICK
– DIABLO RAIN

Sizes
Front: DIABLO WET
120/75R420NHSTL DBWETF

Rear: DIABLO WET
180/55R17NHSTL DBWET
190/65R420NHSTL DBWET