You are here: Home — Tire/Tyre Guide — Pirelli — Pirelli MT32
Pirelli MT32
Back to Total Motorcycle Pirelli Tire/Tyre Guide
Click photos to enlarge.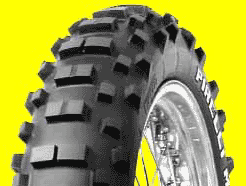 Pirelli MT32 Front
– Pirelli MT32
FEATURES

WORLD CHAMPIONSHIP OFF-ROAD TYRE with superb performance on a wide range of terrain.


– SPECIAL POLYESTER CARCASS to increase heating resistance in race conditions and to reduce weight without compromising on stability and cornering behaviour.
– Tyre contour and knob design for MAXIMUM TRACTION on soft to intermediate terrain.
– ALIGNED SIDE KNOBS ON FRONT WHEEL for optimised braking control and steering precision.


Alternative tyres
– MT16 GARACROSS

Sizes
Front: MT32A SANDCROSS
2.50-10NHS 33J MT32A
60/100-12(A) NHS 36M MT32A
60/100-14NHS 29M(A) MT32A
70/100-17NHS 40M(A) MT32A
70/100-19NHS 42M(A) MT32A
80/100-21M/C 51RMST MT32A
90/100-20M/C 56R MST MT32A

Rear: MT32 SANDCROSS
100/90-19NHS (57) MT32
110/90-19NHS (62) MT32
120/90-19NHS MT32
110/100-18NHS (64) MT32
120/100-18NHS (68) MT32
90/100-16NHS 51M MT32