You are here: Home — Tire/Tyre Guide — Pirelli — Pirelli MT320
Pirelli MT320
Back to Total Motorcycle Pirelli Tire/Tyre Guide
Click photos to enlarge.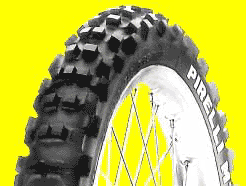 Pirelli MT320 Front
– Pirelli MT320
FEATURES

Off-road tyre for usage on medium to soft terrain.


– THREE-PLY POLYESTER CARCASS to reduce weight without compromising on stability and cornering behaviour.
– SHARPER KNOBS for maximised traction on soft to intermediate terrain, above all in extreme cornering situation where it offers excellent power transmission.
– NUMEROUS FRONT SHOULDER KNOBS BOND TOGETHER for optimised braking control and steering precision.


Alternative tyres
– MT410
– MT44 LAGUNACROSS

Sizes
Front: MT320 FRONT
80/100-21M/C 51R MT320F
80/100-21NHS (H) MT320F

Rear: MT320
2.75-10NHS 37J MT320
100/90-19NHS MT320
110/90-19NHS MT320
100/100-18NHS MT320
110/100-18NHS MT320
80/100-12NHS 50M MT320
90/100-14NHS 49M MT320