You are here: Home — Tire/Tyre Guide — Pirelli — Pirelli SL38 UNICO
Pirelli SL38 UNICO
Back to Total Motorcycle Pirelli Tire/Tyre Guide
Click photos to enlarge.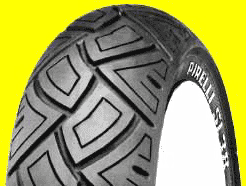 Pirelli SL38 UNICO Front
– Pirelli SL38 UNICO
FEATURES

Sport-touring tread pattern FOR SCOOTER WITH 10″.


– CLASSIC DESIGN TREAD PATTERN with low section profile and stiff carcass, to ensure superb stability when cornering, even when the scooter is fully loaded.
– Outstanding STABILITY AND HANDLING characteristics.
– LARGE TREAD BLOCKS for wet performance, even wear and mileage.

Alternative tyres
– SL90
– MANDRAKE MT15
– SL36 DJ
– SL26
– SL60
– SC30

Sizes
Front: SL38 UNICO
110/70-11TL 45L SL38
120/70-10REINFTL 54L SL38
130/70-10REINFTL 59L SL38
100/80-10TL 53L SL38
110/80-10TL 58J SL38

Rear: SL38 UNICO
110/70-11TL 45L SL38
120/70-10REINFTL 54L SL38
130/70-10REINFTL 59L SL38
100/80-10TL 53L SL38
110/80-10TL 58J SL38