You are here: Home — Tire/Tyre Guide — Pirelli — Pirelli Scorpion MT90 A/T
Pirelli Scorpion MT90 A/T
Back to Total Motorcycle Pirelli Tire/Tyre Guide
Click photos to enlarge.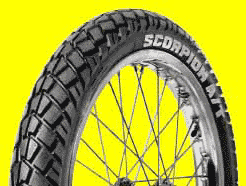 Pirelli Scorpion MT90 A/T Front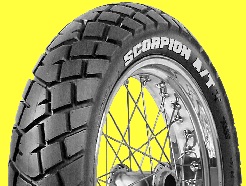 Pirelli Scorpion MT90 A/T Rear
– Pirelli Scorpion MT90 A/T
FEATURES

Dual-purpose conventional tyres for Enduro bikes, BEST FOR MORE OFF-ROAD ORIENTED RIDERS.


– Tread pattern with BIG CENTRAL KNOBS for straight riding stability and general V-shape orientation for high adherence in traction and braking.
– Excellent high-speed stability even when fully loaded thanks to SIZE OPTIMISED CARCASS. Superb wet/dry grip due to NEW SILICA-THREAD COMPOUND, that offers also mileage and regular tread wear performances.
– Some 0°- STEEL BELT RADIAL SIZES specially developed for heavy usage (desert and sand) on new generation big Enduro bikes.

Alternative tyres
– MT70
– MT40 TRAIL
– MT21 RALLYCROSS

Sizes
Front: MT90 SCORPION A/T FR
2.75-21M/C 45R MT90AF *
80/90-21M/C 48SFRONT MT90AF
90/90-19M/C 52P MT90AF
90/90-21M/C 54SFRONT MT90AF
90/90-21M/CTL 54VFRONT MT90AF

Rear: MT90 SCORPION A/T
150/70R18M/CTL 70V MT90AT
110/80-18M/C 58S MT90AT
120/80-18M/C 62S MT90AT
140/80-18M/C 70S MT90AT
4.10-18M/C 60R MT90AT *
4.60-17M/C 62R MT90AT *
110/90-17M/C 60P MT90AT
120/90-17M/C 64S MT90AT

( * ) Close out