You are here: Home — Tire/Tyre Guide — Pirelli — Pirelli Scorpion SYNC
Pirelli Scorpion SYNC
Back to Total Motorcycle Pirelli Tire/Tyre Guide
Click photos to enlarge.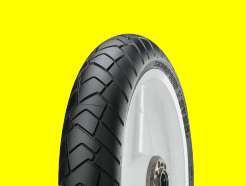 Pirelli Scorpion SYNC Front
– Pirelli Scorpion SYNC
FEATURES

SPORT AND RECREATION tyre for HIGH VERSATILITY bikes that is combining an enduro's SENSE OF FREEDOM with the performance level of a sport bike.

– 0° steel-belted radial structure associated with a tough, lightweight carcass to promote ease of handling and road holding at medium and high speeds. Contact patch is optimised at any lean angle and any kind of surface, from perfect asphalt to rough road.
– The compound has a high percentage of silica to ensure good wet grip and rapid temperature gain, which promotes traction on cold and damp road surfaces.
– The tread design is derived from an innovative and aesthetically pleasing combination of blocks typical of enduro and curvy lines of supersport tyres: aggressive look with extreme wet performances.

Alternative tyres
– DIABLO STRADA
– DRAGON GTS MTR24



Sizes
Front: SCORPION SYNC FRONT
120/70R17M/CTL 58H SYNCF
120/70ZR17M/CTL 58W SYNCF

Rear: SCORPION SYNC
180/55ZR17M/CTL 73W SYNC
160/60ZR17M/CTL 69W SYNC