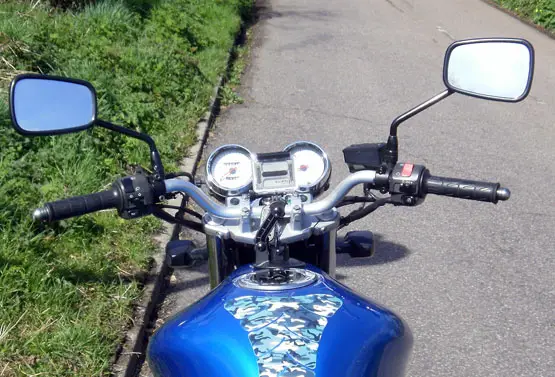 ---

Page 7 – GoPro HD Motorsports Hero – Technical Specifications
Page 7 of 7
<< Page Back – Page Forward >>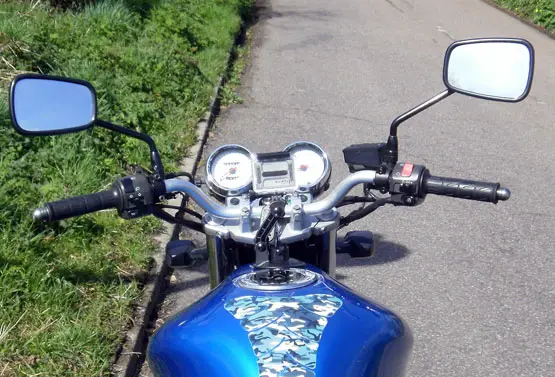 GoPro HD Hero mounted with Suction Cup on motorcycle gas tank
There are products that come along that are really cool; once in a while, a product comes along that is revolutionary.
Total Motorcycle GoPro HD Hero overall review video

Total Motorcycle Editor's Gold Award
GoPro's HD Motorsports HERO is the world's highest performance 1080p HD on board video and still photo racing camera. Professional quality 1080p, 960p, and 720p HD resolutions records the action at 30 frames per second (60 fps in 720p). The HD Motorsports HERO easily mounts to any helmet, motorcycle, ATV, car, plane, jet ski, boat, snowmobile or other vehicle. The camera's quick-release mounting design makes it easy to reposition the camera around your vehicle for professional quality HD video from several angles.

Record up to 2.5 hours on a single charge and up to 9 hours total on a 32GB SD card.

GoPro's obsession with sound has conquered the wind. At 85 mph on a motorcycle, you'll enjoy the throaty sound of your motor, not the wind. Inside even the quietest street cars, hear the pull of your motor…not the drone of the wind and road.

The camera can also shoot automatic 5MP time lapse photos at 2/5/10/30 and 60 second intervals during your drive or ride, hands free. Press the shutter button once and record up to 2.5 hours of on board action with poster-print quality photos.

Included are mounts for two helmets and three vehicles, as well as a suction cup for maximum versatility and convenience. Also included is a 1100mAh rechargeable lithium-ion battery that lasts for up to 2.5 hours of constant recording. With optional accessories, you can also plug the camera into a wall outlet, cigarette lighter, or with any USB-compatible power adapter, wire it directly to your vehicle's electrical system. The battery will charge while you record.

Waterproof to 180' / 60m and protected from rocks and other hazards thanks to its removable polycarbonate housing. Replacement housings and lens kits are available, making repairs or refurbishing your HD HERO camera affordable and convenient. It's a GoPro…go for it.™
What's Included:
– 1 HD HERO Camera (5 megapixel)
– 1 Rechargable 1100 mAh Lithium-Ion Battery
– 1 Waterproof Quick-Release Housing (180'/60 m)
– 3 Flat, 3M™ Adhesive Mounts
– 2 Curved, 3M™ Adhesive Mounts
– 2 Quick-Release Buckles
– 1 Vertical Surface "J-Hook" Buckle
– 1 Suction Cup Mount
– 1 Three-Way Pivoting Side Arm Assembly
– 1 USB Cable
– 1 Component Video (HDTV) Cable
– 1 Composite Video + Audio Out Cable
– Warranty: One Year
GoPro HD Hero Technical Specifications

Camera Optics
– Lens Type: Fixed Focus (2ft/.6m – 8), glass
– Aperture: f/2.8 (high performance in low-light situations)
– Angle of View: 170º ultra wide angle in WVGA, 720p, or 960p mode
– Angle of View: 127º wide angle in 1080p mode

Video
– HD Video Resolution Modes: (subject to change, pending final firmware release) 1080p = 1920×1080 pixels (16:9), 30 fps, 15 Mbit/s data rate
960p = 1280×960 pixels (4:3), 30 fps, 12 Mbit/s data rate
720p = 1280×720 pixels (16:9), 60 fps, 15 Mbit/s data rate
720p = 1280×720 pixels (16:9), 30 fps, 8 Mbit/s data rate
WVGA = 848×480 pixels (16:9), 60 fps, 8 Mbit/s data rate

– Sensor Type: 1/2.5? HD CMOS, 2.2µm-sized pixels
– Light Sensitivity: Super low-light sensitivity (>1.4 V/lux-sec)
– Video Format: H.264 compression, saved as Windows- & Mac-compatible MPEG4 (.mp4) file
– Exposure Control: Auto with user selectable center weighted average and spot metering settings
– White Balance: Auto

Audio
– Microphone: Built-in, mono with AGC (automatic gain control)
– Audio Format: 48 kHz, AAC audio compression

Photo
– Resolution: 5 megapixel
– Capture Modes: Single shot, photo every 2, 5, 10, 30 or 60 secs.; 3 photo burst; self-timer

Storage
– Memory: SD card (SDHC), up to 32GB capacity (not included)
– Average recording times (using 32GB SD card): 1080p (30 fps): 4h 21m
960p (30 fps): 5h 26m
720p (60 fps): 4h 21
720p (30 fps): 8h 09m
WVGA (60 fps): 8h 09m
Camera Connectors & Cables
– PC Connection: USB 2.0 (data connection and battery charging)
– HDTV Out: HD NTSC & PAL (component cable incl.)
– Audio Out: Combo 2.5mm jack with stereo audio and composite video out
– PC Compatibility: Windows® Vista or Windows® 7; Mac OS® X 10.4.11 and later

Power & Battery
– Battery Type: Rechargeable 1100 mAh lithium-ion
– Battery Life: Approx. 2.5 hrs
– Charging: via USB to computer or optional power adapter
– Charge Time: 80% capacity after 1 hour with optional power adapter; or 2 hours with a computer's USB port

Waterproof Camera Housing
– Depth Rating: Up to 180 feet / 60 meters
– Construction: Polycarbonate and stainless steel
– Hardware: Stainless steel

Size & Weight
– Dimensions (H x W x D): 1.6" x 2.4" x 1.2" (42mm x 60mm x 30mm)
– Weight: 3.3oz (94g) incl. battery, 5.9oz (167g) incl. housing

Optional Accessories
– Additional Rechargable 1100 mAh Lithium-Ion Battery
– Full Line of Mounting Accessories

Optional Expansion BacPacs™

An innovative expansion port on the back of the camera, the HERO Bus™ accepts optional Expansion BacPacs to expand the functionality of HD HERO cameras:
– LCD BacPac for on-camera preview and playback
– Endurance Battery BacPac for double battery life
– More BacPacs and expansion devices coming soon

Be a HERO…GoPro, in HD.

Developed for professional use, but at a consumer price, the HD HERO line of wearable cameras capture full HD video rivaling cameras costing 10x the price. How? Our team consists of some of the the brightest minds in Silicon Valley who also happen to be obsessed with outdoor sports, race cars, and all things moto. Athletic super geeks? Indeed.

Professional Quality, Full HD Video

1080p, 960p, and 720p in 30 and 60 fps (720p). The HD HERO line of cameras offers three different HD resolutions, giving you three filming modes to capture the best angles for any given activity:
– 1080p: 1920×1080 True HD featuring a 127º angle of view, 30 fps, and 16:9 widescreen aspect ratio
– 960p: 1280×960 Ultra Wide and Tall HD featuring a 170º angle of view, 30 fps, and 4:3 aspect ratio. See more of the action above and below than widescreen16:9 resolutions can show.
– 720p: 1280×720 Ultra Wide HD featuring a 170º angle of view, both 30 and 60 fps, and 16:9 widescreen aspect ratio

5MP Photos, Automatically

HD HERO cameras can shoot hands-free, 5 megapixel photos automatically at 2 / 5 / 10 / 30 / and 60 second intervals until the batteries die or the SD card is full (2.5 hours). Or set it to single shot, triple shot, or self timer for more traditional photo taking.

Audio Excellence

We've invested more in the HD HERO camera's sound system than most companies spend on their entire camera development. You'll only be hearing the sounds of your sport, not the howl of the wind. How? Obsessive audio engineering and an understanding that good sound is as important as good video.

Rechargeable Lithium-Ion, Built in Battery Warmer

The rechargeable 1100mAh lithium-ion battery (included) lasts for 2.5 hours of constant recording. It can be recharged to 80% capacity in just 2 hours when plugged into a computer's USB port, or in 1 hour when plugged into a USB compatible wall or car charger. Camera can also be used while charging…handy on road trips where it's fun to leave the camera rolling. Camera also features an integrated battery heating system for keeping your battery warm in winter activities.

Shockproof, Bombproof, Waterproof to 180' / 60m

Don't let a little water, or even a ton of water get in the way of getting the shot. Proven in heavy surf from Hawaii to Tahiti, Southern Mexico to Northern California, HD HERO cameras can handle it thanks their highly engineered polycarbonate exoskeletal housing. Waterproof to 180' / 60m and tough enough to take a spin across the asphalt, GoPros are built to take a beating. Replacement lens kits are also available for $20, so there's little worry of scratching the tempered glass lens while going for glory. Trash the housing in a massive crash? Replacements are available for $40. It's a GoPro…go for it.