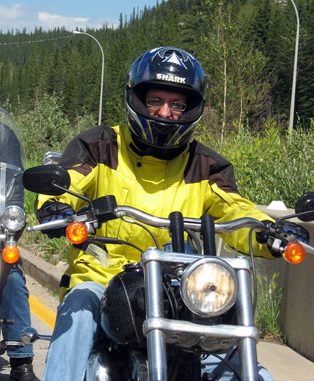 Back to Motorcycle Review Page

The 2010 Dyna Wide Glide… Pure Raw Harley-Davidson
Page 3 of 12
<< Page Back – Page Forward >>
The 2010 Dyna Wide Glide… 100% Raw Harley-Davidson.
 
 

..

..
 

Rider view from the Dyna Wide Glide
Where do you want to go today?

 
 
The bike was a joy to ride and offered a really nice layout and seat. It sounded good, it accelerated good and was a great highway bike. Harley-Davidson kept it simple and raw. Pure H-D, with little in the way.
I really liked the stretched-out look of the Dyna Wide Glide. The 40-spoke laced (21″ front, 17″ rear) wheels were perfect for the look. The exhaust, which is a chrome, "Tommy Gun" 2-1-2 collector exhaust with dual mufflers, not only sounded great but also looked the part too. I could also see how a Dyna Wide Glide owner would add some custom touches to the bike as it's so raw and ready, which makes it perfect for the rider who wants to slightly personalize without going over the edge.
We filled up for gas in Stony Plain, Alberta (Edmonton to Stony Plain =167km) It started raining a bit and the winds were getting fierce. We were on the edge of a rain storm but thankfully it didn't last long. It ended when we pulled in for lunch in Edson at Ernie O's.
Ernie O's is one of those local diners you just have to stop in to eat if you are passing through Edson. Ernie wasn't there to greet us but he does have a little "statue" of himself at the entrance of his restruant Ya well, it's a small town thing I guess, part of the experience! But Ernie can cook up a good lunch at a very reasonable price.
Fuel up again and back on the Dyna Wide Glide for the next leg to Jasper, Alberta. The Trans-Canada Yellowhead Highway 16 between Edmonton to Edson is, well…nice and straight but well…a little boring. It's more of a way to get from Point A (Edmonton) to Point B (Jasper). Once you pass Hinton, Alberta it's a different story though as the highway starts to enter the foothills, then on through Jasper National Park and the Canadian Rockies making the 4 1/2 hour trip well worth it.
Jasper National Park
Jasper National Park is the largest national park in the Canadian Rockies, spanning 10,878 km² (4200 mi²). It is located in the province of Alberta, north of Banff National Park and west of the City of Edmonton. The park includes the glaciers of the Columbia Icefield, hot springs, lakes, waterfalls and, of course, mountains. Wildlife in the park includes elk, caribou, moose, mule deer, white-tailed deer, mountain goat, bighorn sheep, grizzly bear, black bear, beaver, Rocky Mountain pika, hoary marmot, gray wolf, mountain lion, and wolverine.
Out of gas.
Edson to Jasper. 180km.
180km's on the map doesn't sound that far, but when you are in the mountains with thin air gas mileage isn't the best. Around 150km's my poor Dyna Wide Glide went on reserve with a 30km count down. There is nothing like seeing your "low fuel" light come on in the middle of nowhere and thinking "Humm… might be more than 30km's to the next gas station". Well, the Wide Glide did make it into town on fumes, sputtered and died; luckily, the gas station was right across the intersection. Rocking the bike got enough gas into the bike to get it started and ride to the pump. Embarrassment of pushing the out-of-fuel H-D into the gas station was averted!
Fists in the wind.
Riding the 2010 Harley-Davidson Dyna Wide Glide is a unique experience not shared by other H-D motorcycles or brands. After 3 1/2 hours of riding in windy conditions the bike does hint at what an owner might want to upgrade next for long highway cruises. (hint… Seat and shocks.) No question that the seat and shocks are up to the task but they do feel basic and unfortunately give the bike a bit of a budget feel. For example, Corbin sells a seat for the Dyna Wide Glide which would be a recommended upgrade from the stock version. Shocks are a simple fix as well as I found the Dyna Wide Glide would bottom out the rear occasionally on big highway bumps, but typically it floats over the majority of road imperfections. The Wide Glide offered a good ride but could benefit from more shock travel as mentioned.
 
 

..

..
 

Rider view from the Dyna Wide Glide
Where do you want to go today?

 
 
The Air-cooled, Twin Cam 96 cubic inch engine is strong and it sounds great. It's 92 ft. lbs. @ 3000 rpm (124.75 Nm @ 3000 rpm) power comes on at highway speeds in the lower gears. I found the 6-speed Cruise Drive transmission to be quite tall in gearing, maybe a little too tall as 5th and 6th gear is almost unusable for any real power but shifting down 1 or 2 gears when passing and you have a little rocket on your hands. I talked about how tall geared the Wide Glide was to the other reviewers on the ride and we think that thanks to the tall gearing this could be the fastest H-D ever for top speed if the engine was willing!
The Dyna Wide Glide was happiest moving along around the 4000 rpm range, which was 3rd gear at highway speeds. In 3rd you always had power to accelerate the bike quickly and the engine was the smoothest but 4th gear was needed when passing due to the automatic red line limiter around 5,500 rpm. 2nd and 3rd gear are definitely the sweet spots as the engine is running quick enough to smooth out vibrations and have lots of power on tap. The bike is never really happy running in 1st gear (as with all the Harley-Davidson's tested on this trip). At very slow speeds (20km/h or less) the bike is VERY stable in a straight line; it's the low engine rpm's that make very slow speeds a routine of clutch, gas, clutch, gas or a jerky ride, your choice.
I also found the Dyna Wide Glide to be a great straight road runner but a poor corner turner at low speeds, which naturally had a lot to do with the rake and trail of the front wheel. Some reviewers didn't appreciate the 19″ skinny tire on front for tracking on rough pavement but I did not have an issue with it.
Harley-Davidson motorcycles are heavy bikes and one of the benefits of the weight you will notice is on the highway. Very little will be able to move this bike. For example you'll laugh at side winds and 18-wheeler wind drafts.
Our idea of the Dyna Wide Glide as a 100% raw and pure H-D fits the personality of the bike. You really feel like you are riding a blank canvas which you can easily customize in so many ways to suit your personality and riding style. Fix up those shocks and have a new seat fitted and you'll have yourself a great tourer for long distance rides.
 
 

..

..
 

Jasper National Park
Sweet.

 
 
Overall, I really enjoyed riding the 2010 Harley-Davidson Dyna Wide Glide. It was a good fun bike! Sure there were things I would change on it, but that's part of the fun of owning a Harley-Davidson motorcycle, the ability to customize it your way.
Would I buy one? Yes, I would. It would make a great bike to cruise the boulevards with, go on day rides and impress the friends with, all without costing much money.
<< Page Back – Page Forward >>