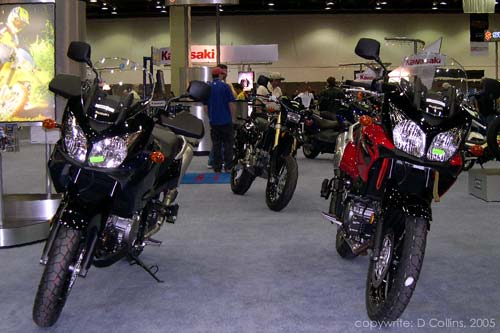 -= Page 3 =-
Detroit Motorcycle Show 2005 Review Pages
Also, I took a look at the V-Stroms – both the 1000 and the 650. They are impressive bikes, but not for anyone who has short legs. It is a tall bike, and the feeling I got was "dirt bike" – which, when you look at some of the photos I've taken, you will see that they are actually lined up with Suzuki's dirt bikes.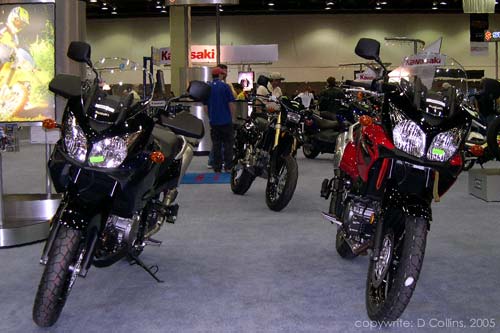 Pair of V-Stroms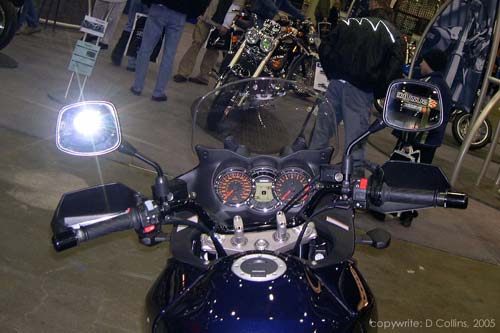 V-Strom DL1000 dash with those cool hand protectors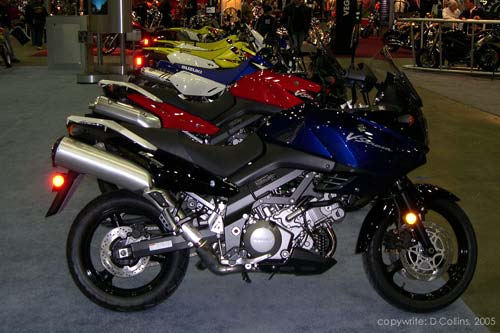 V-Strom lined up with other dual sports
Also, I stopped by "the Boulevard" to see the new cruiser line. Interestingly, when talking with other show spectators in regards to this new line of bikes, the one thing that seemed to stump everyone was Suzuki's use of cubic inches for engine size description, when the majority of people had gotten used to using cubic centimeters as their reference. I heard it over and over again – what is a "90" in cc's? Is this bad marketing? We'll see. It seems as if they are trying to catch the Harley market with this whole routine.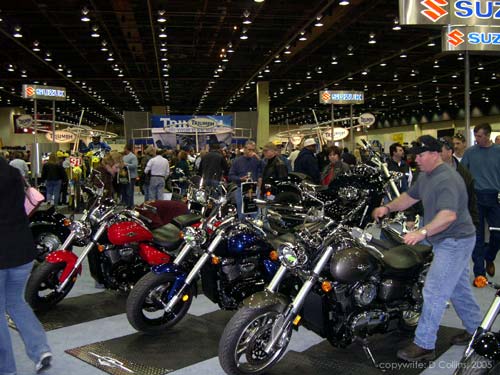 The Boulevard line
Yamaha had a nice display. They had a few racing displays, one of which I caught on film. I also glanced at the R1's and R6's. I love these bikes, but I know they have really been discussed to death, so a few photos is all I'll give you on that one. Also a quick photo of that beautiful exhaust on the Warrior.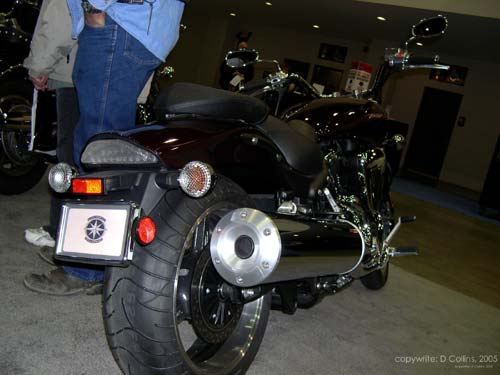 Yamaha Warrior's huge exhaust
---
Contact us: e-mail | Total Motorcycle – Motorcycle Buyers Guides, Beginners Guides, Motorcycle Photos, 2005 motorcycles.
Unbiased, helpful, personal, friendly and useful motorcycle resource