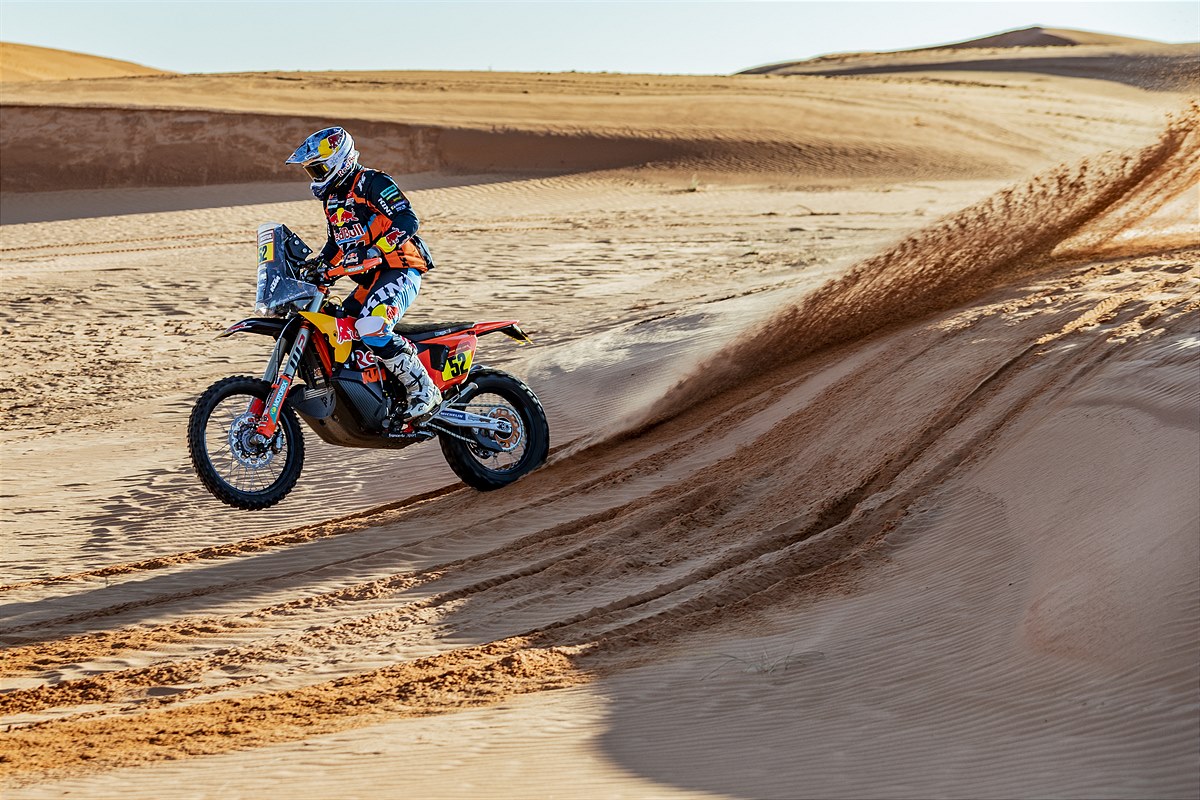 Red Bull KTM Factory Racing's Toby Price, Matthias Walkner, and Kevin Benavides have successfully completed the ultra-demanding stage five at the 2023 Dakar Rally. The three-man team all placed inside the top 10, with Price finishing provisionally in third place, Walkner in sixth, and Benavides a further three minutes back in eighth.
It was billed by the organizers as a tough one, and stage five didn't disappoint. Totaling 645 kilometers and including a timed special of 373 kilometers, the day saw riders face a stage made up almost entirely of sandy tracks littered with camel grass, mixed with energy-sapping dunes.
Setting off fourth and soon finding himself in a group of four opening the stage, Toby Price delivered a strong performance over the first 180 kilometers that saw him lead the class. However, with his group failing to initially find a waypoint, all four lost valuable minutes while they retraced their way.
After the refueling, and while in that same group, another competitor crashed in front of Toby and went down. Unable to avoid the rider's stricken machine, Price also crashed but was thankfully uninjured. Stopping to assist his rival resulted in several minutes lost – time that was subsequently returned to the Australian on completion of the stage. As such, Toby placed third for the day and lies second overall in the provisional standings.
Toby Price: "Tough stage today – we got lost early on and spent some minutes getting back on track there. Then, later on in the second half of the stage, Barreda had a big crash and I ended up getting tangled up in that. I was ok, but we stopped for around five minutes there to make sure Joan was ok. All in all, it's not been a bad stage, I don't think we lost too much time. I'll get my shoulder looked at now because I knocked it in the crash, but apart from that, I'm looking forward to the next day."
Matthias Walkner was the last of the Red Bull KTM riders to enter the stage. And while still fighting through the pain of his injured wrist, sustained earlier in the race, the Austrian rider once again showed his mettle as he pushed hard through the tough special, making the minimum of errors.
Inside the top five by the refueling point, Walkner maintained a strong pace to the finish where he ultimately posted the sixth-fastest time. Feeling a little more comfortable on the bike, despite his injury, the 2018 Dakar champion was in good spirits at the finish, and now looks ahead to the remainder of the race.
Matthias Walkner: "Once again it was another tough day in the desert. Today was really the day where I had to decide if I would continue the race or not – my wrist and my body have really been suffering since my crash on Monday. Despite that, it's probably been my best day so far – I really was pushing hard for the whole stage and didn't feel too bad physically. Looking at how much time I lost, it's a little bit frustrating, but I know I really did give my all today."
Also missing the same waypoint as the leading group, Kevin Benavides was unable to take full advantage of his seventh-place start position and lost several minutes while re-finding the correct route. Giving his all for the remainder of the stage, Benavides placed an impressive eighth, 10 minutes down on the stage winner. A result strong enough to move him up to third in the provisional overall rally standings.
Kevin Benavides: "Today was a good stage and I'm happy with how I rode in the sand. Unfortunately, I made a big mistake around kilometer 190 and that cost me a lot of time. After refueling I tried to push again to make that up, but the terrain was so physically demanding, it got to the point where it was tough to hold on. I'm a little frustrated because I know I could have made up more time today, but it seems a lot of the top guys had similar issues, so my position in the overall is still good. Time to recharge my batteries now ready for tomorrow."
Friday's stage six, the longest of the event at an eye-watering 877 kilometers, will take riders from Ha'il to Al Duwadimi. A timed special of 467 kilometers will be raced against the clock.
Provisional Results – 2023 Dakar Rally, Stage 5
1. Adrien Van Beveren (FRA), Honda, 4:27:28
2. Jose Cornejo (CHI), Honda, 4:27:41 +0:13
3. Toby Price (AUS), KTM, 4:31:24 +3:56
4. Mason Klein (USA), KTM, 4:32:41 +5:13
5. Skyler Howes (USA), Husqvarna, 4:33:01 +5:33
Other KTM
6. Matthias Walkner (AUT), KTM, 4:34:58 +7:30
8. Kevin Benavides (ARG), KTM, 4:37:45 +10:17
Provisional Standings – 2023 Dakar Rally (after 5 of 14 stages)
1. Skyler Howes (USA), Husqvarna, 23:16:37
2. Toby Price (AUS), KTM, 23:18:44 +2:07
3. Kevin Benavides (ARG), KTM, 23:21:53 +5:16
4. Mason Klein (USA), KTM, 23:22:49 +6:12
5. Adrien Van Beveren (FRA), Honda, 23:25:31 +8:54
Other KTM
11. Matthias Walkner (AUT), KTM, 23:43:26 +26:49