A collection of artifacts of historical importance from our past.
A logo is much more than just a symbol of a company, it is its face.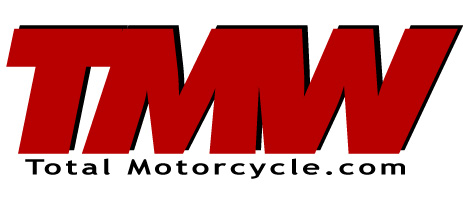 End of 2004 to the end of 2010 – Total Motorcycle grows up and matures.
As computers go faster, the internet was maturing and high-speed connections became more common a major site redesign was needed. With more people were buying 17″ monitors and using 800×600 resolutions I could add more pizzaz to the site. If you look differences between. 2003 and 2004 it's quite a lot. You will also notice the 2004 design is the grandfather of the current look today. Since the new 2004 design had a new design so the logo needed to fit as well. The 2004 logo (on the previous page) wasn't used as the main logo like it is today (2011) but was used only on the "Editorial Pages" as a heading logo. Now the TMW logo was to be brought out front and centre (or in this case, top right).
With the 2004 design I kept with the K.I.S.S. principle (Keep It Simple Stupid) and thus avoided ALL adobe flash images and designs that were taking the interenet by storm back then. I felt flash was too big in size to load quickly, wasn't search engine friendly and too complex. Adobe flash is still used today but with non-Apple products not supporting it any longer I wonder how long it will survive.
Back to the 2004-2010 logo. I really liked the TMW logo was used in early 2004 and wanted to keep it as intact as much as possible. So changes were only made where they made a difference. The black drop shadow was added for strength and emphasis, the silver bar was shortened so the logo was more "square" and could be larger in height it the same width and the Total Motorcycle.com bar was bolded. Small changes but important ones. This logo is still used today (2011) with the only difference being the silverbar wording from "Total Motorcycle Website" to "Supporting Motorcyclists since 2000".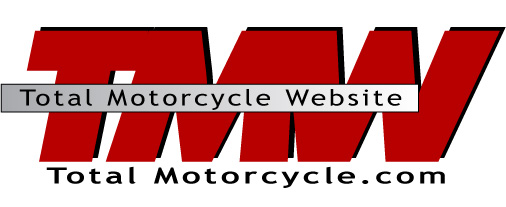 Total Motorcycle Website Logo 2004 to 2010.


Total Motorcycle 10th Anniversary Logo 2000-2010
Along the way I have designed countless special purpose logos based off of the 2004-2010 logo. Holidays, special occasions and even (sadly) the death of my parents featured unique TMW logos. I will share a few of those below for you:


Total Motorcycle Halloween Logo


Total Motorcycle 4th of July Logo


Total Motorcycle Canada Day Logo


Total Motorcycle St Patricks Day Logo


Total Motorcycle Happy Holidays Logo


Total Motorcycle Halloween Logo 2


Total Motorcycle Happy Holidays Logo 2


Total Motorcycle Happy Holidays Logo 3


Total Motorcycle Funeral Logo (death of my parents 2008, 2009)


Total Motorcycle T-Shirt Logo (Red version)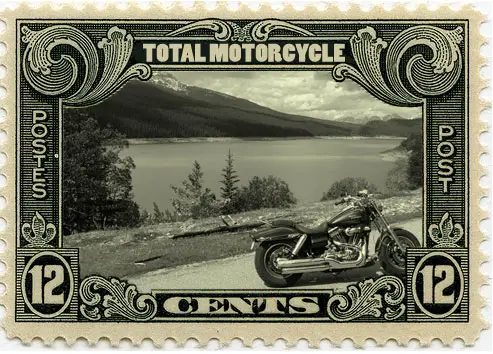 Total Motorcycle Photo Gallery Postage Stamp Logo


Total Motorcycle Sticker Logo (Actual sticker)
With the website, the new logo and redesign along with it's continued "Friendly, helpful, useful and unbiased" mantra was working…
As Total Motorcycle continues to grow and evolve I really want to say thank you to all our visitors, members, supporters and advertisers who make Totalmotorcycle.com such a wonderful place to visit regularly. Thanks for making Total Motorcycle your virtual motorcycle destination!
2005 – Total Motorcycle keeps growing at stunning rates and continues to be the #1 leading motorcycle information website in North America for 2005. Alexa ranking ranks Totalmotorcycle.com #10,000 most popular website in the world. May 2005 was another record breaking month for helping motorcyclists worldwide. On May 11th, Total Motorcycle hit #8,198 most popular website worldwide. 🙂
2006 – New this year is our TMW's BIG BOOK of Concept Bikes, (200+ Pages full of information and rare photos), Total Motorcycle Tire/Tyre Guide (11 Manufacturers and 100's of motorcycle tires in one spot), Total Motorcycle Bikers Dictionary 2nd ED (A dictionary filled with specialized biker terms), the first ever of its kind a TMW Motorcycle Fuel Economy Guide (A guide to motorcycle gas mileage and economy) and that is just a sample of what was new. In 2006 we added about a few thousand static pages; amazing.
Our forum has grown to 5,118 members with 43,000 messages and has helped millions of bikers out worldwide with its friendly members, and tones of useful and helpful content. So far in 2005 over a million new motorcyclists have discovered Total Motorcycle and that added to 20 million more page views over 2004 stats.
2007 – Total Motorcycle was on Rolling Thunder Radio (Vancouver CISL 650) talking about bikes, the internet and of course giving all of you a great appreciative shout-out! In December 2006 we were featured in The Los Angeles Times with a big write up as well. Both our Total Motorcycle Fuel Economy Guide and Total Motorcycle Biker's Dictionary have entered new editions. The Fuel Economy Guide is now in it's 2nd edition and our Dictionary in it's 3rd. Both have several hundred new items added. Total Motorcycle forum community has grown to an amazing 10,619 members!
People love how uniquely friendly, useful and helpful it is for all bikers and non-bikers. We have new additional forums for the Ladies, selling, motorcycle blogs and more!
2007 brought Total Motorcycle new traffic records breaking (actually smashing) the old ones set in 2006. Total Motorcycle was up over 160 million hits, 4 million more visitors and 1 million page views from our 2006 records!
2008 – As the economy crashed and along with it motorcycle manufacturer sales our message was "As economic concerns and the credit crisis worry people all around the globe it is good to remember that good friends, good support and good times can always be found amoung motorcycists around the world." In response we cut all our advertising fees (which were low to start with) to help businesses out in this new climate.
Total Motorcycle was now official media/press for 27 motorcycle manufacturers, making TMW the most affiliated motorcycle website with the indusry.
Visitors were treated to a brand new guide in 2008, the Total Motorcycle ATV and Quad Bike Guide.
Bandwidth was also upgraded twice in 2008 to 1,000 Gigabytes (1 Terabyte) to handle the increased traffic. We even upgraded our server to a 4x Quad-Core to make the site more speedy.
It was a banner year for traffic as we got 40.4% more Hits, 50.4% more Visitors and 39% more Page Views in 2008 vs 2007. By any means, quite a little success story and a great indicator of how Total Motorcycle is making a difference in helping motorcyclists and supporting motorcycling worldwide which is THE reason Total Motorcycle is here. We are honoured to help so many in 2008.
2009 – This decade "The Naughties" might be remembered as the best of time and the worst of times, but those who visit Total Motorcycle might remember it as the decade of TMW, who brought friendly, helpful, useful and unbiased information, education and reviews about motorcycling to the internet. 2010 will mark the 10th Anniversary of Total Motorcycle (has it been so long already?) and I look forward to providing the same very high quality resource, completely free of charge, to you, for another 10 years.
With the economy see-sawing back and forht between bad to fair and unemployment high (9.8% USA and 8.x% in Canada), a credit crisis and wild stock market swings it's good to know Total Motorcycle is as stable as a rock. H-D last month discontinued the entire Buell Motorcycle lineup and their new MV Agusta purchase is now for sale, just yesterday almost 1/2 of H-D's workforce will be gone (800 out of 1900). At the NEC 2009 Motorcycle show, Harley-Davidson, Buell, Honda, Moto-Guzzi, MV Agusta, Aprilia, Benelli and Bimota didn't even show up. Even so Total Motorcycle has also created our 2010 motorcycle model guides, now featuring 31 motorcycle manufacturers.
I mentioned in late 2007 that we could be starting to see the late 80's to mid 90's again come back again for motorcycling. Anyone who remembers those times will be sad as it was a depressing time for the industry (very low sales, less riders, etc). Let's hope it doesn't get that bad and this "Double-dip recession" doesn't get much worse.
On October 2nd 2009, Total Motorcycle reached a huge goal, 2 Billion Hits! If that were miles, it would be the distance from our Sun to the planet Neptune. Wowzers, that is a lot of people helped around the world.
The site's mantra is: Useful, helpful and friendly and 2009 lived up to that I believe.
On a historical front, Total Motorcycle is quickly approaching it's 10th Anniversary! Amazing, 10 great years of helping millions of riders around the world. When I started Total Motorcycle back in 2000, my goal was to provide a site that would help support riders worldwide through friendly, helpful and unbiased information and I believe we all did it. Now, I must give credit where credit it due and say Total Motorcycle could not have been possible (or as successful in helping others) without you, the visitor, the forum member and the supporter (personal, private and corporate). So, a BIG thank you there. 🙂
2010 – The econmy is still poor 2 years after the crash in 2008 but slowly getting better. Some manufacturers (like Honda and Suzuki) didn't even release many models. Advertisers are watching their pennies too.
Total Motorcycle helps 85 million unique visitors (300% growth in 12 months), for this, I have to thank our huge base of new and loyal visitors who just can't get enough Total Motorcycle! Well, the 2011 models have just starting to come out and our 2011 motorcycle models guides are now up with new KTM, Harley-Davidsons and Kawasaki models. Also there are still some late year 2010's coming out too. I don't know what happend to Suzuki USA models in 2010, I can only speculate they released 2009's as 2010.
In July Total Motorcycle has a big review coming up with Harley-Davidson Canada. We are going to fly out to Edmonton and ride (4 days) to Calgary via the Canadian Rocky Mountains, it promises to be a very exciting trip on different new H-Ds.
Historical Total Motorcycle Logo Exhibits
– 2000-2002 Total Motorcycle Logos Page
– 2003 Total Motorcycle Logos Page
– 2004 Total Motorcycle Logos Page
– 2004-2010 Total Motorcycle Logos Page
– 2011+ Total Motorcycle Logos Page