You are here: Index — Motorcycle Photo Gallery — Gallery Number Twelve
Your Bike Photos
~ Gallery Number Thirteen ~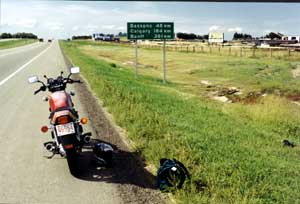 Below is a gallery of bike photos submitted to our site to share from around the world. We would be happy to post your motorcycle photos up in our Galleries.
Click here to go to our NEW GALLERY URL today.
2002 Suzuki Katana 600
Eddie Gelman – Chicago, IL. USA

1968 Triumph Trophy
T Dunster – Melbourne. Australia.

Foot Notes:
2002 Suzuki GSXR600 Telefonica Movistar. All stock except D&D pipe. It's one loud ass pipe too! TOP

---

1984 Honda Magna 500 V30 – This bike only has 1250 miles on it!! TOP

---

2003 Honda 919 – Windscreen, Frame Sliders, new 4-ways. TOP

---

1990 Honda Goldwing 1500SE – 46k miles, creme white, bike is mint cond. cb/am-fm radio, backrest, color matched helmet w/intercom, trunk light kit, spoiler. Custom pinstriping. TOP

---

2003 Yamaha Road Star VX1600 Midnight Edition – I'm 6'3″ and weigh 260 pounds. This bike fits me perfectly. Better than my Harley I just got rid of. I put 1 1/2 handlebar risers so I could keep the handlebars turned down, but not keep hitting my knees. Had Vanse & Hines long-shots and K&N air cleaner system. One "fine" bike.TOP

---

 

 
All makes, models, and years accepted into the gallery.