You are here: Index — Motorcycle Photo Gallery — Gallery Number Fifteen
Your Bike Photos
~ Gallery Number Fifteen ~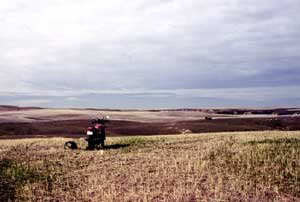 Below is a gallery of bike photos submitted to our site to share from around the world. We would be happy to post your motorcycle photos up in our Galleries.
Click HERE to submit your photo today.
1990 Yamaha VMAX Custom
Juan Sanz – Shawnee, KS, USA

1987 Honda CBR750 Hurricane
Doug Campbell
– Eastbourne, East Sussex. UK

Foot Notes:
1984 Yamaha XJ 750 Seca – I bought this bike on my arrival to New Zealand in a one day search. I rode around New Zealand for 8 months on it and sold it before I left. I came home to the same bike in black here in Canada. Just one of many bikes Ive had in the last 8 years. My favorit for now is a '77 GS400 cheap on gas, I still have the 750 for the highway. TOP

---

1996 Yamaha DT 125cc – Picture taken year 1997 at bacolod city, philippines before the novice enduro division race (yamaha team member) . TOP

---

1981 Suzuki GS650G – This is a stock 1981 GS650G Suzuki. Exhausts have been bent downwards to make room for saddlebags. Otherwise, this is how it looked when new. I paid $1,400 for it with 9,800 miles on it.TOP

---

 
All makes, models, and years accepted into the gallery.