You are here: Index — Motorcycle Photo Gallery — Gallery Number Three
Your Bike Photos
~ Gallery Number Three ~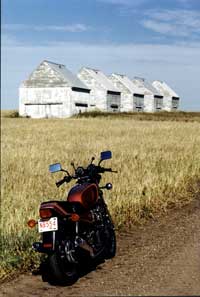 Below is a gallery of bike photos submitted to our site to share from around the world. We would be happy to post your motorcycle photos up in our Galleries.
Click HERE to submit your photo today.
1972 Honda SL100 K2
Michael Zweifel – Sturtevant, WI. USA

1984 Suzuki GS1100GK
Karl Ivers – McPherson, KS. USA

1981 HONDA GL1100 Interstate Custom

T.D.Bash – St. Petersburg, FLA. USA

1989 Yamaha VMax VMX1200

Martin Harvey – Solihull,West Midlands. UK

1980 Harley-Davidson Wide Glide
Joe "Smokin Joe" Lachance
– Madawaska, ME. USA

1984 Yamaha XJ750R Seca
Jim Robertson – Red Deer, Alberta. Canada

1981 Yamaha XJ650R Seca with EML-M Sidecar
Niels Rask – Nyborg Denmark

1981 Suzuki GS1100E
Dave G. – Florida, USA

2001 Yamaha Midnight Star
Scott "MoonDog" Hinson – Charlotte, NC.

1979 Suzuki GS850GN
Rodger Norfolk – Cedar Rapids, Iowa. USA

1982 Honda CB450T Hawk

Dan Libby – S.Monterey County, California

1993 Yamaha SRX400

Alex Cook – Stourbridge, West midlands, UK

1997 Honda CBR1100XX Blackbird
Christine – Ontario, Canada

1992 Honda CBR1000FN
Mark Hutchison – Perth, WA, Australia.

1984 Yamaha XVZ12 Venture Royal
Paul Sanderson – Brantford, Ontario. Canada

1979 Moto Guzzi Sp 1000
Guy Fortier – Sydenham, Ontario. Canada

All makes, models, and years accepted into the gallery.