You are here: Index — Motorcycle Photo Gallery — Gallery Number Five
Your Bike Photos
~ Gallery Number Five ~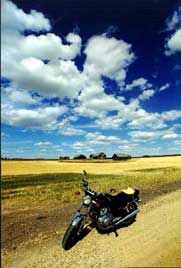 Below is a gallery of bike photos submitted to our site to share from around the world. We would be happy to post your motorcycle photos up in our Galleries.
Click HERE to submit your photo today.
1940's Handbuilt Ironbike

Neil B – Ottawa, Ontario, Canada

1986 Suzuki Cavalcade GV1400
Andy Wainwright – Widnes England

1982 Yamaha XJ650R Seca
Brad Beck – Edwardsville, Illinois. USA

1999 Honda CBR600 F4
Martin Probert
– Boksburg, Gauteng. South Africa

2002 Honda CB600 Hornet

Will Davison – Durham, UK

1979 Suzuki GS550L

Ron Harlos – Bloomingdale, NJ, USA

1981 Yamaha XJ650 Custom

Wolf – Berlin, Germany

1982 Yamaha XJ650R Seca
Bob Andrews – Ontario, Canada

1989 Suzuki GSX-R 750 Slingshot
Robert – Long Beach, California. USA

2003 Suzuki Intruder VS1400
Mark Souza – Fall River, MA. USA

1982 Yamaha XJ650R Seca
Jason White – Cambridge, Ontario. Canada

1995 Kawasaki Ninja ZX-1100
Tim – Cranbrook, BC. Canada

2002 Yamaha FJR1300
Lance Nichols – Geelong, Victoria. Australia

1986 Honda Shadow VT700c
Jos Hermans – Netherlands

1997 Harley-Davidson Road King with Tiny Mite Trailer

Damien – Calgary, Alberta. Canada

Foot Notes:
1940's Handbuilt Ironbike – It was built in the 1940's by my grandfather. It's made from balloon tire bicycle parts, DC-3 airplane aluminum and is powered by a washing machine Johnson Ironhorse, magneto motor. He worked for a company that built washing machines, then converted to building parts for DC-3's during the war. Currently it's running and hits about 20 mph. The homemade clutch tends to slip. TOP

---

1979 Suzuki GS550L – 11,000 orig miles 1 owner. TOP

---

1997 Yamaha XJ600S Diversion (Seca II) – This bike is a 1997 model with 25.000 km.I own the bike since it was at 21.000 km,it was bought from Germany,and I have made the ride Germany-Romania in 3 days, about 1900 km. Excellent ride! I recommend the bike to all beacause: it's preety fast, looks great, very comfy position, the pillion sits great… Excellent bike!. TOP


All makes, models, and years accepted into the gallery.