You are here: Index — Motorcycle Photo Gallery — Gallery Number Eight
Your Bike Photos
~ Gallery Number Eight ~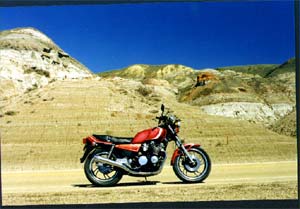 Below is a gallery of bike photos submitted to our site to share from around the world. We would be happy to post your motorcycle photos up in our Galleries.
Click HERE to submit your photo today.
1985 Suzuki GSX750R
Custom Streetfighter
Rupert – Melbourne. Australia.

1993 Kawasaki EX 500
Brigitte Gagne – Ottawa, Ontario, Canada.

1991 Honda CBR400RR
Johnny Andersen – Denmark

1997 Suzuki GSX750F Katana
John "JVM" – Glen Cove, NY. USA

1972 Suzuki T500 (and other racers)
Joyce Pierard – Rochefort. Belgium.

1998 Honda CB750 (japan version)
Carlos del Rosario – Manila, Philippines.

1982 Suzuki GS1100ES Modified
Leonard Tan – Kota Kinabalu, Sabah, Malaysia.

2001 Honda ST1100
Al Paquin – Rockland, Ontario. Canada

2001 Honda ST1100
Al Paquin – Rockland, Ontario. Canada

Foot Notes:
"While in Junior/Senior High School (1979-1984) I used to drool over the
Honda CB Customs (along with the Suzuki GS-L's, Kawasaki LTD's and Yamaha's
"Midnight Specials" — the most beautiful bikes of all times (IMHO). My
senior year all I could afford was an '81 CM400C. Since then I've owned a
GS550E, and CB700SC and, well… I finally got my hands on a *Mint* '82
CB750C with only 11k miles a few years ago and I feel 16 y/o all over again.
I love it. Yes, I'll probably invest in another bike that's faster &
sportier, but I don't think I'll ever find one that's more "dependable" than
a Honda CB inline-four." . TOP



 

 
All makes, models, and years accepted into the gallery.