You are here: Index — Motorcycle Photo Gallery — Gallery Number Nine
Your Bike Photos
~ Gallery Number Nine ~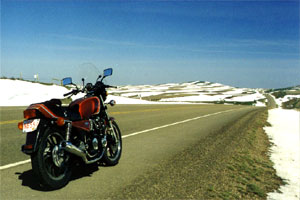 Below is a gallery of bike photos submitted to our site to share from around the world. We would be happy to post your motorcycle photos up in our Galleries.
Click HERE to submit your photo today.
1982 Yamaha Virago XV750
John Racine – Ottawa, Ontario. Canada

2000 Kawasaki Nomad VN1500G
Jim Jewhurst – New Hampshire. USA

2003 Yamaha VStar 1100 Classic
Martin Beebe – Nazareth, PA. USA

1989 Yamaha V-Max
Bill Box – Visalia, California. USA

1993 Honda Nighthawk CB750
Rich Race – Lee Center, NY. USA

1984 Honda Nighthawk CB700SC
"Super Chicken"
Mike Zweifel – Sturtevant, Wisconsin. USA

Foot Notes:
1991 Kawasaki ZR-750 Zephyr. This bike runs quite well. Specs: 4 cylinder, air/oil cooled, 750cc, 5 speed transmission, 30.5 inch seat height, dual disc brakes, digital electronicignition, rear gas shocks have easily adjustable 5- way spring preload, 4-way compression dampening. It is a great stater bike, but one that you won't outgrow in a year. Weighs only about 450 punds dry. Brand new plugs, plug wires, OEM ignition coils, headlight assembly. Stage 1 jetting kit, progressive fork springs. Aftermarket rear turn signals with clear lenses, amber bulbs, have been wired to act as running lights and turn signals making you more visible at night. Aftermarket Maier manufacturing fairing. TOP

---

1973 Yamaha TX750 aka "Thunderbolt Grease-Slapper"– Mileage: Currently 15,300 miles, original paint, chrome, mufflers, seat Delivery: June 8th, 2002 from Columbus, Ohio with 12,181 miles on the speedometer
Specifications:
–63 bhp @ 6,500 rpm, 50 ft-lbs torque @ 6,000 rpm, 8.8:1 compression, Maximum speed as geared: 122 mph @ 7,500 rpm,Redline 7,000 rpm North American models (7,500 rpm redline Japan home market models), Net weight 463 lbs, Wet weight 515 lbs, 58″ wheelbase, Seat: 32″ height, Handlebar: 36″ width, 17/40 sprockets = 2.352:1 ratio (also 17/38 and 17/42 in some markets), single front disc (dual disc brakes in Europe), 3.7 US gal tank (5.0 US gal tank in Japan and Euro market)
–Oil capacity stock: 3.0 litres Note: oil operating temp of 320 degrees F. , with deep sump: 4.0 litres Note: oil operating temp of 284 degrees F. , with deep sump and oil cooler: 4.5 litres Note: oil operating temp of 230F
–BS38 Mkuni CV carbs
–Stock Tires: 3.50X19 front, 4.00X18 rear
–Colours: North American market 1973: Metalflake Orange, 1974: Brandywine Metallic Australian/Japan/Euro markets: 1973: Racing Green Metallic, Metalflake Orange, 1974: Carmine Red Metallic on '73 graphics
–Features:Over Head Cam ,Twin CV carbs ,Five speed transmission,Dry sump lubrication system ,Omni-Phase Balancer eliminates vibration this twin runs as smooth as a four cylinder 750!
–Safety measures: Disc brake,Tire wear indicator on OEM tires, Brake lining wear switch and warning lamp, Oil pressure warning lamp, Reserve lighting sytem for headlight and tail light
–Magazine road tests results: Motorcyclist, Dec. 1972: 1/4 mile = 13.87 sec @ 95.84 mph, Cycle World, Dec. 1972: 1/4 mile = 13.78 sec @ 94.33 mph, indicated top speed 110 mph+ , Cycle Guide, June 1973: 1/4 mile = 13.67 sec @ 96.03 mph, indicated top speed 115 mph+ ,Cycle Rider, Aug 1973: 1/4 mile = 13.65 sec @ 97.61 mph, indicated top speed 110 mph.+
–My road test results and commentary: Averages 60 mpg @ 90 ~ 105 kph cruising speeds, Ease along in third gear up to 90 kph @ 4,500 rpm then crack open the throttle, shift at redline .. Yeee-Haaa!!! Ease along in 1st gear to 30 kph, pull in clutch, rev up to 6,000, pop out clutch . instant wheelie .. Yeee-Haaa!!!
Actual cruising speeds / rpm ranges of fifth gear: 80 kph @ 3,000 rpm 90 kph @ 3,350 rpm 100 kph @ 3,750 rpm 110 kph @ 4,150 rpm 120 kph @ 4,550 rpm 130 kph @ 4,950 rpm 140 kph @ 5,450 rpm
–Improvements installed by myself: installed – '74 TX750 deep oil sump, increasing oil capacity, decreasing oil operating temp, and increasing engine life ,installed – Bridgestone S-11 Spitfire tires 110/90X19 front, 120/90X18 rear (bigger 'n' better) ,installed – Castrol 20W50, lowering oil operating temperature by 30 degrees F. vs using 10W30. ,installed – NOS oil filter, installed – Euro TX750 speedometer marked in KPH (purchased in Holland), installed – Exxon/Esso "tiger tail" attached to seat rail above rear fender , purchased but not installed – BMW R/65~R/80 oil filter adapter not installed – Boyer~Bransden Micro Digital Electronic Ignition for an XS650
–Maintenance items installed by myself: new tires ,new tubes, new headlight, new chain, new battery, new plugs, new brake Fluid, new brake pads new caliper sealsnew indicator bulbs, new oil filter, new inline gas filters
–Tune-up work done by myself: set valve clearance, set points gap, set timing set regulator point gap to help alternator keep battery up, lights bright, and horn loud synchronised throttle cables adjusted the clutch reset carb float levels to reduce rich mixture condition reset needle jet clip levels to reduce rich mixture condition changed plugs to NGK B7ES . now run nice light tan colour changed to premium fuel for improved starting, etc. cleaned and oiled air filter
–Had-To-Do's:cleaned and rebuilt carbs, adjusted to run leaner than stock settings with much improved performance! cleaned inside of gas tank to remove rust particles no more clogged petcocks, and poor running rebuild caliper with new seals replace old brake fluid tighten several spokes increase air pressure in tires to 32 front, 30 rearnew rotor cover seals to stop oil leak silicone around alternator wire grommet to stop oil leak lots of simichrome to polish chrome & aluminum engine cases, wheels, spokes, etc lots of polish & wax to shine the orange metalflake paint.
–Almost-impossible-to-find parts: NOS gas tanks, both '73 and '74 NOS side panels, both '73 and '74 NOS headlight bucket, both '73 and '74 NOS fork ears, both '73 and '74 NOS gasket kits NOS oil seal kits NOS O-ring kits NOS camshafts NOS pistons, rings, rods, rod bearings NOS crankshaft bearings NOS master cylinder & rebuild kit NOS oil filters (one-of-a-kind production item! ) NOS mufflers (one-of-a-kind production item! )
–Yamaha factory modifications to pro-long engine life:1974 deep oil sump kit almost-impossible-to-find 1974 oil cooler kit almost-impossible-to-find 1974 balancer adjuster kit.
–T the classic roadster styling ala 70's Norton Commando and Triumph Bonneville the metalflake paint very '70's
the chrome very '70'sthe sound from the mufflers. classic Brit-bike sound the look of the mufflers the smoothness of the engine the acceleration up through the gearsthe throttle response and carb roar when you roll on the throttle in any gear
the torque, when you roll on the throttle in any gear the horsepower, when you downshift two gears, crack the throttle open, and pass a car . it's "Sneaky Fast" ! easy to ride around town, and on two-lane country roads easy to tune-up. TOP

---

1954 Moto Guzzi Zigolo, 98cc, 3 speed, 2-stroke. TOP

 

 
All makes, models, and years accepted into the gallery.