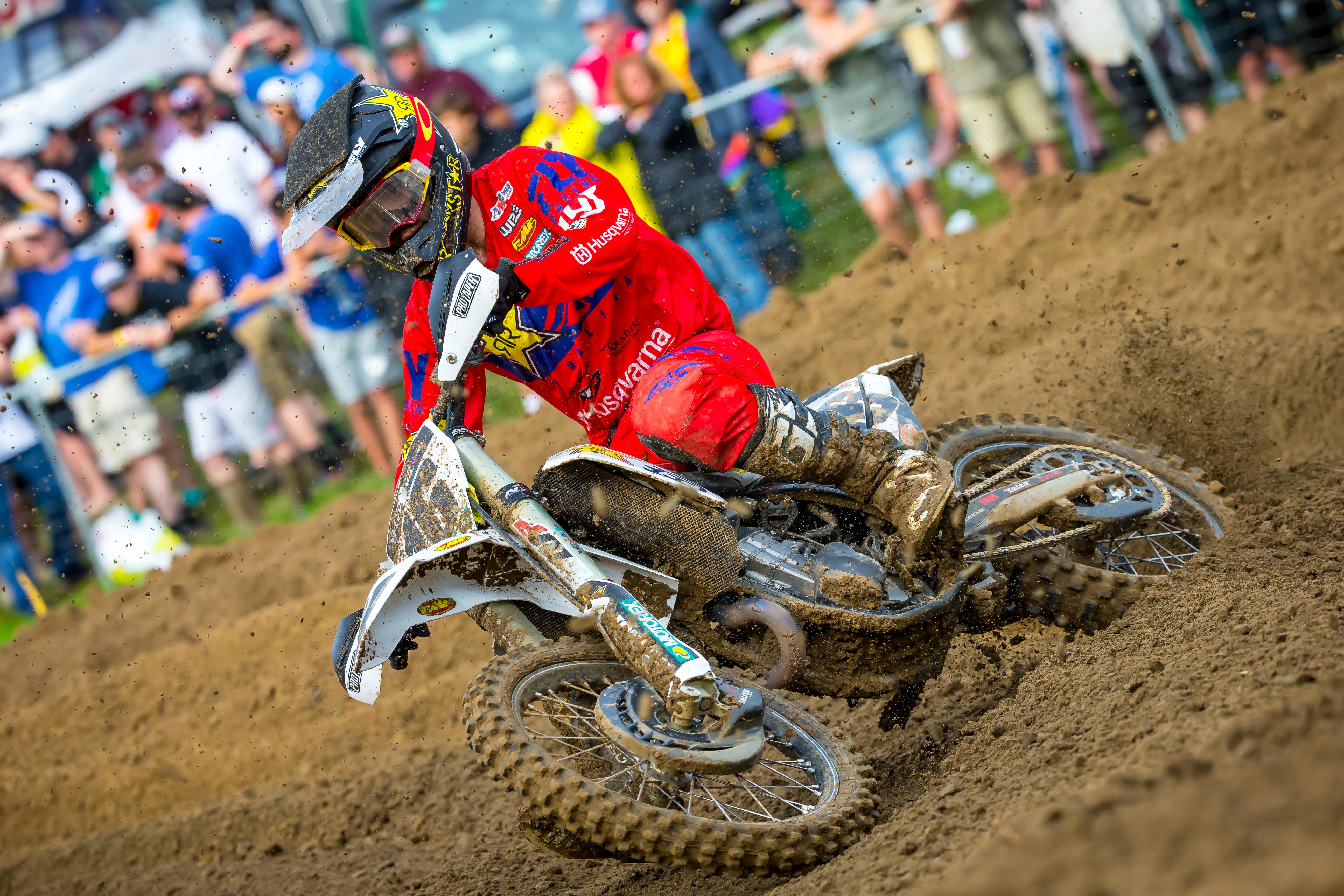 The Rockstar Energy Husqvarna Factory Racing Team battled through tough conditions on Saturday for Round 8 of the 2019 AMA Pro Motocross Championship at Spring Creek MX Park in Millville, Minnesota. Heavy rainfall early on made for a chaotic day but team rider Zach Osborne was able to prevail as he highlighted the team's efforts with a second overall podium finish in the 450MX class.
Osborne, who just returned to racing today after missing the last round due to a separated AC joint, made the most of the conditions despite having to fight through shoulder pain all day. In Moto 1, he got off to a 12th place start and sensibly worked his way into the top-five by the halfway point. With four laps to go, he charged up to fourth to ultimately finish just off the podium in Moto 1. In Moto 2, Osborne positioned himself inside the top-three off the start and he battled for a podium position all race long. He held strong through the checkered flag to earn a podium finish in the moto and second overall for the day with 4-3 finishes.
"It was a good comeback weekend," Osborne said. "I still have a lot of pain in my shoulder and just to be able to grind through it and go 4-3 for second overall is a really solid day for me and the team."
It was a tough day for Jason Anderson, who succumbed to crashes in both motos. In Moto 1, he collided with another rider just after the start and went down in the mud. He was able to get going quickly but it wasn't long before he went down again on the opening lap, beginning the race in 32nd. Anderson continued to fight through the muddy conditions as he climbed all the way up to finish 12th. In Moto 2, bad luck struck again for Anderson as he got tangled in a first-turn pileup. He rounded the opening lap in 24th but he swiftly worked his way up to 11th by lap four. He made his way as high as eighth in the second moto but another crash sent him back a couple positions to ultimately finish 10th in the race and 11th overall for the day.
"This weekend was probably the roughest weekend I've had in a couple years," Anderson said. "I ended up crashing a lot in both motos and it didn't go my way at all, but I'm just going to move on and keep trying to be better."
Team rider Dean Wilson got a mid-pack start in Moto 1, where he made his way up to 16th by the second lap. He got shuffled around inside the top-20 before putting in a late charge to ultimately secure 15th. In Moto 2, Wilson also got caught up in the multi-rider pileup in turn one, therefore dropping back to 30th on the opening lap. He battled his way up to ultimately finish 12th in the moto. With 15-12 finishes, Wilson salvaged 14th overall for the day.
"It was definitely one of my rougher days today," Wilson said. "It was only my second race back but expectations were a lot higher because I had a really good couple weeks coming into this one. Overall, it was a really rough day but you just have to tough it out on your bad days and enjoy your good days."
250MX
Michael Mosiman got a 16th place start in Moto 1 but an early crash sent him back outside the top 25. A few laps later, Mosiman ran wide into a deep mud pit and ended up getting stuck for a substantial amount of time. After being pulled out, he was able to rally back and ultimately salvage 21st in Moto 1. In Moto 2, he grabbed a 13th place start and got shuffled back to 18th on the opening lap. He made his way into the top-10 by the halfway point and from there he made a big charge to ultimately finish eighth in the moto and 13th overall for the day.
"I'm super stoked on my effort and my riding today," Mosiman said. "But I'm also disappointed in the results because I feel like they don't reflect how I'm riding. I really want to get inside the top five in the championship and I know it's not out of the question, so I'll keep working!"
Jordan Bailey got off to an 18th place start in Moto 1, as he battled his way through the chaos on lap one. From there, Bailey focused on keeping the bike upright amidst the sloppy conditions, where he ultimately finished 19th. In Moto 2, he grabbed a 13th place start but another rider went down in front of him and he was forced to slow down and drop a few positions early on. He maintained his position for the remainder of the race, ultimately finishing 16th in the moto and 20th overall.
"It was a brutal day for everybody," Bailey said. "It was super muddy in the first moto and I had a few little mistakes that ended up costing me. I'm looking forward to Washougal. My riding has been good, even though the results didn't show today, but let's bring it on."
Next Event: July 27 – Washougal National – Washougal MX Park – Washougal, Washington
Spring Creek National Results
450MX Results
1. Cooper Webb (1-1)
2. Zach Osborne – Rockstar Energy Husqvarna Factory Racing (4-3)
3. Eli Tomac (2-5)
…
11. Jason Anderson – Rockstar Energy Husqvarna Factory Racing (12-10)
14. Dean Wilson – Rockstar Energy Husqvarna Factory Racing (15-12)
250MX Results
1. Adam Cianciarulo (3-1)
2. Alex Martin (2-3)
3. Hunter Lawrence (1-6)
…
13. Michael Mosiman – Rockstar Energy Husqvarna Factory Racing (21-8)
20. Jordan Bailey – Rockstar Energy Husqvarna Factory Racing (19-16)
450MX Rider Point Standings
1. Eli Tomac – 342 points
2. Marvin Musquin – 304 points
3. Ken Roczen – 293 points
4. Cooper Webb – 288 points
5. Jason Anderson – Rockstar Energy Husqvarna Factory Racing – 272 points
6. Zach Osborne – Rockstar Energy Husqvarna Factory Racing – 265 points
250MX Rider Point Standings
1. Adam Cianciarulo – 352 points
2. Dylan Ferrandis – 316 points
3. Justin Cooper – 306 points
…
8. Michael Mosiman – Rockstar Energy Husqvarna Factory Racing – 186 points
16. Jordan Bailey – Rockstar Energy Husqvarna Factory Racing – 62 points