Back to 2009 Honda ATV Quad Models Index Page
Click photos to enlarge.
They make great desktop images.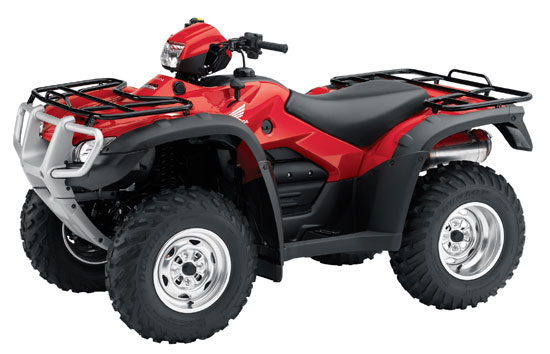 2009 Honda FourTrax Foreman Rubicon GPScape with EPS TRX500FPA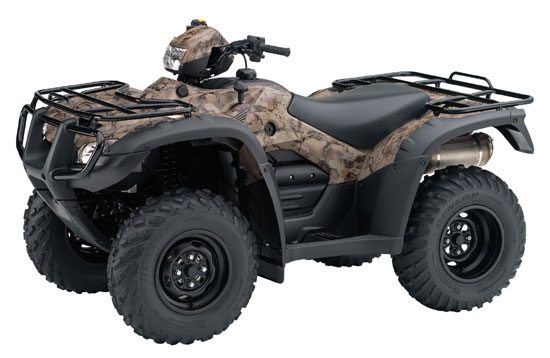 2009 Honda FourTrax Foreman Rubicon GPScape with EPS TRX500FPA
– 2009 Honda FourTrax Foreman Rubicon GPScape with EPS TRX500FPA

2009 Honda FourTrax Foreman Rubicon GPScape with EPS TRX500FPA
The Rubicon is all about smooth performance, and now it gets even smoother with the addition of Honda's revolutionary Electric Power Steering (EPS), ensuring effortless navigation around and over any obstacle nature throws your way. And with GPScape, you get a built-in navigation system offering an electronic compass, storage for 100 waypoints, and, with the push of a button, your exact location.
FourTrax Foreman Rubicon/FourTrax Foreman Rubicon with Electric Power Steering and GPScape®
The ever-popular FourTrax Foreman Rubicon now adds Electric Power Steering to its bulging list of technological achievements, which already included a continuously variable Hondamatic transmission, TraxLok 2WD/4WD system, torque-sensitive front differential and sophisticated GPScape navigation.
Features & Benefits
New for 2009
– Revolutionary Electric Power Steering (EPS) on GPScape model (see Technology Section)
– New preload-adjustable shocks.
– New Black color joins Red, Olive and Natural Gear™ Camouflage on the TRX500FA.
Unique Features
– Integrated GPScape (see Technology Section)
– Honda's first liquid-cooled four-stroke ATV engine is a single-cylinder 499cc overhead-valve design that provides tremendous torque and dependable power.
– Hondamatic transmission is a continuously variable, hydromechanical design that eliminates belts altogether. It is compact, quiet, maintenance-free and very rugged. The Hondamatic features true engine braking, unlike conventional belt-drive designs.
– Torque-Sensitive Front Differential (see Technology Section)
Engine/Drivetrain
– TraxLok selectable 2WD/4WD system (see Technology Section)
– 20-watt integrated carburetor heater for reliable cold-weather starting.
– Liquid-cooled overhead-valve single-cylinder 499cc four-stroke engine is mounted longitudinally in the frame, allowing direct driveshaft alignment to front and rear wheels for improved drivetrain efficiency.
– Camshaft is located adjacent to the cylinder head, reducing engine height. Together with the external engine-oil tank, engine height is further reduced for a low center of gravity and excellent handling.
– Four-valve cylinder head utilizes two short pushrods to provide a broad powerband for optimum performance and engine efficiency.
– Standard high-flow oil cooler ensures optimal engine lubrication under difficult operating conditions.
– Rubber-cushion engine mounting and gear-driven counterbalancer reduce vibration.
– Stainless steel exhaust system provides superior corrosion resistance.
Hondamatic Automatic Transmission
– The Hondamatic transmission utilizes variable hydraulic pressure and mechanical torque amplification to provide seamless job-handling power and excellent acceleration. Engine power drives a hydraulic pump. The pump, in turn, drives a hydraulic motor with variable fluid capacity. Utilizing pump and motor pistons and a variable-pitch motor-side swash plate, hydraulic capacity and pressure are varied, producing continuously variable output speed. In addition, torque is increased as output-shaft speed is reduced.
– Select between one of three electronic shifting programs: D1 for maximum performance, D2 for maximum torque and ESP™, Honda's exclusive Electric Shift Program (see Technology Section). D1 and D2 modes provide continuously variable transmission output; ESP allows the rider to "shift" the Hondamatic with the touch of a thumb using two push-buttons mounted on the left handlebar.
– The Hondamatic is extremely efficient, with operating efficiencies ranging from 75-81 percent in full-reduction mode and from 87-92 percent when input and output speeds are the same (1:1 ratio).
– The Hondamatic is fully sealed, compact and maintenance-free, with no belts to wear out and replace.
– The Hondamatic features true engine braking, unlike conventional belt-drive designs.
Chassis/Suspension
– Dual front disc brake calipers feature a patented built-in scraper system to remove mud and snow from inside the front wheel to help prevent buildup of debris between caliper and rim and ensure consistent braking performance.
– Brake pads feature thick, long-wearing material with improved durability, feel and control. An internal scraper gives audible warning when pad life is low.
– Rugged frame and suspension provide 7.5 inches of ground clearance.
– Independent double-wishbone front suspension uses premium shock absorbers to provide 6.7 inches of suspension travel for a plush, comfortable ride.
– Steel swingarm and dual rear shock absorbers provide 6.7 inches of suspension travel for superb comfort and compliance.
– Powerful, single-piston caliper, front hydraulic 180mm disc brakes and sealed rear mechanical drum.
Additional Features
– Water-resistant storage is integrated into bodywork.
– Engine design produces low emissions and meets California Air Resources Board (CARB) off-road emissions standards.
– Multi-function LCD digital instrumentation is compact, tough and waterproof, featuring large readouts for Hondamatic transmission modes, gear selector position, speedometer, fuel gauge, odometer, resettable tripmeter and hourmeter/clock. Instrument housing includes LEDs for Reverse, Neutral and temperature warning indicator.
– Waterproof accessory socket provides 12-volt, 10-amp power with a built-in temperature- type fuse.
– Thickly padded seat provides all-day comfort.
– Uniquely designed floorboards allow the rider's feet to grip the footrests while keeping mud and debris away from the rider's feet.
– Standard over-fenders give excellent mud protection.
– Powerful 361-watt AC generator.
– Triple headlight system with single 45-watt upper light and dual 30-watt lower lights with multi-reflector lenses for optimal light distribution plus a 21-watt stop- and taillight.
– Large front and rear cargo racks are rated at 66 and 133 pounds, respectively.
– Unique rear-opening storage compartment allows access when rack is loaded.
– Constant-velocity-joint boot guards help prevent damage to boot covers.
– Triple skidplates.
– Assembled in Timmonsville, South Carolina.
– Transferable one year limited warranty; extended coverage available with a Honda Protection Plan.
– When you buy a new Honda Powersports Product, you may be eligible to receive a complimentary one year membership in the Honda Riders Club of America, which includes an exclusive Members-only magazine, rider training benefits, access to the Members-only Clubhouse website and much more. Some limitations apply. For more information on the HRCA, log on to hrca.honda.com.
Available Accessories
– Flag Kit.
2009 Honda FourTrax Foreman Rubicon GPScape with EPS TRX500FPA – USA Specifications
American MSRP $7,999 USD
Model: TRX500FA/TRX500FGA (with EPS and GPS)
Engine Type: 499cc liquid-cooled OHV dry-sump longitudinally mounted single-cylinder four-stroke
Bore and Stroke: 92.0mm x 75.0mm
Induction: 36mm constant-velocity carburetor
Ignition: CD with electronic advance
Starter: Electric with auxiliary recoil
Clutch: Automatic
Transmission: Fully automatic hydromechanical, continuously variable with electronic controls
Driveline: Direct front and rear driveshafts with TraxLok and torque-sensitive front differential
Suspension
Front: Independent double-wishbone; 6.7 inches travel
Rear: Swingarm with dual shock absorbers; 6.7 inches travel
Brakes
Front: 180mm front discs with single-piston calipers
Rear: Sealed mechanical drum
Tires
Front: 25 x 8-12
Rear: 25 x 10-12
Length: 83.0 inches
Width: 46.8 inches
Height: 46.4 inches
Seat Height: 33.9 inches
Ground Clearance: 7.5 inches
Wheelbase: 50.6 inches
Towing capacity: 850 pounds
Fuel Capacity: 4.1 gallons, including 0.7-gallon reserve
Colors
TRX500FA: Black, Red, Natural Gear Camouflage
TRX500FPA: Black, Red, Natural Gear Camouflage
Curb Weight*: 630 pounds (TRX500FA) 648 pounds (TRX500FPA)
*Includes all standard equipment, required fluids and full tank of fuel–ready to ride.
Recommended for riders 16 years of age and older.
2009 Honda FourTrax Foreman Rubicon GPScape with EPS TRX500FPA – Canada Specifications
Canadian MSRP $0 CDN
Model not available in Canada