Back to 2009 Honda ATV Quad Models Index Page
Click photos to enlarge.
They make great desktop images.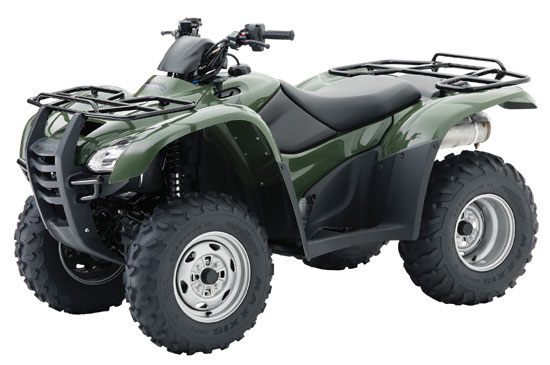 2009 Honda FourTrax Rancher 4X4 ES TRX420FE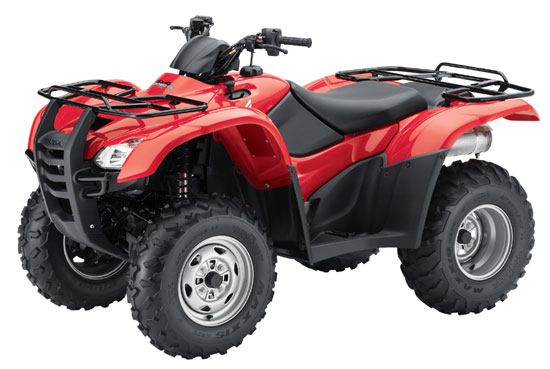 2009 Honda FourTrax Rancher 4X4 ES TRX420FE
– 2009 Honda FourTrax Rancher 4X4 ES TRX420FE

2009 Honda FourTrax Rancher 4X4 ES TRX420FE
Take our tough, proven Rancher 4×4, add electric shifting like our Rancher ES, and you get the Rancher 4×4 ES, an ATV that's been getting the job done for years. This model gives you tons of choices when it comes to operation—two-wheel drive or four-wheel drive, Electric Shifting, and much more.
The TRX420FE takes the easy-to-handle, fun-to-ride character of Honda's best-selling TRX350, then pumps up performance to exciting new levels. Its liquid-cooled engine is fuel-injected for consistent operation in the toughest conditions, and the engine and chassis design contribute to superior balance and light weight – you'll be amazed how easily you can ride over the most rugged terrain. Looking for more? The TRX420FE delivers with ESP push-button shifting, front disc brakes with long-life pads and a special scraper system to prevent damage, and the option of NaturalGear camo bodywork
FourTrax Rancher 4×4 ES/FourTrax Rancher 4×4 ES with Electric Power Steering
Talk about options: For 2009, the Rancher 4×4 ES, featuring Honda's remarkable Electric Shift Program, selectable 4WD/2WD TraxLok®, torque-sensitive front differential and fuel injection, is now also available with Honda's Electric Power Steering (EPS).
Features & Benefits
New for 2009
– Revolutionary Electric Power Steering (EPS)
– New White color joins Red, Olive and Natural Gear™ Camouflage.
Unique Features
– Rugged OHV liquid-cooled, fuel-injected 420cc longitudinally mounted engine allows direct driveshaft alignment to both front and rear wheels for maximum drivetrain efficiency (see Technology Section).
– Large radiator with cooling fan ensures optimal engine cooling under difficult operating conditions.
– Closed-crankcase vent system safeguards against engine oil contamination.
– ES model features Electric Shift Program (ESP®) for pushbutton upshifting and downshifting (see Technology Section).
– Specially designed floorboards on all Ranchers allow the rider's feet to grip the footrests while helping keep mud and debris away.
Engine/Drivetrain
– Powerful 420cc longitudinally mounted engine eliminates 90-degree power transfers and boasts exceptional horsepower and torque.
– Overhead-valve design provides compact engine dimensions for improved ground clearance while maintaining a broad, easy-to-use powerband.
– Keihin fuel-injection system provides crisp performance and ensures trouble-free operation in cold conditions and changing altitudes.
– Rubber-cushion engine mounting and gear-driven counterbalancer reduce vibration.
– Super-heavy-duty automatic clutch with a low rpm engagement point for excellent driveability and towing capability.
– Five-speed transmission with Reverse includes an ultra-low First gear. The Rancher 4×4 model shifts using a foot-operated pedal. The Rancher 4×4 ES model incorporates Honda's exclusive Electric Shift Program (ESP) for easy shifts with the touch of a handlebar-mounted button.
– TraxLok 4WD/2WD selector lever allows 4WD when needed for the tough stuff and 2WD when conditions permit (see Technology Section).
– Convenient electric starting, with optional recoil starter and an automatic internal-decompression system.
– Washable foam air filter for easy maintenance and consistent performance.
– Stainless-steel exhaust header and muffler for superior corrosion resistance.
– Full transistor ignition with electronic advance for excellent performance and reliability.
– Powerful 343-watt AC generator.
– Large 7.2-liter airbox with reusable foam air filter provides more air to the engine for increased performance.
Chassis/Suspension
– Rugged frame and suspension provide an exceptional 6.5 inches of ground clearance.
– Steering-mechanism design features light effort and a tight turning radius of 10.5 feet.
– Independent double-wishbone front suspension uses premium shock absorbers to provide 6.3 inches of suspension travel for a plush, comfortable ride.
– Steel swingarm and gas-charged rear shock absorber provide 6.3 inches of suspension travel for superb comfort and compliance.
– Tough, large-diameter 24×8-12 front and wide 24×10-11 rear tires provide excellent ground clearance while maintaining precise handling.
– Dual front hydraulic disc brakes and sealed mechanical rear drum brake for strong stops.
Additional Features
– Engine design produces low emissions and meets EPA and California Air Resources Board (CARB) off-road emissions standards.
– FE model has multifunction LCD digital instrumentation that is compact, tough and waterproof, featuring large readouts for gear position, speedometer, odometer, resettable tripmeter and hour meter. Instrument housing includes indicator lights for Reverse, Neutral, oil temperature, fuel injection and 4WD.
– Optional waterproof accessory socket provides 12-volt, 10-amp power with a built-in temperature-type fuse.
– Large cargo racks front and rear carry payloads of 66 and 133 pounds, respectively.
– Heavy-duty trailer hitch with 850-pound towing capacity.
– Large, lightweight plastic fuel tank with 3.6-gallon capacity.
– Fuel gauge is standard equipment.
– Snorkel-type air-intake system is specially designed to resist water.
– Unique rear-opening storage compartment allows access when rack is loaded.
– Thickly padded seat provides all-day comfort.
– Large fenders give excellent mud protection.
– Twin-headlight system with 30-watt bulbs features multireflector lenses for optimal light distribution.
– Combination LED stoplight and taillight.
– USDA-qualified, three-chamber spark arrester/muffler designed for quiet operation without wool packing for long-lasting performance.
– Constant-velocity-joint boot guards help prevent damage to boot covers.
– Tough 12-amp-hour maintenance-free battery.
– Durable, comfortable, easy-to-use controls.
– Keyed ignition switch for added security.
– Full-length synthetic lower skidplate with integrated front brush guard.
– Easy-to-use parking brake.
– Handlebar switches, controls and warning labels use easy-to-understand graphic labels.
– Standard equipment includes a tire-pressure gauge.
– Assembled in Timmonsville, South Carolina.
– Transferable one-year limited warranty; extended coverage available with a Honda Protection Plan.
– When you buy a new Honda Powersports Product, you may be eligible to receive a complimentary one-year membership in the Honda Riders Club of America, which includes an exclusive Members-only magazine, rider training benefits, access to the Members-only Clubhouse website and much more. Some limitations apply. For more information on the HRCA, log on to hrca.honda.com.
Honda Genuine Accessories
– Flag Kit.
– Recoil Starter.
– 12-Volt Accessory Socket.

2009 Honda FourTrax Rancher 4X4 ES TRX420FE – USA Specifications
American MSRP $5,799 USD
Model: TRX420FE (with ESP)/ TRX420FPE
Engine Type: 420cc liquid-cooled OHV wet-sump longitudinally mounted single-cylinder four-stroke
Bore and Stroke: 86.5mm x 71.5mm
Induction: Keihin 34mm throttle-body fuel-injection system
Ignition: Full transistor with electronic advance
Starter: Electric with optional auxiliary recoil
Clutch: Automatic
Transmission: ESP five-speed with Reverse (TRX420FE)/Five-speed with Reverse (TRX420FM)
Driveline: Direct front and rear driveshafts
Suspension
Front: Independent double-wishbone; 6.3 inches travel
Rear: Swingarm with single shock; 6.3 inches travel
Brakes
Front: Dual hydraulic disc
Rear: Sealed mechanical drum
Tires
Front: 24×8-12
Rear: 24×10-11
Length: 80.9 inches
Width: 46.1 inches
Height: 45.1 inches
Seat Height: 32.4 inches
Ground Clearance: 6.5 inches
Wheelbase: 49.2 inches
Turning Radius: 10.5 feet
Fuel Capacity: 3.6 gallons (including 1.0-gallon reserve)
Colors: White, Red, Olive, Natural Gear Camouflage
Curb Weight*: 586 pounds (TRX420FE)/ 605 pounds (TRX420FPE)
*Includes all standard equipment, required fluids and full tank of fuel–ready to ride.
Recommended for riders 16 years of age and older.

2009 Honda FourTrax Rancher 4X4 ES TRX420FE – Canada Specifications
Canadian MSRP $8,299 – $8,599 CDN
Engine Type Liquid-cooled longitudinally mounted single-cylinder four-stroke

Displacement 420 cc

Bore & Stroke 86.5 mm x 71.5 mm

Compression Ratio 9.8:1

Valve Train OHV, 2 valves

Fuel Delivery PGM-FI fuel-injection

Transmission Electric-shifting five-speed with automatic clutch, reverse and ultra-low first gear

Final Drive 2WD/4WD; direct front and rear driveshafts with 2WD/4WD shifter and torque-sensing front differential

Front Suspension Independent double-wishbone with hydraulic shocks; 160 mm (6.3 inches) travel

Rear Suspension Swingarm with single hydraulic shock; 160 mm (6.3 inches) travel

Tires 24×8 – 12 front; 24×10 – 11 rear

Brakes Front dual 180 mm hydraulic discs; rear sealed mechanical drum

Length 2,055 mm (80.9 inches)

Width 1,172 mm (46.1 inches)

Ground Clearance 165 mm (6.5 inches)

Seat Height 824 mm (32.4 inches)

Wheelbase 1,249 mm (49.2 inches)

Dry Weight TBA

Fuel Capacity 14 litres

Colour Red, Black, Camo (optional)