Back to 2010 Kawasaki ATV Quad Models Index Page
Click photos to enlarge.
They make great desktop images.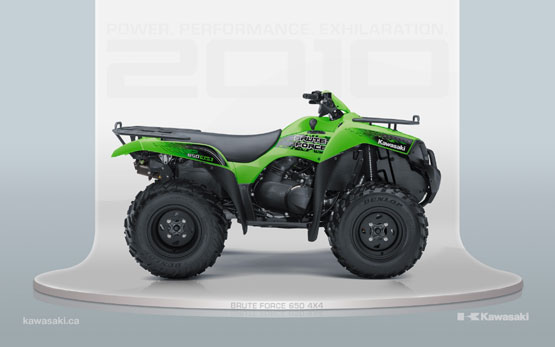 2010 Kawasaki Brute Force 650 4×4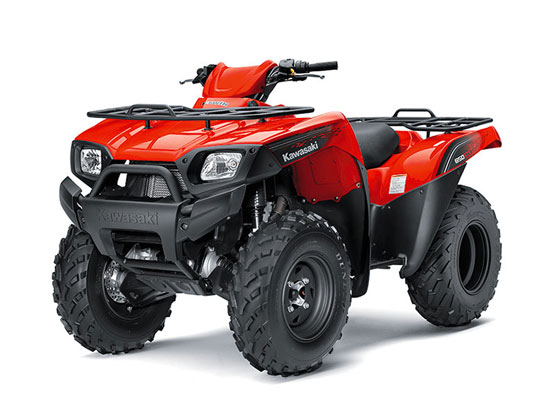 2010 Kawasaki Brute Force 650 4×4
– 2010 Kawasaki Brute Force 650 4×4

2010 Kawasaki Brute Force 650 4×4
When it comes to dollar stretching performance, Kawasaki's mid-sized Brute Force® 650 4×4 all-terrain vehicle (ATV) is the stand-out performer in this class. With its legendary V-twin engine, a proven 4×4 system and rugged styling — for about the same price as the single-cylinder engine crowd — its value is even more apparent to those seeking a powerful yet sensible 4×4 ATV.

2010 Kawasaki Brute Force 650 4×4 Details & Features

Engine

633cc Liquid-Cooled, Four-Stroke V-Twin Engine
o Kawasaki's original V-twin engine
o 90-degree, V-twin engine with four-valves per cylinder produces massive torque yet is exceptionally smooth running
o Electronically managed Kawasaki Engine Brake Control system helps to slow the ATV under certain conditions
Transmission and Powertrain
o Fully automatic Kawasaki Automatic Powerdrive System (KAPS) continuously variable transmission (CVT) has high and low forward gears plus reverse
o Selectable four-wheel or two-wheel drive
o The limited-slip front differential permits tight and easy turning
o Rider can utilize the Variable Front Differential Control for maximum traction on difficult terrain
Brakes
o Dual-piston caliper front disc brakes provide aggressive stopping power
o The industry's original sealed, oil-bathed, multi-disc rear braking system
o An integrated part of the shaft drive, the virtually maintenance-free rear braking system is protected from mud, dust and debris
Chassis
o Tough and rugged body style
o Aluminum swingarm is sturdy and lightweight, and the shock absorber has adjustable preload
o MacPherson strut front suspension provides a smooth, comfortable ride
o Full-size floorboards are comfortable and help protect the rider's feet from mud and debris
Amenities
o Cat-eye headlights add to its clean and aggressive look
o A digital instrument panel provides the rider important information at a glance
o Front and rear steel cargo racks can carry a combined weight of 264 pounds
o 1,250 pound towing capacity
o Standard winch-mount can accommodate a 3000-pound capacity winch from Warn or Superwinch
o A digital instrument panel provides the rider important information at a glance
o Front and rear steel cargo racks can carry a combined weight of 264 pounds
o It can tow 1,250 pounds
o Standard winch-mount can accommodate a 3000-pound capacity winch from Warn or Superwinch
2010 Kawasaki Brute Force 650 4×4 Technology
Engine

Proven liquid-cooled, 633 cc, SOHC, 4-valve, V-twin engine from the award-winning KVF650 churns out a massive 42PS @ 6,500 rpm.
Oversquare bore and stroke of 80.0 x 63.0 mm contributes to a high torque output of over 38 ft-lb @ 4,000 rpm and a flat, user-friendly torque curve.
Offsetting the cylinders by 90° results in perfect primary balance, for low vibration levels and comfortable riding.
Dual, CVKR-D32 downdraft carburetors deliver smooth throttle response and efficient fuel consumption.
The KACR (Kawasaki Automatic Compression Release) makes starting with the electric or pull starter quick and easy.
The air box is located between the cylinders and uses a snorkel air intake to minimize the entry of water, dirt and foreign objects.
Oval-type air cleaner element reduces dust build-up and reduces maintenance frequency.
Damperless crankcase-mounted propeller shaft: the 650's smooth V-twin power pulses do not require a driveline damper. This means one less source of noise during sudden throttle opening changes. It also saves weight.

Transmission

Third-generation KAPS (Kawasaki Automatic Power-Drive System) CVT automatic belt drive system features quick response and great reliability.
The Kawasaki Engine Brake Control system provides additional slowing power when descending hills by using the braking effect of the engine's compression. Kawasaki Engine Brake Control is controlled automatically by a computer under the seat.
Belt Failure Detection System protects the rider if the double cog KAPS drive belt is excessively worn or frayed. Under such conditions, the drive belt trips a switch mounted atop the CVT cover that limits engine speed, prevents the machine from being shifted into 4WD and signals the operator with a light on the instrument panel.
Air intake passage located under the handlebars routes cooling air to the CVT unit.
Mono-shifter mechanism makes for quick shifting between Hi-Low and Reverse and makes for a lightweight transmission assembly.
Electrically "selectable" 2WD/4WD system allows easy changing between drive systems to suit changing terrain and applications.
Variable front differential control makes it much easier to get the ATV moving when it gets stuck. Lever operation allows rider to adjust the amount of torque to suit conditions.
Override pushbutton switch allows the rider to increase power when riding in reverse gear.

Chassis

With a dry weight of 274 kg, the Brute Force 650 is lighter than North American competitors mid-size models.
Bodywork is based on the tough, stylish image of the Brute Force 750 however the 650 conveys a certain user-friendliness.
High fender design emphasizes the large wheel travel and appeals to this model's excellent off-road capabilities. The fenders angle downwards to give an aggressive, sporty look.
Fenders and body parts are made of TPO material and feature a more scratch-resistant finish for long-wearing good looks. Fit and finish is excellent.
Riding position is like that of the KVF700.
Uni-Trak rear suspension features a reservoir-equipped shock for stable damping characteristics. Step-less adjustable for preload, it comes with a dual-rate spring and delivers 184 mm of wheel travel for excellent ground tracking qualities and ride quality.
Highly rigid, aluminum swingarm features Kawasaki's exclusive wet, multi-plate rear brake, the best rear brake ever on an ATV.
MacPherson strut front suspension gives a long wheel travel of 170 mm and enhances the wheels' ground-following ability for a smooth yet sporty ride.
Dual-piston front brake calipers with drilled discs deliver powerful, progressive braking.
Tough, 12″ aluminum rims are sized 6-inch wide for the front and 7.5-inch wide at the rear.
The internal wet brake is completely sealed from mud and dust, etc. while its compact design allows ample ground clearance.
The large, 17 litre fuel tank is located beneath the rear fender and includes an in-tank fuel pump contributing to a low centre of gravity.
Safety system allows the engine to be started in any gear if one of the brakes is applied.
Large, steel racks hold 40 kg up front and 80 kg in the rear, and are ideal for work, camping and many other tasks. Standard trailer hitch with 567 kg capacity.
Multi-purpose, digital instrumentation includes speedometer, odometer, tripmeter, clock, fuel gauge and hour meter. Indicator lamps for neutral, reverse gear, 2WD/4WD, belt indicator, and oil warning are also fitted.
Long, well padded seat provides lots of room to move around on technical trails.
2010 Kawasaki Brute Force 650 4×4 – USA Specifications
US MSRP* $7,549 USD
Engine Four-stroke, V-twin, liquid-cooled, SOHC, four-valve

Displacement 633cc

Starting system Electric with recoil back up

Bore x Stroke 80 x 63mm

Compression ratio 9.9:1

Carburetion (2) Keihin CVKR-D32

Ignition DC-CDI

Transmission Dual-range CVT plus reverse with Kawasaki Engine Brake Control

Final drive 2×4 / 4×4 shaft

Frame Type Double cradle, tubular steel

Front suspension / wheel travel MacPherson / 6.7 in.

Rear suspension / wheel travel Aluminum swingarm and single shock / 7.2 in.

Front Tire Size AT25x8-12

Rear Tire Size AT25x10-12

Front brakes (2) Dual-piston disc

Rear Brakes Sealed, oil-bathed, multi-disc

Overall length 86.0 in.

Overall width 47.7 in.

Wheelbase 50.9 in.

Ground clearance At center of chassis, 9.0 / at rear axle, 7.3 in.

Seat height 33.9 in.

Lighting, headlights (2) 45-watt headlights, taillight, brake light

Total rack capacity 264 lbs.

Towing capacity 1,250 lbs.

Curb weight 648.3 lbs.

Fuel capacity 4.8 gal.

Instruments Speedometer, odometer, dual trip meters, clock, hour meter, fuel gauge, 2×4 / 4×4 indicator light, neutral indicator light, reverse indicator light, low fuel warning light, low oil warning light

Color Choices Sunbeam Red, Lime Green

Good Times™ Protection Plan 12, 24, 36 or 48 months

Warranty 12 Months




2010 Kawasaki Brute Force 650 4×4 – Canada Specifications
Canadian $MSRP* $9,999 CDN
ENGINE
Type 4-stroke 90° V-twin
Displacement 633 cc
Bore and Stroke 80 x 63 mm
Compression Ratio 9.9:1
Valve System SOHC, 4 valves per cylinder
Carburetor Dual Keihin CVKR-D32 with anti-icing heaters
Ignition Digital DC-CDI
Starting Electric
Cooling Liquid
Charging Output 25 A, 14 V @ 6,000 rpm

DRIVETRAIN
Transmission Dual range CVT with reverse
Primary Drive Belt converter
Final Drive Shaft, Electric 2WD / 4WD, rider controlled locking front differential
Primary Reduction Ratio 3.122 ~ 0.635 (belt converter)
Overall Drive Ratio: Forward (High) 42.32 ~ 8.61
Forward (Low) 66.02 ~ 13.43
Reverse 55.01 ~ 11.19

FRAME
Type Double cradle, tubular steel
Suspension: Front MacPherson strut
Rear Uni-Trak swingarm & single shock with piggy-back reservoir
Wheel Travel: Front 170 mm
Rear 184 mm
Tires: Front AT 25 x 8-12
Rear AT 25 x 10-12
Tread (Front/Rear) 909 mm /910 mm

BRAKES
Front Brakes Dual hydraulic drilled discs with 2-piston calipers
Rear Brake Enclosed wet multi-plate
Parking Brake Enclosed wet multi-plate

ELECTRICAL EQUIPMENT
Battery 12 V, 12 Ah Maintenance Free
Headlights (High/Low) 12 V, 45/45 W x 2
Tail/Brake Light 12 V, 5/21 W

DIMENSIONS
Overall Length 2,185 mm
Overall Width 1,209 mm
Overall Height 1,166 mm
Wheelbase 1,294 mm
Seat Height 864 mm
Curb Mass 293 kg (646 lbs.)
Fuel Capacity 17 litres

DETAILS
MSRP* $9,999
Colours Sunbeam Red, Lime Green
Warranty 12 months

ADDITIONAL COST OPTIONS
Good Times Protection Plan 24 or 36 months (Kawasaki GTPP coverage begins after the standard limited warranty expires)

* The Manufacturer's Suggested Retail Price does not include freight, pre-delivery inspection or applicable taxes. The final price is at the discretion of the dealer. Prices and Specifications are subject to change without prior notice.
The specifications mentioned here apply to and have been achieved by production models under standard operating conditions. We intend only to give a fair description of the vehicle and its performance capabilities but these specifications may not apply to every machine supplied for sale. Kawasaki Heavy Industries, Ltd. reserves the right to alter specifications without prior notice. Equipment illustrated and specifications may vary to meet individual markets. Available colours may vary by market.