Back to 2011 Honda ATV Quad Models Index Page
Click photos to enlarge.
They make great desktop images.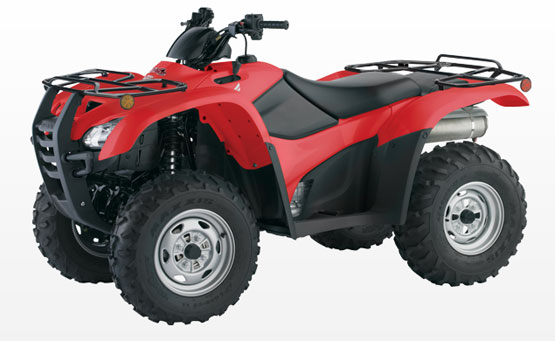 2011 Honda TRX420PG Canadian Trail Edition with Electric Power Steering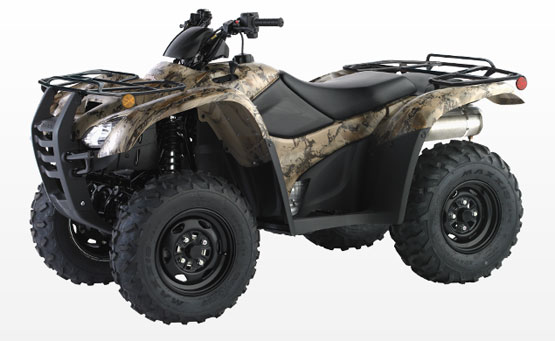 2011 Honda TRX420PG Canadian Trail Edition with Electric Power Steering
– 2011 Honda TRX420PG Canadian Trail Edition with Electric Power Steering

2011 Honda TRX420PG Canadian Trail Edition with Electric Power Steering
You want excellent trail performance, you want a strong work ethic, and you want the latest in high-tech features. In other words, you want it all. If this describes your ATV wish list, then you'll want to take a hard look at the Honda TRX420PG Canadian Trail Edition. It's lightweight, so it's easy to handle and will float over terrain that would bog down a bigger, heavier ATV. And it's comfortable and easy to ride, thanks to its Independent Rear Suspension (IRS) and Honda's Electric Power Steering (EPS). And just wait until you try the innovative twin-clutch automatic transmission — it gives you the performance, durability, efficiency and direct feel of a manual transmission with the ease-of-use of an automatic. In addition, it features the exclusive push-button Electric Shift Program (ESP) for manual-shift control for riders who like to shift gears. You get the best of both worlds.


2011 Honda TRX420PG Canadian Trail Edition with Electric Power Steering Features:

Engine/Drivetrain

Powerful 420 cc longitudinally mounted engine eliminates 90-degree power transfers and boasts strong horsepower and torque. Overhead-valve design provides compact engine dimensions for excellent ground clearance and a lower center of gravity.

Cylinder head is designed with high compression and large intake valves) and exhaust valves to ensure strong midrange and top-end power.

Programmed Fuel-Injection (PGM-FI) features a 34 mm throttle body, 12-hole Denso injector, and Idle Air Control Valve (IACV) for crisp performance, excellent economy and trouble-free operation in cold conditions and varying altitudes.

Large 7.2-litre airbox with washable, reusable foam air filter provides more air to the engine for increased performance.

High-capacity oil system features a high-flow filter and a two-rotor pump to provide oil for the engine and the pressurized transmission clutches.

Rubber-cushion engine mounting and gear-driven counterbalance shaft reduce vibration.

Large radiator with cooling fan helps ensure optimal engine cooling under difficult operating conditions.

Stainless-steel exhaust system includes a USDA-qualified spark arrester/muffler for superior corrosion resistance.

Three-chamber muffler baffling uses no packing material that can blow out, providing long-lasting performance.

Lightweight automatic high-efficiency transmission offers five-speed automatic shifting or push-button manual shifting with Honda's Electric Shift Program (ESP). After the heavy duty centrifugal clutch engages, two Electronic Control Module (ECM)-controlled clutches mounted in the gearbox upshift/downshift to provide smooth, lurch-free shifts. When descending hills in automatic mode, the transmission downshifts, providing excellent engine braking. If the rider forgets to downshift when stopping in ESP mode, the transmission downshifts to third gear to prevent engine lugging.

4WD/2WD selector lever allows 4WD or 2WD operation.
Chassis/Suspension

Fully independent front and rear suspension incorporates special calibration developed from extensive testing on Canadian trails.

Honda's double-wishbone Independent Rear Suspension (IRS) provides 160 mm (6.3 inches) of wheel travel and minimizes geometry variations as the suspension travels through its stroke, maintaining rear wheel alignment, contributing to responsive overall handling, and reducing tire wear.

Independent double-wishbone front suspension uses premium shock absorbers to provide 160 mm (6.3 inches) of wheel travel for a plush, comfortable ride.

Rugged frame and suspension provide an impressive 231 mm (9.1 inches) of ground clearance.

Honda's revolutionary Electric Power Steering (EPS) system monitors steering torque and vehicle speed to adjust the levels of steering assist and feel. When stopped or at low speeds, it provides more assistance for light steering effort. As speed increases, the amount of assistance is reduced to provide the appropriate level of feedback. Perhaps the most significant benefit is that the system will provide light and consistent steering feel in both 2WD and 4WD operation. As a secondary benefit, the EPS system acts as a steering damper to greatly reduce undesirable kickback through the handlebars in rough or rocky terrain, thereby helping to reduce rider fatigue.

Dual hydraulic front and single rear disc brakes provide exceptional stopping power and feature brake pads that minimize wear from dust and sand.

Rear centre disc brake and self-adjusting mechanical rear parking brake are mounted on the rear driveshaft, contributing to the TRX420PG's considerable ground clearance.

Tough large-diameter front and rear tires provide excellent ground clearance while maintaining precise handling.
Additional Features

Convenient electric start helps ensure an easy start every time.

Large, lightweight plastic fuel tank with 13.3-litre capacity.

Multifunction LCD digital instrumentation is compact, tough and waterproof, featuring large readouts for gear position, speedometer, odometer, resettable tripmeter and hour meter. Instrument housing includes indicator lights for reverse, neutral, coolant temperature, PGM-FI, 4WD and power steering.

Thickly padded seat provides exceptional comfort.

Rack designed for easier lashing of cargo.

Large cargo racks front and rear carry payloads of 30 kg (66 pounds) and 60 kg (133 pounds), respectively.

Heavy-duty trailer hitch with 385 kg towing capacity.

Snorkel-type air-intake system is specially designed to admit air without water intrusion during water crossings.

Closed crankcase vent system safeguards against engine oil contamination.

Muffler/spark arrester is designed for quiet operation.

Powerful 371-watt alternator.

Tough 12-amp-hour maintenance-free battery.

Twin-headlight system with 30-watt bulbs features multi-reflector lenses for optimal light distribution.

Combination LED stoplight and taillight.

Durable, comfortable, easy-to-use controls.

Keyed ignition switch for added security.

Large fenders give excellent mud protection.

Specially-designed floorboards allow the rider's feet to grip the footrests while helping to keep mud and debris away.

Full-length synthetic lower skid plate with integrated front brush guard.

Constant-velocity-joint boot guards help prevent damage to boot covers.

1 year, transferable limited warranty.

2011 Honda TRX420PG Canadian Trail Edition with Electric Power Steering – Specifications
American MSRP: Model Not Available
Canadian MSRP: $8,699 solid, $9,049 camo CDN
Engine Type Liquid-cooled longitudinally mounted single-cylinder four-stroke

Displacement 420 cc

Bore & Stroke 86.5 mm x 71.5 mm

Compression Ratio 9.9:1

Valve Train OHV, 2 valve

Fuel Delivery PGM-FI electronic fuel-injection

Transmission Fully automatic five-speed with selectable Electric Shift Program (ESP) and reverse

Final Drive 2WD/4WD; direct front and rear driveshafts with 2WD/4WD shifter and torque-sensing front differential

Front Suspension Independent double-wishbone with hydraulic shocks; 160 mm (6.3 in.) travel

Rear Suspension Independent double-wishbone with hydraulic shocks; 160 mm (6.3 in.) travel

Tires 24 x 8 – 12 front; 24 x 10 – 11 rear

Brakes Front dual hydraulic discs; rear single hydraulic disc

Length 2,055 mm (80.9 in.)

Width 1,171 mm (46.1 in.)

Ground Clearance 231 mm (9.1 in.)

Seat Height 823 mm (32.4 in.)

Wheelbase 1,255 mm (49.4 in.)

Curb Weight 291 kg (642 lb) including required fluids and full tank of gas – ready to ride

Fuel Capacity 13.3 litres, including 2.6-litre reserve

Colour Red, Camo (optional)