Back to 2011 Polaris ATV Quad Models Index Page
Click photos to enlarge.
They make great desktop images.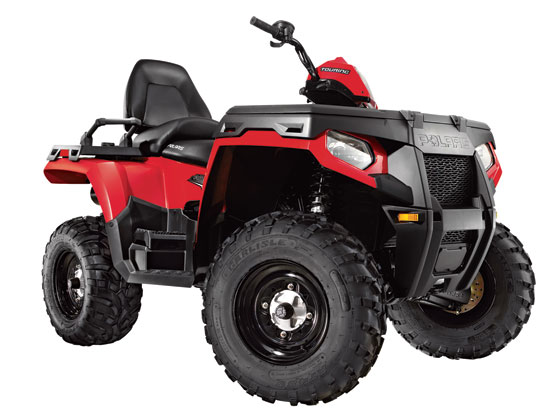 2011 Polaris Sportsman Touring 500 H.O.
– 2011 Polaris Sportsman Touring 500 H.O.

2011 Polaris Sportsman Touring 500 H.O.
The 2011 Polaris Sportsman® Touring 500 H.O. ATV is our best value touring ATV. Powerful & comfortable, it's the ideal 2-person ATV for trail riding. For 2011, it has new styling, better sight lines and a raised radiator.
Key features are:
– 498cc High Output Engine (HO)
– Rolled Independent Rear Suspension (IRS)
– 5.3 Gallon Easy-Access Cargo Storage
2011 Polaris Sportsman Touring 500 H.O. Features:
Engine Braking System
Polaris Engine Braking System (EBS) provides engine braking to the rear wheels when descending hills with the throttle released. EBS improves vehicle control when riding in hilly terrain and helps maximize brake pad service life

Large Removable Front Storage
This convenient front storage has 5.3 gallons of capacity and lets you carry lots of gear and supplies for those long rides.

New! Restyled Design With Lock & Ride
A restyled body gives the Sportsman an aggressive new look and improved sight lines for the driver. The Lock & Ride composite front rack system and matching rear rack make it easy to carry gear.

On-Demand True All Wheel Drive (AWD)
Still the best automatic 4×4 system out there, the AWD engages all four tires when the rear wheels slip and you need more forward traction. Reverts back to 2WD when you don't.

High Ground Clearance
A full 11″ of obstacle-clearing ground clearance lets you tackle some of the tougher terrain that comes your way.

Proven Powerplant And Chassis
We took our Sportsman 500 H.O.—the best-selling automatic 4×4 ATV of all time—and gave it a longer wheelbase and a plush passenger seat to create a value-packed, 2-up touring machine.

Roll Ed Independent Rear Suspension IRS
Starting with 8.75″ of suspension travel, our proven Rolled IRS is angled rearward to keep the ride smooth for you and your passenger and reduce squat while accelerating


2011 Polaris Sportsman Touring 500 H.O. – Specifications
American MSRP $7,399 USD
Canadian MSRP $8,999 CDN
Engine
Engine Type 4-Stroke Single Cylinder
Displacement 498cc High Output (H.O.)
Fuel System Carbureted
Cooling Liquid

Drivetrain
Transmission/Final Drive Automatic PVT P/R/N/L/H; Shaft
Drive System On-Demand True AWD/2WD
Engine Braking System/ Active Descent Control Standard/N.A.

Suspension
Front Suspension MacPherson Strut With 8.2″ (20.8 cm) Travel
Rear Suspension Dual A-Arm, Rolled 8.75″ (22.2 cm) Travel

Brakes
Front/Rear Brakes Single Lever 4-Wheel Hydraulic Disc with Hydraulic Rear Foot Brake
Parking Brake Park in Transmission/Lockable Hand Lever

Tires Wheels
Front Tires / Model 25 x 8-12; 489
Rear Tires / Model 25 x 11-12; 489
Wheels Stamped Steel

Dimensions
Wheelbase 57″ (144.8 cm)
Dry Weight 740 lb (335.7 kg)
Overall Vehicle Size (LxWxH) 86 x 48 x 48″ (218.4 x 121.9 x 121.9 cm)
Ground Clearance 11″ (27.9 cm)
Seat Height 33.75″ (85.7 cm)

Capacities
Fuel Capacity 4.1 gal (15.5 L)
Front/Rear Rack Capacity 90 lb (40.8 kg)/180 lb (81.6 kg)
Hitch Towing Rating 1,225 lb (555.7 kg)
Unbraked Trailer Towing Capacity "*Based on EU Directive 76/432/EC 1,995 lb (905 kg)
Hitch/Type Standard/1.25″ Receiver

Features
Cargo System Lock & Ride
Lighting Dual 50w Low Beam Bumper Lights, Single 50w High Beam Pod Light; Dual
Brakelights/Taillights
Instrumentation Digital Gauge, Analog Speedometer, Odometer, Tachometer, Tripmeter, Gear Indicator, Fuel Gauge, AWD Indicator, Hi-Temp/Low-Batt Lights, DC Outlet