Click photos to enlarge. They make great desktop wallpaper.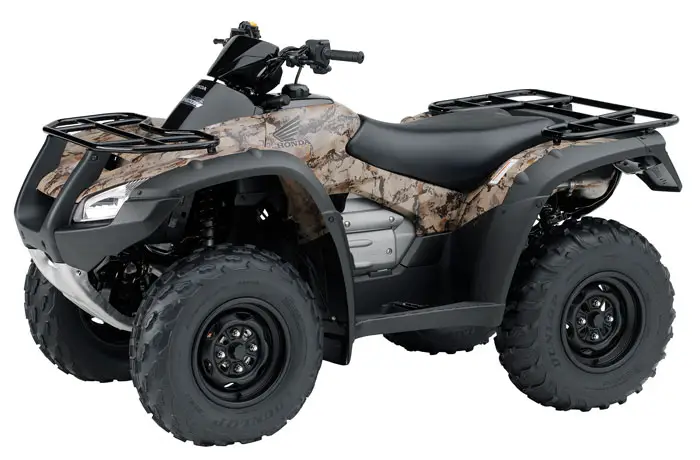 2013 Honda FourTrax Rincon TRX680FA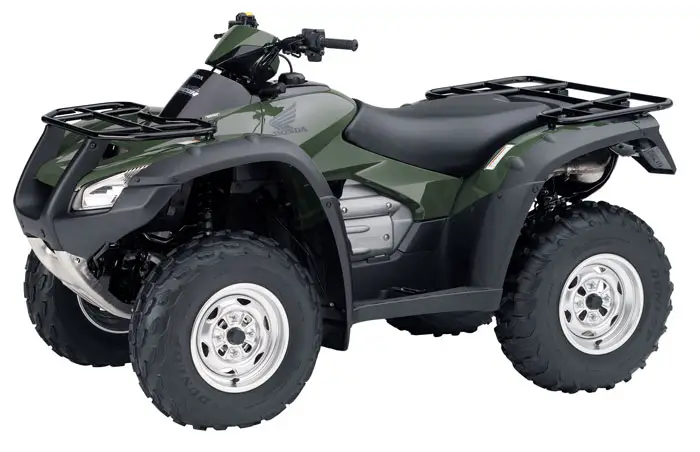 2013 Honda FourTrax Rincon TRX680FA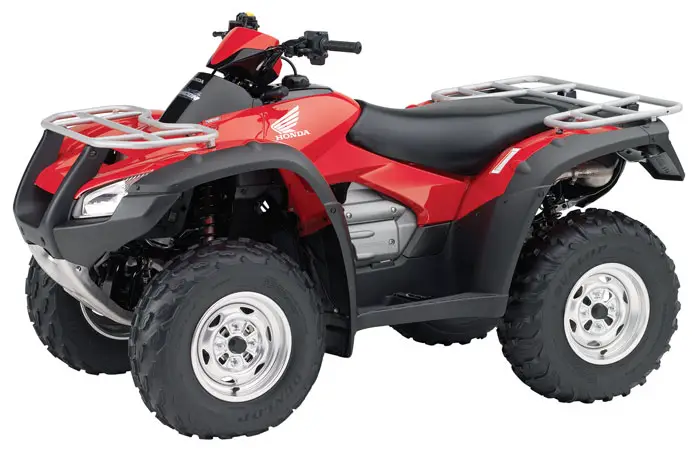 2013 Honda FourTrax Rincon TRX680FA
– 2013 Honda FourTrax Rincon TRX680FA Review

2013 Honda FourTrax Rincon TRX680FA
There's the Rincon. Then there's the rest…
Over the years, the FourTrax® Rincon® has cemented its reputation as the ultimate 700cc-class workhorse, capable of taking on the toughest tasks with ease. And while the Rincon is a beast when it comes to tackling To Do lists, this ATV is really a "Sport-Utility" machine at heart, delivering smooth, powerful, class-leading performance no matter what the occasion, be it hunting, trail blazing, or simply exploring. No surprise there, really, considering the features it packs, like a huge, liquid-cooled 675cc engine with Programmed Fuel Injection (PGM-FI). Honda's fully Independent Rear Suspension (IRS) system for optimal traction. A revolutionary, ultra-smooth automotive-style three-speed automatic transmission. And to top it all off, sleek, SUV-like styling with Natural Gear Camouflage bodywork as a color option.

The 2013 FourTrax Rincon. All work. All play. And nothing dull about it.

Boasting stellar features including a powerful 675cc engine, independent rear suspension, electronic fuel injection, Hondamatic automatic transmission, front and rear disc brakes and more, the legendary FourTrax® Rincon® tops Honda's line of ATVs. This popular choice comes with a host of features that all come together to place the Rincon in a class of one.
High-Tech Industry.
Sure, they're rugged and reliable, but Honda Utility ATVs are also built to make your life easier, whether you're working the back 40 or your favorite trail, and we achieve this with some of the most revolutionary technology in the industry. Like Electric Power Steering, designed with torque and speed sensors to reduce steering effort (and rider fatigue) when the going gets tough. Independent Rear Suspension (IRS) that allows both rear wheels to move independently, helping you maintain traction and control even in rough terrain.
And there's a transmission for every type of use. Our continuously variable, fully automatic Hondamatic™ transmission (available on the Foreman Rubicon), is the smoothest ATV transmission you'll ever experience. The three-speed Honda Automatic transmission (an automotive-style torque converter) is available on our FourTrax Rincon. And the Rancher AT has the Honda automatic dual-clutch, five-speed transmission, which features one of the slickest- and quickest-shifting gearboxes on dirt.
And this is just for starters, as our feature-packed machines are all built with the same purpose in mind: to work and play hard so you don't have to.

2013 Honda FourTrax Rincon TRX680FA Key Features

Independence Day – Ensuring constant tire contact with the ground, the Rincon's double-wishbone Independent Rear Suspension (IRS) is ultra-smooth, and thus less tiring, over all types of terrain.

Accessories as tough as the ATVs they're on –

When you're riding the best ATV on the planet, only the best accessories will do—Honda Genuine Accessories. These accessories are designed specifically for your Honda vehicle and feature the same quality and durability you've come to expect from Honda.
Learn More .

Muscle Man.

Big torque. Huge power. And all-world performance. The Rincon's 675cc liquid-cooled, fuel-injected four-stroke single delivers them all—in spades.
Honda Genuine Accessories†
– Soft Rack Bag (front and rear), Cargo Box (front and rear), Fender Bag, Winch Kit, Front Brush Guard, Frame Skid Plates, Rear Skid Plate, A-Arm Guards (front and rear), Trailer Hitch Kit
† WARRANTY: Because we're so confident in the quality of each of our Honda Genuine accessories, we're pleased to offer one of the best warranties in the industry. One-year warranty begins on the day accessories are purchased by the customer.

Important Safety Information
Recommended for riders 16 years of age and older. Honda recommends that all ATV riders take a training course and read their owner's manual thoroughly.


2013 Honda FourTrax Rincon TRX680FA Features and Benefits
1,000 lb. Cargo Bed Capacity – MUVs are built to haul stuff, and Big Red is ready to get to work. The bed capacity is 1,000 pounds. And Big Red uses a steel tilt bed with a composite liner and a heavy-duty hydraulic assist that makes operation easy.
Adjustable Preload Rear Shocks – In addition to a fully independent rear suspension, the rear shocks feature preload adjustability to better handle Big Red's increased load capabilities.
Honda Automatic Transmission – Quite simply, this is the best automatic transmission available in any MUV. Big claim? Sure, but check out these features: A stout, heavy-duty torque converter instead of a system of pulleys and belts, three hydraulic clutches, and positive engine braking.
1,500 lb. Towing Capacity – Big Red has a heavy-duty two-inch receiver-style hitch and the towing capacity is 1,500 lbs.
675cc Liquid-Cooled Engine with Fuel Injection – Honda is famous for our engines, and we gave Big Red one of our best. It's a liquid-cooled four-stroke single-cylinder with tons of torque. Fuel injection means it starts right up, even on cold days or at high altitude, and also helps give you more range on a tankful of gas.
Doors with Double Latch Mechanism – Big Red's rugged, composite doors feature an automotive style double latching system securing you and your passengers in while keeping what nature throws at you out.
Contoured Bench Seat – Big Red's two-passenger contoured bench seat provides lots of room and allows easy entry and exit.
Seatbelts – You'd think all seatbelts are alike, but that's hardly the case. And once again, Big Red's attention to detail sets this MUV apart. We use automotive-style three-point belts with an Emergency Locking Retractor mechanism to help keep you and your passenger safe and secure.
Side Nets – Big Red's roll-up side nets (standard equipment) make cleaning and maintenance easier. But remember to attach them fully before you get going.
Occupant Protection Structure – We built Big Red's stout Occupant Protection Structure around the rider and passenger, and positioned the seats so you're well protected. Built out of sturdy, large diameter tubing, Big Red's Occupant Protection Structure includes such details as integrated handholds, recessed top tubes and a more spacious structure to enhance protection. In addition, Big Red's Occupant Protection Structure meets OSHA's 1928.53 rollover protection standard.
Independent Double-Wishbone Front Suspension – Front independent double-wishbone suspension contributes to Big Red's all-day riding comfort.
Four-Wheel Disc Brakes – Naturally, we gave Big Red the best brakes in the business: hydraulic discs on all four wheels. A patented scraper system helps prevent debris buildup between caliper and rim, and best of all the balanced, automotive design features two separate braking circuits, which helps ensure front and rear braking even if one brake line is damaged.
Performance You Can Count On. – Big Red's transmission isn't just another automatic—Big Red features the Honda automatic, the industry's only true automotive-style automatic with a heavy-duty torque converter.

Safety that Sets it Apart. – With Big Red, we've made a commitment to safety, just what you'd expect from Honda. An innovative balanced braking system that ensures front and rear braking even in the event that one brake line fails, automotive-type three-point Emergency Locking Retractor seatbelts, occupant protection structure, a wide-track chassis design, and much more—it's all part of Big Red's overall design.

More Features than Ever – Big Red even offers a generous cargo bed with a full 1000-pound capacity. And if that's not enough, the towing capacity is an even bigger 1500 pounds. Big Red's ready to work harder than ever!
---
2013 Honda FourTrax Rincon TRX680FA – North American Specifications / Technical Details
USA MSRP: $11,699 USD
Canadian MSRP: See dealer for pricing
ENGINE
Engine Type 675cc liquid-cooled OHV single-cylinder four-stroke
Bore And Stroke 102mm x 82.6mm
Compression Ratio 9.2:1
Induction Electronic fuel injection (PGM-FI), 40mm throttle body
Ignition Full-transistorized type with electronic advance
Starter Electric

DRIVE TRAIN
Clutch Automatic
Transmission Automotive-style with hydraulic torque converter; three forward gears and Reverse; three drive modes: 2WD, 4WD, and 4WD with all-wheel differential lock
Driveline Direct front and rear driveshafts

CHASSIS / SUSPENSION / BRAKES
Front Suspension Independent double-wishbone; 5.9-inch travel
Rear Suspension Independent double-wishbone; 7.1-inch travel with adjustable preload
Front Brake 200mm hydraulic disc with 51.1mm caliper
Rear Brake 200mm hydraulic disc with 30.3mm caliper
Front Tires Maxxis Big Horn 25 x 10-12 bias
Rear Tires Maxxis Big Horn 25 x 10-12 bias

DIMENSIONS
Length 114.7 inches
Width 64.0 inches
Height 76.9 inches
Wheelbase 75.7 inches
Bed Length Inside 33.0 inches
Bed Width Inside 53.0 inches
Bed Capacity 1,000 lbs.
Towing Capacity 1,500 lbs.
Ground Clearance 10.3 inches
Ground Clearance 10.3 inches
Turning Radius 13.8 feet
Curb Weight 1,433 lbs. (Includes all standard equipment, required fluids and a full tank of fuel-ready to ride)
Maximum Weight Capacity 1,690 lbs. (Includes weight of cargo, occupants, accessories, and trailer tongue load)
GVWR 3,124 lbs. (maximum) Gross Vehicle Weight Recommended
Fuel Capacity 7.9 Gallons, including 1.5-gallon reserve

OTHER
Note Recommended for Drivers 16 years of age and older. Honda recommends that all MUV drivers read the owner's manual thoroughly. Occupant protection structure now meets the requirements of OSHA 1928.53 Rollover Protection Standard.
Available Colors Red, Olive, Natural Gear™ Camo
Model Id MUV700

FACTORY WARRANTY INFORMATION
Duration One Year
Description Transferable limited warranty; extended coverage available with a Honda Protection Plan
Specifications, appearance, and price of product are subject to change without notice.