Click photos to enlarge. They make great desktop wallpaper.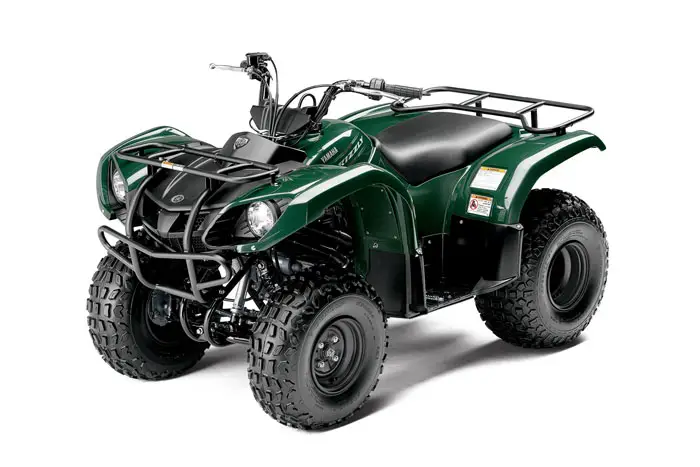 2013 Yamaha Grizzly 125 Automatic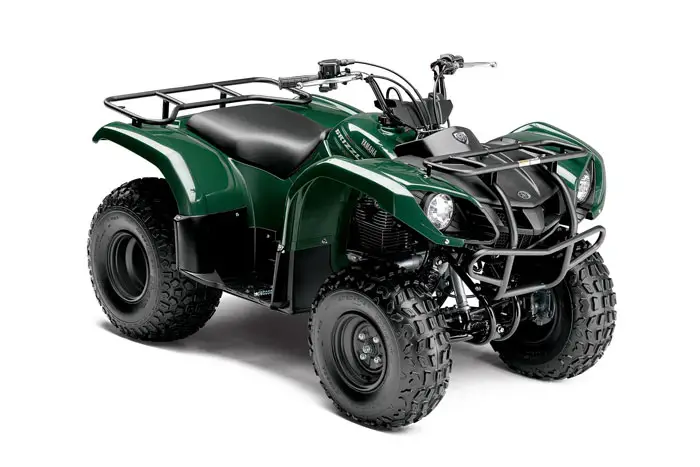 2013 Yamaha Grizzly 125 Automatic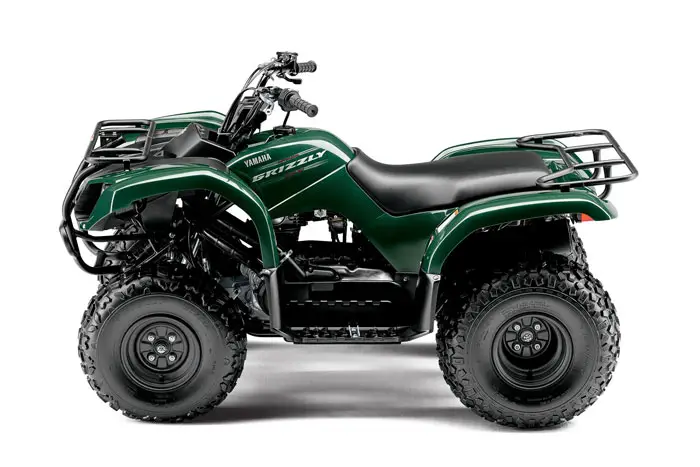 2013 Yamaha Grizzly 125 Automatic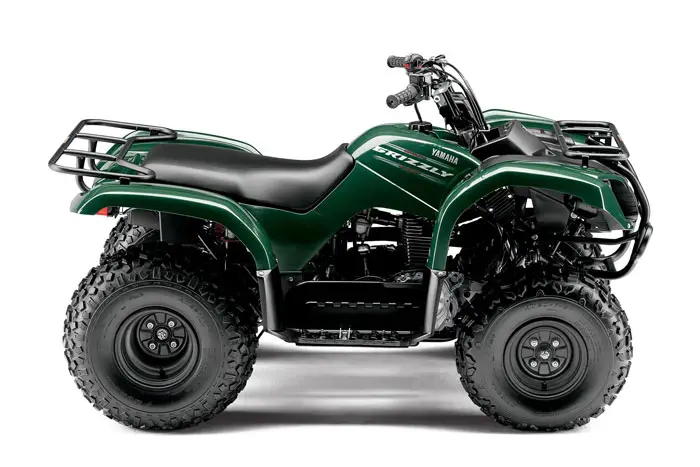 2013 Yamaha Grizzly 125 Automatic
– 2013 Yamaha Grizzly 125 Automatic Review

2013 Yamaha Grizzly 125 Automatic
Trickle down toughness…
Automatic transmission, racks and full floorboards are among the list of big-Grizzly features found on the entry-level Grizzly 125.
The 2013 Yamaha Grizzly 125 is the most user friendly of all ATV's. For features and styling, it takes its lead from the Grizzly 700, but offers the convenience of automatic transmission and the fuel efficiency of 2WD.
A full automatic transmission, electric start, punchy four stroke engine and rugged good looks reinforce the fact that the littlest Grizzly in the line sports the DNA of its bigger bear brethren.
The family resemblance in the Grizzly clan is more than skin deep.
You'll find the same superior engineering standards and materials in our Grizzly 125. Nearly bullet-proof, torquey four-stroke engines, chain drive, maximum durability and go-anywhere terrainability are what they're all about. Grizzly 125, for riders 16 and older, makes the connection with a fully automatic transmission with reverse, front and rear racks and sealed-drum brakes.

2013 Yamaha Grizzly 125 Automatic Key Features:
•Grizzly styling provides industry-leading good looks and durability, and a big Grizzly-style seat provides maximum rider comfort.
•Fully automatic V-belt transmission with forward, neutral and reverse is simple to operate and eliminates the need for shifting.
•Tough, powerful 124cc SOHC, four-stroke single cranks out plenty of smooth broadband propulsion.
•Robust midsize steel frame fits a wide range of riders.
•Rugged steel cargo racks can pack a total of 33 pounds of combined cargo—11 pounds up front and 22 on the rear.
•Simple-to-use handlebar-mounted parking brake and choke lever for added convenience.
•Wide front and rear fenders with integrated full floorboards provide mud and splash protection for a dry, comfortable ride.


2013 Yamaha Grizzly 125 Automatic Features and Benefits:
•Powerful 124cc air-cooled four-stroke single delivers reliable, smooth engine performance for all riders.
•Simple-to-operate selector knob lets you effortlessly select forward, neutral or reverse.
•Adjustable throttle limiter lets adult supervisor add power gradually as beginning riders 16 years and older gain experience.
•Reliable, pushbutton electric start in any gear adds extra convenience and dependability.
•Rugged muffler with USFS-approved spark arrestor provides quiet operation.
•Automatic cam chain tensioner reduces engine maintenance and extends engine life.


Chassis/Suspension:

•Independent A-arm front suspension with 2.8 inches of travel delivers a smooth, plush ride and responsive steering.
•Rugged swingarm packing a single rear shock with 3.2 inches of travel smoothes out the bumps for a comfortable ride.
•Class-leading low 27-inch seat height enhances rider comfort and allows for great handling.
•5.7-inch ground clearance allows smooth riding in a wide variety of terrain.
•Fully sealed front and rear drum brakes provide strong, reliable stopping power.
•Brawny 20×7-8 front and 22×10-8 rear knobby tires offer excellent traction and boost ground clearance.


Additional Features:

•Dual 30-watt multireflector Krypton headlights, set back in the front cowl, add the perfect menacing appearance.
•Large 2-gallon fuel tank provides excellent range.

---
2013 Yamaha Grizzly 125 Automatic – Unitied States of America Specifications / Technical Details
USA MSRP: $3,699 (Hunter Green) Available from June 2012
Engine
Type 124cc, 4-stroke, air-cooled single; SOHC
Bore x Stroke 49.0mm x 66.0mm
Compression Ratio 9.0:1
Fuel Delivery Mikuni® 18mm
Ignition DC – CDI
Starting System Electric
Transmission V-belt automatic/F, N, R
Drive Train 2WD; sealed O-ring chain

Chassis
Suspension / Front Independent wishbone, 2.8-in travel
Suspension / Rear Swingarm, 3.2-in travel
Brakes / Front Dual sealed drum
Brakes / Rear Sealed drum
Tires / Front AT20x7-8
Tires / Rear AT22x10-8

Dimensions
L x W x H 66.9 x 39.0 x 38.6 in
Seat Height 27.0 in
Wheelbase 42.5 in
Turning Radius 114 in
Ground Clearance 5.7 in
Fuel Capacity 2.0 gal
Wet Weight 335 lb
Rack Capacity 11 lb Fr./ 22 lb Rr.

Other
Instrumentation N/A
Lighting Dual 30W Krypton multireflector headlights; 21W/5W brakelight
Warranty 6 Month (Limited Factory Warranty)
---
2013 Yamaha Grizzly 125 Automatic – Canada Specifications / Technical Details
Canadian MSRP: $4,799 CDN
Engine 4-stroke, SOHC, air-cooled, single
Displacement 124cc
Bore and Stroke 49 x 66mm
Compression Ratio 9:1
Carburetion Mikuni VM18SH
Ignition CDI
Starting electric
Lubrication wet sump
Oil Capacity 1.5 litres
Transmission V-belt, automatic/F,N,R
Final Drive O" ring chain

Suspension (Front) Independent wishbone, 2.8-in travel
Suspension (Rear) Swing-arm, 3.2-in travel
Brakes (Front) Dual sealed drum
Brakes (Rear) Sealed drum
Tires (Front) 20 x 7-8
Tires (Rear) 22 x 10-8

Length 1,700mm (66.9")
Width 990mm (39.0")
Height 980mm (38.6")
Wheelbase 1,080mm (42.5")
Ground Clearance 145mm (5.7")
Seat Height 685mm (27.0")
Wet Weight 152 kg (335 lb) – ready to ride full of fuel and oil
Fuel Capacity 7 litres
Colour(s) Dark Blue
Warranty One year (unlimited mileage)

Specifications, appearance, and price of product are subject to change without notice.
* MSRP does not include freight, PDI (Pre Delivery Inspection), pre-rigging (boats), or taxes. Dealer may sell for less. See your local dealer for out the door pricing.
** Provincial regulations may require additional equipment for use on public trails.