Click photos to enlarge. They make great desktop wallpaper.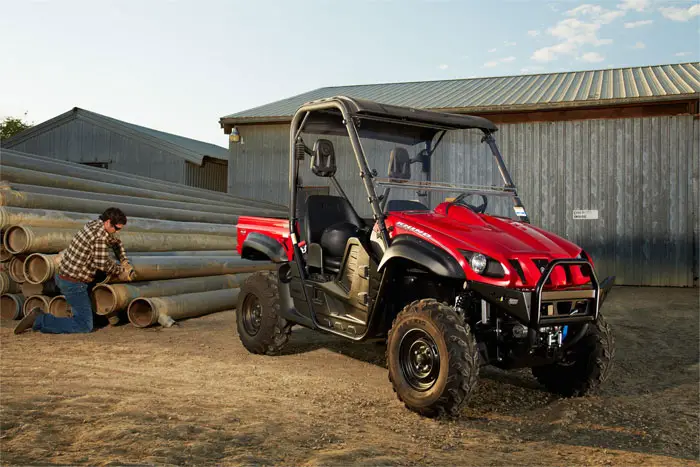 2013 Yamaha Rhino 700 FI Auto 4×4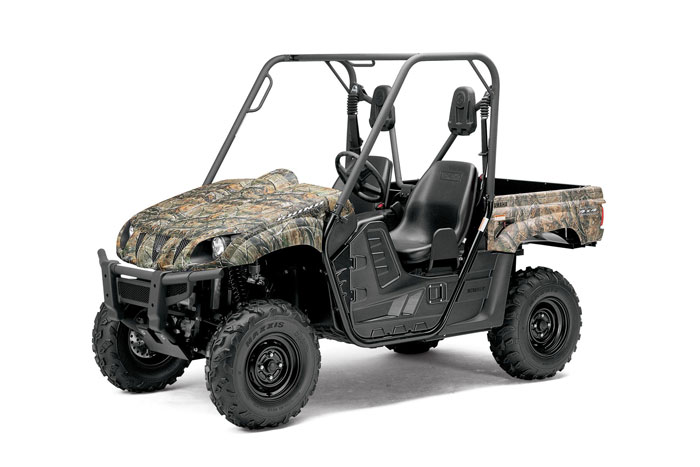 2013 Yamaha Rhino 700 FI Auto 4×4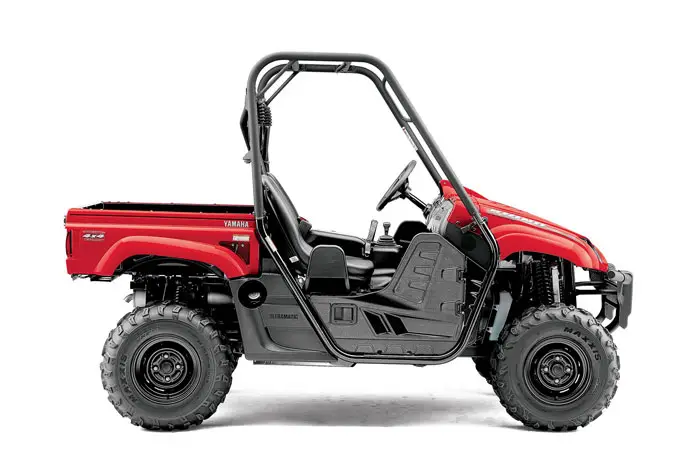 2013 Yamaha Rhino 700 FI Auto 4×4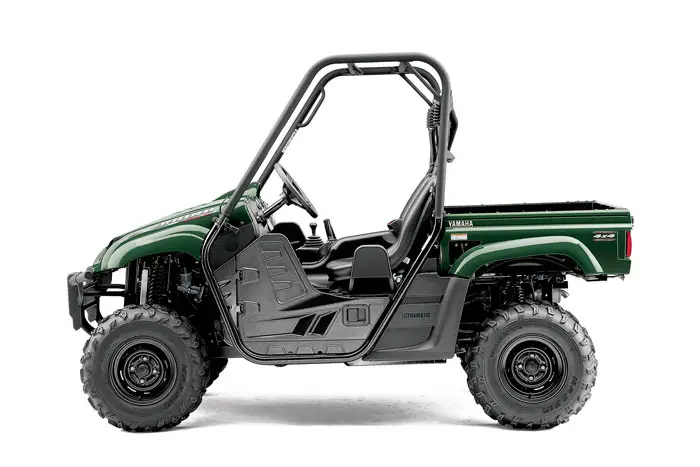 2013 Yamaha Rhino 700 FI Auto 4×4
– 2013 Yamaha Rhino 700 FI Auto 4×4 Review

2013 Yamaha Rhino 700 FI Auto 4×4
The hard-charging Rhino 700!
The 2013 Yamaha Rhino reigns supreme as the most versatile, off road capable and comfortable side by side vehicle thanks to exclusive Yamaha technologies lke Ultramatic automatic transmission and On command 2WD/4WD.
Yamaha popularized the side by side vehicle and our legendary Rhino still dominates when it comes to "Read World Tough". You will be hard presse dto find another SxS that can carry and tow as much while still being able to conquer the most difficult off road situations. When it comes to reliability and go anywhere performance, the Rhino is a proven performer with "terrain ability" and durability to get the job done.
The Rhino boasts a powerful fuel-injected, 686cc, four-valve engine mated to Yamaha's patented Ultramatic® transmission, complete with the simple to use "On-Command®" 4WD switching.

Comfortable bucket seats and familiar automotive-type controls make driving the Rhino as easy as it is fun. Fully independent long-travel suspension front and back, 305mm or 12″ of ground clearance and super strong four-wheel disc brakes ensure that when the terrain gets tough, the Yamaha Rhino shines.

2013 Yamaha Rhino 700 FI Auto 4×4 Key Features:
•The Rhino 700 is the most versatile, off-road capable Side x Side on the planet—a perfect blend of work and play.
•Comfortable interior with automotive-type controls: Stylish steering wheel, three-point seat belt with anti-cinch shoulder belt, left-side foot brake pedal/right-side foot accelerator pedal, center-mounted console shifter and parking brake lever, turn-to-start ignition switch, indicator lights and 12-volt accessory outlet.
•686cc liquid/oil-cooled, four-stroke engine and light weight add up to an excellent power-to-weight ratio and great performance.
•Ultramatic® transmission with dual-range (Hi/Lo) drive and reverse is the most advanced drive system available. Maintains constant belt tension reducing wear, gives great throttle response and provides industry-exclusive all-wheel downhill engine braking.
•Industry-exclusive three-position On-Command® In/Out 4WD feature lets you switch between 2WD, limited-slip 4WD and fully locked differential 4WD—all with the simple push of a button.
•Fully independent four-wheel suspension: double wishbones front and rear deliver 7.3 inches of wheel travel and 12.1 inches of ground clearance; five-way preload-adjustable shocks provide amazing comfort while navigating rough terrain.
•Thick bucket seats and long-travel suspension system work together to provide the smoothest ride in the industry.

2013 Yamaha Rhino 700 FI Auto 4×4 Features and Benefits:
•686cc engine puts out a broad powerband. Four-valve head with 9.2:1 compression bumps power and efficiency.
•Electronic fuel injection ensures peak performance in nearly all conditions and elevations, along with instantaneous cold starts.
•Four-wheel disc brakes provide unsurpassed stopping power, and the parking brake is super-convenient.
•Dual-range (Hi/Lo) drive with reverse taps into more pulling power in low and more performance in high.
•Console-mounted dual-range (H/L/N/R) shift lever provides positive Ultramatic® transmission operation.
•Sealed drive case keeps out water and debris, and a hand-operated side cover drain is available in extreme circumstances.
•Specially designed full stainless-steel exhaust system features aluminum heat shields and a screen-type spark arrestor for superb power characteristics with minimum noise output.
•Large-capacity radiator and oil cooler with fan-assist delivers maximum cooling efficiency and is positioned high in the frame for optimal protection.
•Specially designed drive system air intake vent helps prevent overheating and assists in keeping water and mud from entering the drive case.


Chassis/Suspension:

•Steel frame is lightweight and features outstanding durability with superior rigidity for superb handling.
•Light, responsive rack-and-pinion steering features a fully sealed steering column and double U-jointed steering linkage for smooth operation and class-leading turning radius—even in 4WD.
•12.1-inch ground clearance delivers maximum underbelly protection while enhancing terrainability.
•Low-maintenance front shaft drive features gear case and electronic servo-activated 2WD/4WD/Diff Lock via the On-Command system. Direct rear shaft drive eliminates the U-joint for greater durability and more efficient power transfer at all rpm.
•Heavy-duty CV joint guards protect against rock and debris damage.
•Standard center-mounted, heavy-duty 2-inch receiver-style hitch can tow more than 1200 pounds.
•Tough, rotomolded doors keep mud, water and dirt on the trail where they belong.
•Stamped steel dump bed is rated to haul 400 pounds of gear, with a latch that opens from either side.
•Aggressive Maxxis® tires offer great traction, longer life and a comfortable ride.


Additional Features:

•Equipped with two cup holders for even greater creature comfort.
•Digital instrument panel boasts multifunction LCD display with speedometer, odometer, dual tripmeter, hour meter, 4WD status, transmission position, clock and fuel gauge.
•Integrated, easy-to-read fuel gauge makes it easy to keep track of your fuel supply.
•Large, specially designed seats are extra plush and supportive for all-day driver and passenger comfort.
•Dual 30-watt multireflector Krypton bulb headlights with high/low beams feature stylishly sleek cat-eye design; dual 5-watt/21-watt tail/brake lights.
•Large, 7.9-gallon fuel tank allows for long rides.
•Maintenance-free battery provides power, even in cold weather.
•Under-hood, tool-free air filter is a snap to service.
•Cool, comfortable steering wheel and passenger grab handles.

---
2013 Yamaha Rhino 700 FI Auto 4×4 – Unitied States of America Specifications / Technical Details
USA MSRP: $11,499 (Hunter Green) Available from August 2012; $11,499 (Red) Available from August 2012; $12,049 (Realtree AP HD Camo) Available from August 2012
Engine
Type 686cc liquid-cooled w/fan, 4-stroke; SOHC, 4 valves
Bore x Stroke 102.0 x 84.0mm
Compression Ratio 9.2:1
Fuel Delivery Yamaha Fuel Injection (YFI) , 41mm
Ignition 32 Bit ECU
Starting System Electric
Transmission Yamaha Ultramatic V-belt with all-wheel engine braking; H, L, N, R
Drive Train Yamaha On-Command pushbutton; 3-way locking differential; 2WD, 4WD, locked 4WD; shaft drive

Chassis
Suspension / Front Independent double wishbone; 5-way preload adjustment, 7.3-in travel
Suspension / Rear Independent double wishbone; 5-way preload adjustment, 7.3-in travel
Brakes / Front Dual hydraulic disc, twin piston
Brakes / Rear Dual hydraulic disc
Tires / Front AT25x8-12 NHS
Tires / Rear AT25x10-12 NHS

Dimensions
L x W x H 113.6 x 56.6 x 73 in
Wheelbase 75.2 in
Turning Radius 153.5 in
Ground Clearance 12.1 in
Fuel Capacity 7.9 gal
Wet Weight 1199 lb
Bed Capacity 400 lb
Towing Capacity 1212 lb

Other
Instrumentation Digital LCD Multifunction display; speedo, odo, dual trip, hour, clock, fuel, and gear position
Lighting Dual 30W Krypton multireflector headlights & dual 21/5W brakelight
Warranty 6 Month (Limited Factory Warranty)
---
2013 Yamaha Rhino 700 FI Auto 4×4 – Canada Specifications / Technical Details
Canadian MSRP: $14,699 CDN
Engine 686cc, liquid cooled, SOHC, 4-valve, 4-stroke, single
Bore and Stroke 102mm x 84 mm
Compression Ratio 9.2:1
Fuel Delivery Mikuni 41mm throttle body FI
Ignition TCI
Starting Electric with auto decompression
Lubrication Wet sump
Transmission Ultramatic (sealed CVT), w/L-H-N-R,
w/full-time 4-wheel engine braking
Drive Train On-command 2WD / 4WD / 4WD diff lock/shaft drives

Suspension (Front) Independent double wishbone, 185mm (7.3″) of wheel travel, 5-way preload adjustment
Suspension (Rear) Independent double wishbone, 185mm (7.3″) of wheel travel, 5-way preload adjustment
Brakes (Front) Dual 200mm discs
Brakes (Rear) Dual 185mm discs / Shaft mounted parking brake
Tires (Front) AT25 x 8-12, steel wheels
Tires (Rear) AT25 x 10-12, steel wheels

Length 2,885mm (113.6")
Width 1,438mm (56.6")
Height 1,853mm (73")
Wheelbase 1,910mm (75.2")
Turning radius 3,900mm (153.5")
Ground Clearance 280mm (11")
Fuel Capacity 30 litres (6.6 imp.gal.)
Wet Weight 544 kg (1199 lbs)
Bed Capacity 181kg (400 lb)
Towing Capacity 550kg (1,212 lb)
Warranty Private use – 1 year (unlimited mileage)
Commercial use – 6 months (unlimited mileage)
Colour(s) Dark Green
Red
Dark Blue

Specifications, appearance, and price of product are subject to change without notice.
* MSRP does not include freight, PDI (Pre Delivery Inspection), pre-rigging (boats), or taxes. Dealer may sell for less. See your local dealer for out the door pricing.
** Provincial regulations may require additional equipment for use on public trails.