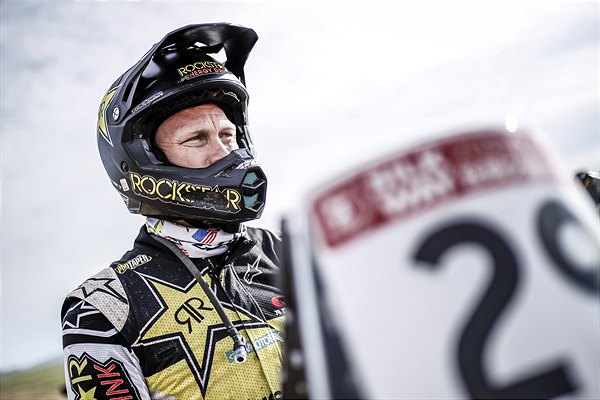 ROCKSTAR ENERGY HUSQVARNA FACTORY RACING RIDER MOVES TO SIXTH OVERALL WITH STRONG RIDE ON FIRST HALF OF MARATHON STAGE
Equalling his result from Tuesday, Andrew Short has finished fifth on the 470-kilometre timed special on stage four of the 2019 Silk Way Rally. The result elevates the Rockstar Energy Husqvarna rider to sixth in the provisional overall standings.
Wednesday's route covered a loop around the city of Ulan-Bator and made up the first half of the event's marathon stage. Riders must work alone on their machines at the end of the day, with no outside assistance from their teams. Comprised of a mixture of terrain, the stage tested the riders' navigation skills and bike preservation to the maximum.
With competitors averaging speeds of over 100 km/h on the fast, hard-packed tracks, focus and accurate navigation was required to post a good time and minimise mistakes. Setting off as the fifth rider away this morning, Andrew maintained a solid pace throughout the special to ultimately finish eight minutes and 38 seconds down on the leader. The result now moves the American rider up to sixth overall with six stages left to race.
Thursday's stage five of the Silk Way Rally, the second half of the marathon stage, will see riders leave Ulan-Bator and head for Mandalgovi. The route covers a total distance of 364.59 kilometres including a 337-kilometre timed special.
Andrew Short: "For me, today's stage felt really long. I tried to stay smooth and keep a good pace and rhythm for the entire thing and I think I did decent. I tried to save my bike also, but had a few issues when I arrived at the finish. Luckily nothing too serious so I hope everything will be ok and I can push again tomorrow for the second half of the marathon stage."
2019 Silk Way Rally – Stage Four Provisional Classification
1. Sam Sunderland (KTM) 4:15:19
2. Luciano Benavides (KTM) 4:19:05
3. Joan Barreda (Honda) 4:20:16
4. Adrien Van Beveren (Yamaha) 4:22:42
5. Andrew Short (Husqvarna) 4:23:57
2019 Silk Way Rally – Provisional Standings After Stage Four
1. Sam Sunderland (KTM) 9:38:55
2. Luciano Benavides (KTM) 9:44:06
3. Joan Barreda (Honda) 9:44:07
4. Kevin Benavides (Honda) 9:54:40
5. Oriol Mena (Hero) 9:55:47
6. Andrew Short (Husqvarna) 9:56:24