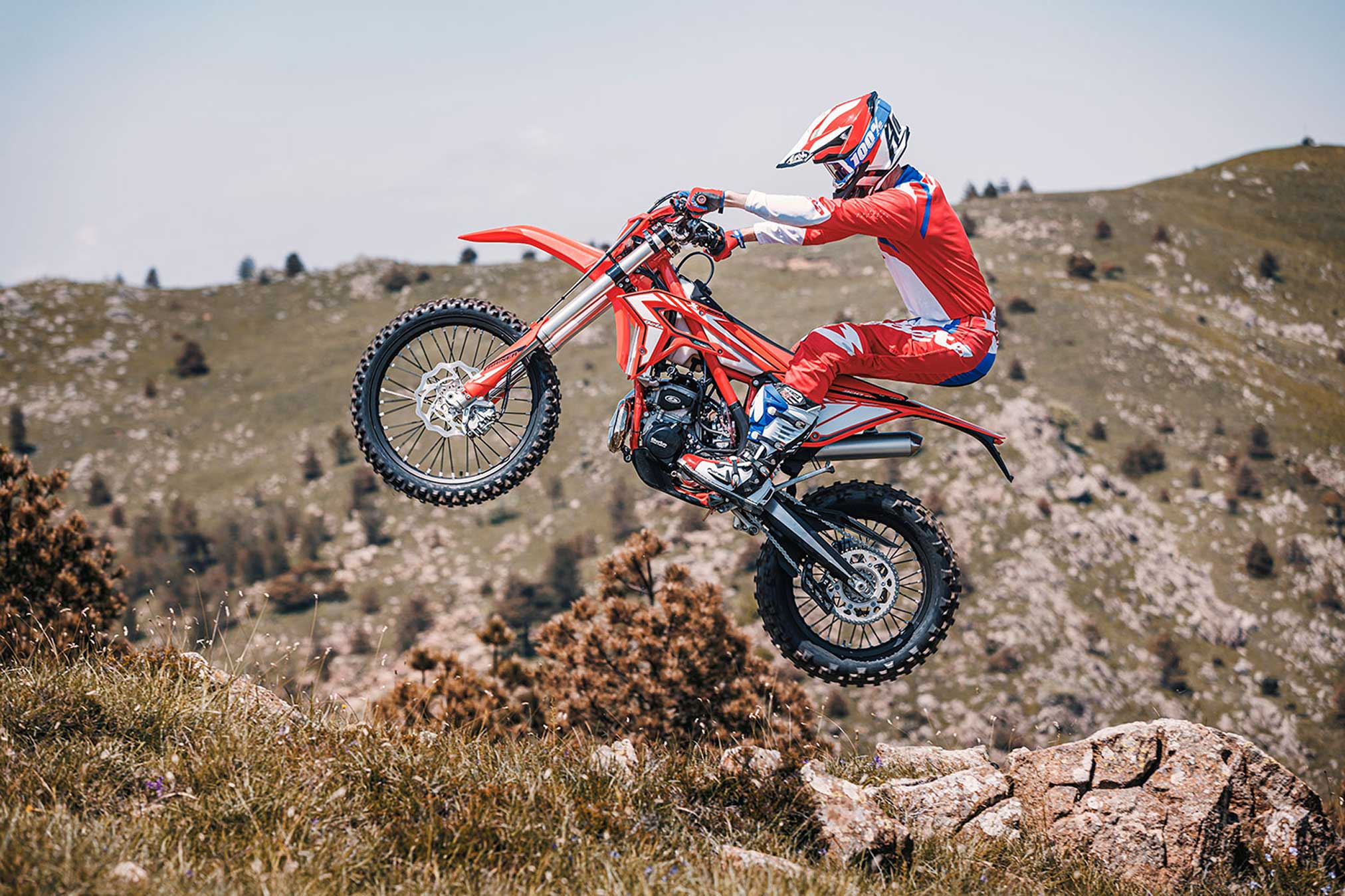 Demo Program Schedule Released
Beta Motorcycles has released its preliminary Demo Program schedule for the 2024 Models (more dates to come as events are added). These demo events are hosted by Beta dealers. Find the dealership and location nearest you to discover why our motorcycles are the most rideable bikes on the market.

You'll be able to ride eight different enduro models (some events will have four trials bike models as well) so you can identify which Beta model fits your riding style the most.

Enduro Demo Event Bikes – Xtrainer / 200 RR Race Edition / 250 RR / 300 RR /

350 RR / 390 RS / 430 RR Race Edition / 480 RR

Trials Demo Event Bikes – EVO 200 / EVO 250 / EVO 300 / EVO 300 4-Stroke

Inquire directly with the Beta Dealership that is hosting your desired date for details about their event and how to sign up.

 
Check back as the schedule will be updated as more dates are added.
STARTING IN NOVEMBER 2023!
RIDE DIFFERENT MODELS AT YOUR LOCAL BETA DEALER'S DEMO EVENT
ENDURO DEMO DAY MODELS
< XTRAINER / 200 RR RACE EDITION / 250 RR / 300 RR / 350 RR  / 390 RS / 430 RR RACE EDITION / 480 RR >
TRIALS DEMO DAY MODELS
< EVO 200  /  EVO 250  /  EVO 300  /  EVO 300 4-STROKE  >
Inquire Directly with a Dealership for more info on their event or to sign up
| | | | | | |
| --- | --- | --- | --- | --- | --- |
| WEEKEND OF: | DEALERSHIP | CITY | STATE | PHONE | TYPE OF DEMO |
| 11/4/2023 | MOTOADVENTURE | Loveland | CO | 970-669-5377 | ENDURO |
| 11/4/2023 | D & K CYCLE | Cottonwood | AZ | 928-649-8822 | ENDURO |
| 11/11/2023 | CYCLE TECH | Fremont | IA | 641-632-8201 | ENDURO |
| 11/11/2023 | BIG COUNTRY | Magnolia | TX | 409-892-7123 | ENDURO |
| 11/18/2023 | 3-RING CYCLES | Clovis | NM | 575-760-7312 | ENDURO |
| 11/18/2023 | PONY POWERSPORTS |  Westerville | OH | 614-212-7888 |  ENDURO |
| 11/25/2023 | ADVENTURE OFFROAD |  Lawrenceburg |  TN | 931-852-5445 |  ENDURO |
| 11/25/2023 | MASON TRACTOR |  Hiawassee |  GA | 706-970-3077 |  ENDURO/TRIALS |
| 12/2/2023 | S&T CYCLES |  Clanton |  AL | 205-755-1001 |  ENDURO |
| 12/09/2023 | PRO ACTION MOTORCYCLES | Hopkinsville | KY | 270-348-7648 |  ENDURO |
| 12/16/2023 | LMS MOTORSPORTS |  Grants Pass |  OR | 541-476-5677 |  ENDURO/TRIALS |
| 2/03/2024 | C & D CYCLE | San Diego | CA | 858-277-3298 | ENDURO |
| 2/10/2024 | SIMI VALLEY |  Simi Valley |  CA | 805-522-3434 |  ENDURO |
| 3/2/2024 | SAN MARCOS MC |  San Marcos |  TX | 512-392-5220 |  ENDURO/TRIALS |
| 3/30/2024 |  GEM COUNTRY |  Emmett |  ID | 208-398-2006 |  ENDURO |
| 4/6/2024 |  BIG 4 CYCLE |  Evansville |  IN | 812-476-8801 |  ENDURO |
| 4/6/2024 |  FACTORY POWERSPORTS |  Saint George |  UT | 435-628-5281 |  ENDURO/TRIALS |
| 4/27/2024 |  KNOX ENDURO |  Knoxville |  TN | 865-308-0330 |  ENDURO |
| 4/27/2023 |  APEX SPORTS |  Colorado Springs |  CO | 719-475-2437 |  ENDURO/TRIALS |
| 5/4/2024 |  BAK BMW/BETA |  Sioux City |  IA | 712-258-7900 |  ENDURO |
| 5/4/2024 |  DONNELL'S MC |  Independence |  MO |  816-478-9393 |  ENDURO |
| 5/11/2024 |  BOYNE VALLEY |  Bellaire |  MI | 231-350-7220 |  ENDURO |
| 5/18/2024 | UP NORTH POWER | Park Rapids | MN | 218-237-5670 | ENDURO |
| 5/25/2024 | KISSELL MOTORSPORTS | Tyrone | PA | 814-861-7890 | ENDURO/TRIALS |
| 6/1/2024 |  XTREME HEIGHTS |  Island City |  OR | 541-663-0792 |  ENDURO |
| 6/1/2024 | FIRST BIKE MOTORSPORTS | Butler | PA | 724-287-3052 | ENDURO |
| 6/29/2024 |  BLITZ MOTORSPORTS |  Bozeman |  MT | 406-522-7533 |  ENDURO |
| 7/27/2024 | NAULTS POWERSPORTS | Manchester | NH | 603-669-7220 |  ENDURO |