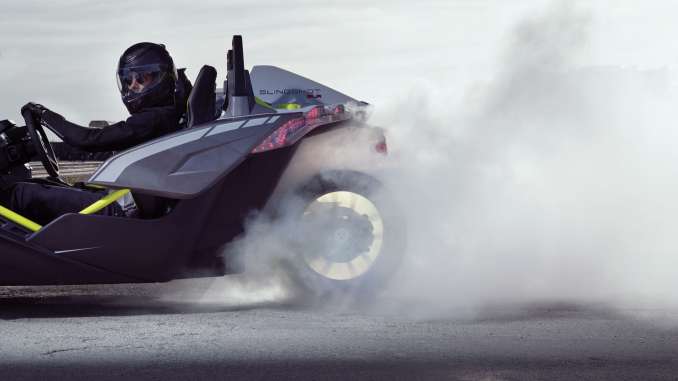 Vote and Discuss on this week's Total Motorcycle Cool Wall Bike of the Week #342! Vote Now.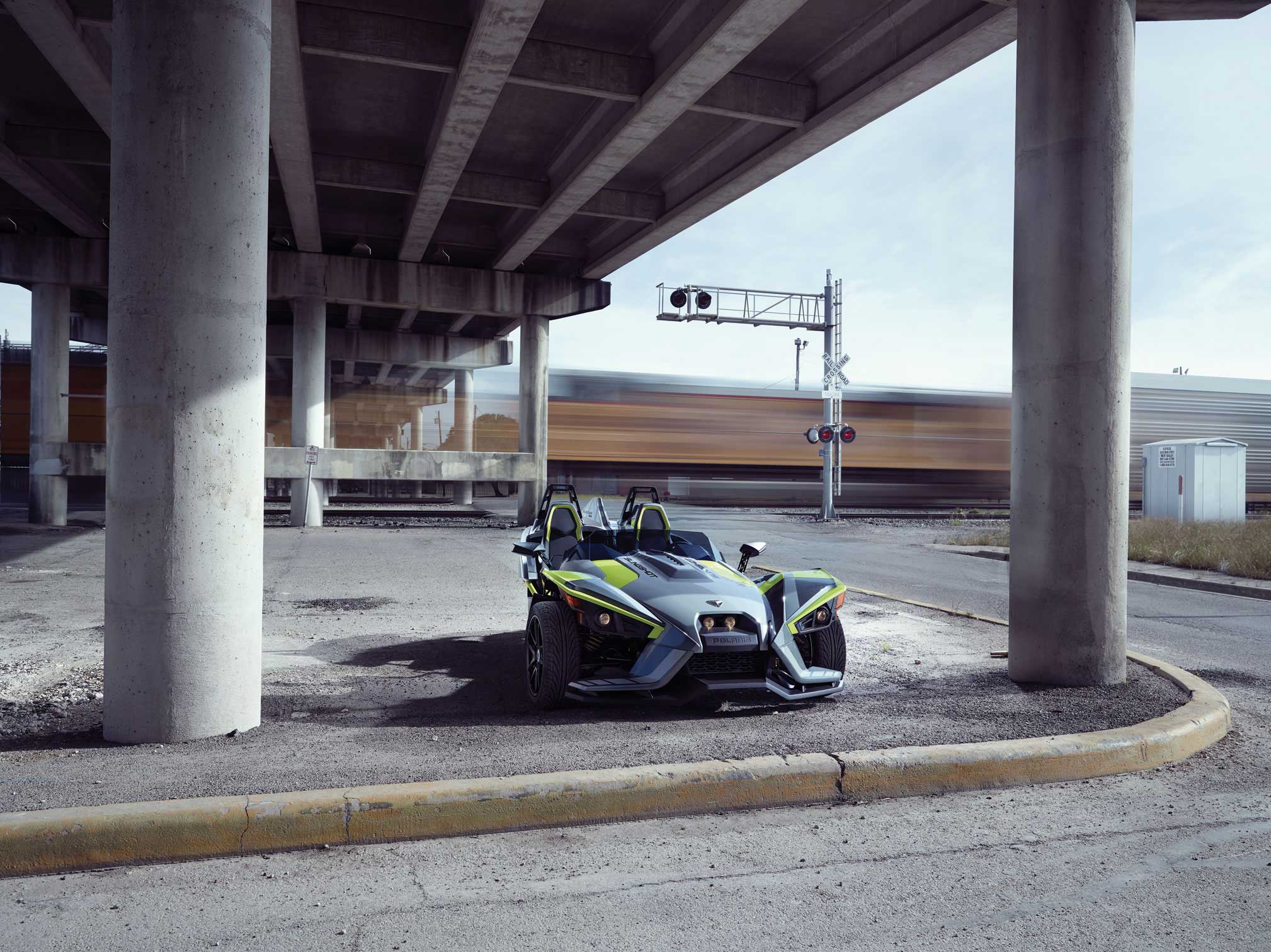 FOR THE DEVIL ON BOTH SHOULDERS.
2018 Polaris Slingshot SLR LE Race Review by TOTAL MOTORCYCLE
Slingshot's ultra-premium SLR LE packs a suite of factory-custom offerings, including 10-way adjustable BILSTEIN shocks, 200w Rockford Fosgate audio, premium sport seats with color-matched accents, two-tone Ghost Gray paint with Lime-Squeeze accents, and special edition graphics. The SLR 2018 Polaris Slingshot LE also features all the great standard features of the SLR. Including the all new Ride Command infotainment system offering turn-by-turn navigation.
2018 Polaris Slingshot SLR LE Totalmotorcycle.com Key Features
The 2018 Slingshot lineup consists of Slingshot S, SL, SLR and SLR LE. The all new, industry-leading 7" multi-touch Ride Command is available as an accessory for Slingshot S, and comes standard in SL, SLR, and SLR LE models. Ride Command is equipped with great features like phone integration, Bluetooth and USB connectivity, and customizable vehicle information screens. Additionally, Ride Command offers turn-by-turn navigation in the SLR and SLR LE models as standard equipment and can be added as an accessory upgrade to the S and SL models.
2018 Polaris Slingshot SLR LE Totalmotorcycle.com Features and Benefits
Equipped with factory-custom features that will make you surrender to temptation. Like Bilstein® 10-way adjustable shocks. Premium SLR-branded sport seats with color-matched side bolsters. And a 200-watt Rockford Fosgate® audio system that feels as intense as the drive itself. Top it all off with special-edition Ghost Gray and Lime Squeeze paint and graphics, and you have one vehicle that cannot be ignored—or denied.
Features
• 10-Way Adjustable BILSTEIN Shocks
• Premium 200-Watt Rockford Fosgate® Audio
• Ride Command® w/ turn-by-turn navigation
• Exclusive Color-Matched SLR Sport Seats
• Ghost Gray Two-Tone Paint with Lime
Squeeze Painted Accents
• Special Edition Graphics
• Sparco® steering wheel, shifter, and
pedal covers
• Forged aluminum wheels
• 305mm wide rear tire
• Two-Piece Composite Brake Rotors
• Tinted wind deflector
• Back-up Camera
• Lockable rear storage & glovebox
• Adjustable water-proof interior
• ABS disk brakes
• Speed sensitive electronic power steering
• Electronic traction & stability control
• Projector beam headlights & LED taillights
2018 Polaris Slingshot SLR LE – Totalmotorcycle.com USA Specifications/Technical Details
US MSRP Price: $30,999 USD
Canada MSRP Price: $37,499 CDN
Powertrain
Engine: GM Ecotec 2.4L DOHC 4 Cylinder
Displacement (cid/cc): 2384 cc
Bore and Stroke: 88mm x 98mm
Compression Ratio: 10.4:1
Valve Train: DOHC, VVT
Fuel: 91 octane or higher
Performance
Rev Limit (RPM): 7200 RPM
Peak Power (HP): 173 HP @ 6200 RPM
Peak Torque (ft-lbs): 166 ft-lbs @ 4700 RPM
Fluid Capacity
Fuel (Gallons/Liters): 9.77 Gallons / 37.1 Liters
Brakes
Brake Rotors (Front): Vented cast iron rotor, aluminum center hub, 298mm diameter
Brake Rotors (Rear): Vented cast iron rotor, aluminum center hub, 298mm diameter
Wheels and Tires
Front Tire Type: Kenda SS-799
Front Tire Size: 225/45R18
Front Wheel Type: Forged Aluminum
Front Wheel Size: 18×7.5 J
Rear Tire Type: Kenda SS-799
Rear Tire Size: 305/30R20
Rear Wheel Type: Forged Aluminum
Rear Wheel Size: 20×11.0 J
Transmission
Clutch Type: Dry, Single Plate, Hydraulically Actuated
Transmission Type: 5 Speed Synchromesh with Reverse
1st Gear Ratio: 3.753:1
2nd Gear Ratio: 2.258:1
3rd Gear Ratio: 1.512:1
4th Gear Ratio: 1.000:1
5th Gear Ratio: .729:1
Reverse Gear Ratio: 3.672:1
Gear Shift Pattern: H
Final Drive Type: Carbon Fiber Reinforced Belt, 36mm x 147T
Final Drive Ratio: 1.590:1
Final Drive Ratio: 2.312:1
Electrical
Battery: 30AH, 12V, 400 CCA
Lighting
Headlight: Projector H9 65w
Auxiliary Light: Projector H3 55w
Tail/Brake Light: LED
Turn Signals: LED
License Plate Light: LED
Speedometer: LED
Speedometer & Indicator Lights: LED
Driver Aids
ABS (Anti-Lock Brakes): Standard
ESC (Electronic Stability Control): Standard
Traction Control: Standard
Warranty
Factory Warranty: 2 Years, Unlimited Miles
Dimensions / Capacities
Overall Vehicle Height: 51.9 in/1318 mm
Overall Vehicle Length: 149.6 in/3800 mm
Overall Vehicle Width: 77.9 in/1980 mm
Max Wet Weight: 1749 lbs.
Overall Width (in/mm): 69.1 in/1755 mm
Wheelbase (in/mm): 105.0 in/2667 mm
Ground Clearance (in/mm): 5.0 in/127 mm
Steering
Actuation: Rack-and-pinion
Assist: Rack-and-pinion Polaris EPAS, Speed Sensitive
Steering Turns, lock-to-lock: 3.2
NOTES:
Slingshot is a three-wheeled motorcycle, not an automobile. It doesn't have airbags, meet automotive safety standards, and it may handle differently than other vehicles, especially in wet conditions. Always wear helmets, seat belts, and don't drink and drive. Drivers may need a valid motorcycle endorsement.
For MORE information and Photos click here: https://www.totalmotorcycle.com/motorcycles/2018/2018-polaris-slingshot-slr-le-review
THE RESULTS:
2018 Polaris Slingshot SLR LE – Coolness Factor = 35.7%
Featured: September 15th, 2017 – September 22nd, 2017
Most popular vote category: Fail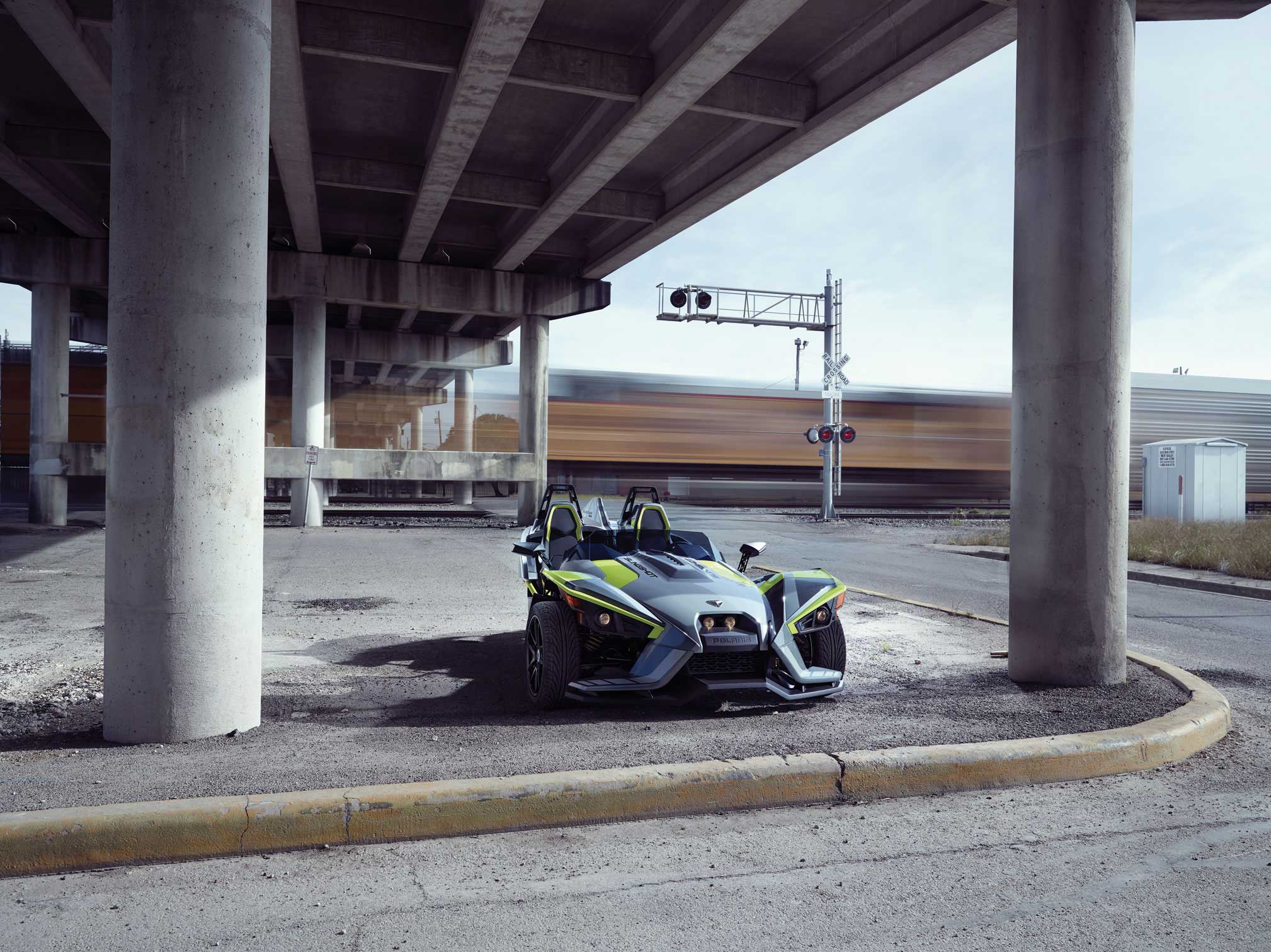 Motorcycle Cool Wall discussion:
viewtopic.php?f=61&t=54492
Total Motorcycle model page:
https://www.totalmotorcycle.com/motorcy … -le-review
Your Coolness Factor of the 2018 Polaris Slingshot SLR LEAwesome 3
Cool 1
Uncool 4
Fail 6Total votes: 14
= a Coolwall Factor of 35.7%Total Motorcycle's Take-a-way:
Unique. Different. Controversial. Polaris calls it a 3-wheeled motorcycle, what do you think? Sure, the Slingshot SLR LE is awesome on its own, but start calling it a motorcycle and riders respond! Is it the doors? The steering wheel? Maybe it just looks "too much" like a car, or the GM engine? Take it for what it is, it is a motorcycle-like experience; and that is pretty cool in-itself.
Best comments of the week:
"Hey neat. A car made it on the cool wall." – NorthernPete