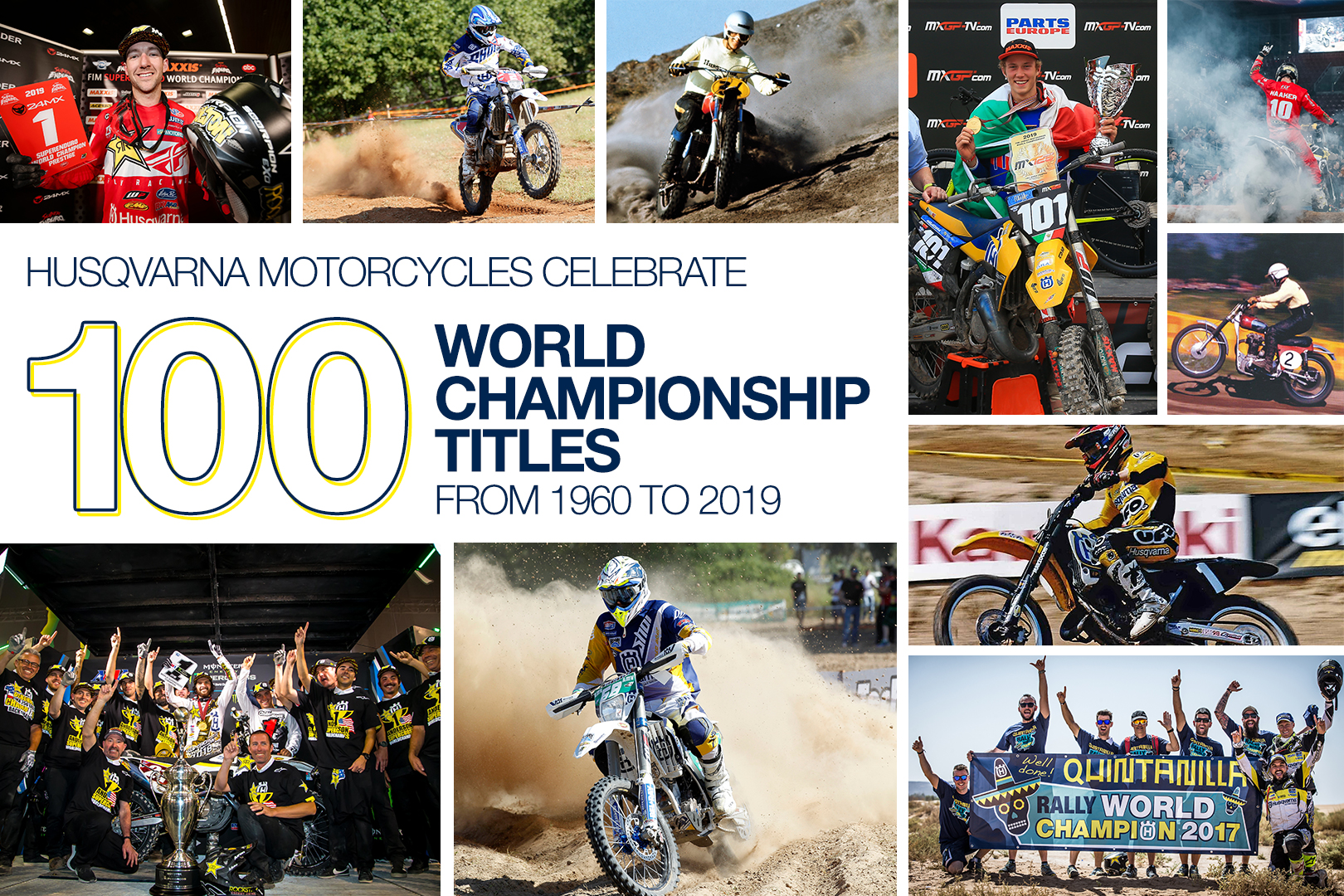 59 years on from the brand's first world championship success, Husqvarna Motorcycles celebrate 100 world titles in 2019 – 58 rider and 42 manufacturer titles earned across six different motorcycle disciplines.
Highlighting the brand's capabilities on the international motocross stage, it was back in 1960 that the hard-charging Swede Bill Nilsson claimed the FIM 500cc Motocross World Championship and with it, handed Husqvarna Motorcycles their first world title. It was to be the first of no fewer than nine Motocross World Championship titles claimed by the Swedish brand during the 1960s, the start of the sport's golden era during which time the legendary Torsten Hallman secured four FIM 250cc Motocross World Championships.
In topping the 2019 FIM 125cc Junior Motocross World Championship, Mattia Guadagnini earned Husqvarna Motorcycles their 100th motorcycle world title. Highlighting, just as Nilsson did 59 years earlier, the brand's use of state-of-the-art technology, the young Italian's success also underlined Husqvarna Motorcycles dedication to international motorsport competition and their ongoing pioneering spirit.
While motocross success bookends Husqvarna Motorcycles' impressive list of 100 motorcycle world titles, the brands ongoing commitment to building premium products is directly linked to all of their motorsport successes.
With many of enduro's greatest names having raced for Husqvarna Motorcycles, it was Czech rider Otakar Kotraba who handed the brand their first 'woods' success, securing the FIM 400cc Enduro World Championship title in 1990. Swedish star Anders Eriksson earned an incredible six titles for the brand, while in 2006 Husqvarna Motorcycles secured six rider and manufacturer titles in one season.
Expanding into new racing disciplines has rewarded Husqvarna Motorcycles with many world titles. American Colton Haaker has claimed three FIM SuperEnduro World Championships while Chilean Pablo Quintanilla won the first FIM Cross-Country Rallies World Championship for the brand. In the United States, Jason Anderson rode his FC 450 to the AMA 450cc Supercross Championship in 2018.
Since 2014, the brand has achieved year-on-year record sales growth, consolidating its presence in motocross and enduro, and entering the street segment with an ever-expanding model line-up. With motorsport as an integral part of Husqvarna Motorcycles' history, with the 100th world championship being an extraordinary milestone in its persisting success, it will continue to be one of the driving factors in the development of the brand's class-leading production motorcycles.