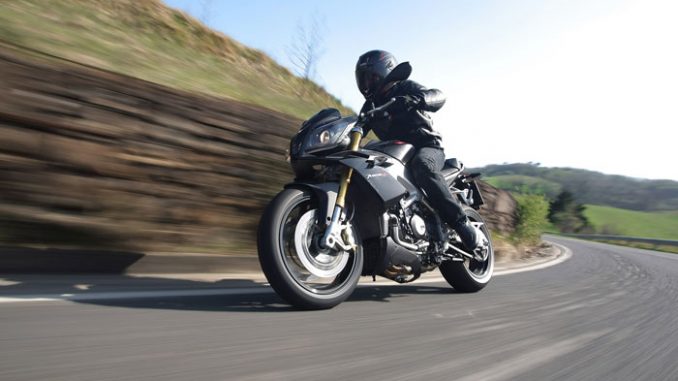 Click photos to enlarge. They make great desktop wallpaper.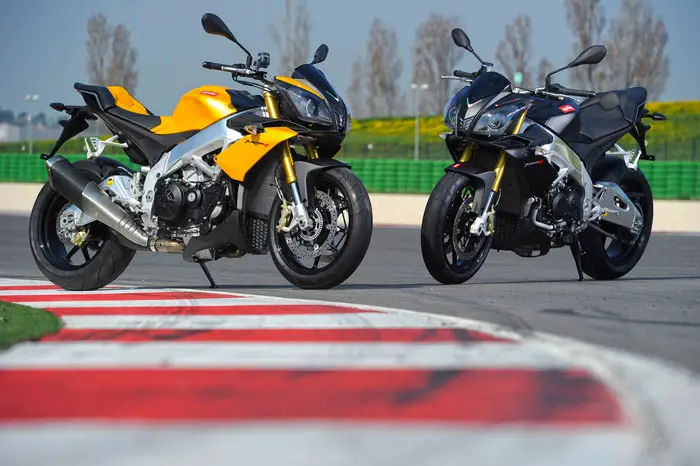 2012 Aprilia Tuono V4R and Tuono V4R APRC

2012 Aprilia Tuono V4R Review

2012 Aprilia Tuono V4R
A superbike with high handlebars.
After creating the best superbike of the new millennium, Aprilia revolutionises the supersports naked segment with its astonishing Tuono V4 R. A bike that goes beyond the wildest dreams of even the most hardcore enthusiasts – the rider who, given the chance, would use a race bike just to go for a coffee.

For riders like these and for those with power in their veins, Aprilia has created a motorcycle with the indomitable spirit of the RSV4 in a feline body that is in its element when accelerating and braking with unimaginable violence, that eats up curves of any radius and swallows straights whole.

The performance and features of a superbike, the agility of a naked and the legacy of an innovative concept born in 2002 with the Tuono 1000 R – a bike that earned both critical acclaim and sales success – but with an extraordinary ace up its sleeve: the performance of a 65° V4 engine and the most advanced electronics available in a motorcycle today.

Like the original Tuono, the V4 R is also immediately recognisable with its triple headlight fixed top fairing, the distinguishing trait of a bike which, like its twin cylinder predecessor, has the body and soul of its WSBK homologated sibling, but now – as well as having two world championships (the 2010 constructors' and riders' titles) under its belt – features two more cylinders and 41 horsepower more than before, while weighing over ten kilos less. These astonishing figures are a testimony to the technological evolution that made this exciting model a reality. The bike is available in two different configurations – Tuono V4 R and Tuono V4 R APRC – and in a choice of three colours: competition black, sunlit yellow and wing grey.

THE MOTORCYCLE

With its 65° V4 engine unashamedly flaunted and framed by the brushed aluminium elements of the twin spar frame, the Tuono V4 is a naked clad only with the bare minimum necessary to let you saddle up and teach it to respond to your will.
Adding yet another touch of aggressiveness is the aerodynamic top fairing tipped with two polyelliptical headlights and LED indicators at the sharp end, which gives the bike the unequivocally mean, daunting stare that you'd expect from a machine with an incredible 167.3 horsepower.

Tuono V4 R boasts more power than ever seen before in a naked, achieved by reconfiguring the V4 engine of the RSV4 to make it better suited to street use.The features inherited by the Tuono V4 R from the RSV4 include the exhaust system with bypass valve, which is two kilos lighter than the system used on the RSV4 R, and latest generation Ride by Wire throttle control with three rider-selectable maps (Track, Sport and Road).

The first three gear ratios are now shorter, while the maximum torque value of 111.5 Nm is on tap at 9,500 rpm: characteristics that make the Tuono V4 R a wild beast at low and mid engine speeds, with the ability to unleash a devastating hurricane of power at higher engine speeds.

The Tuono V4 R maintains a clear parentage with the twice SBK world champion in the proportions of the tail fairing, saddle, tank and side panels, and is one of the best examples of Italian motorcycle design from the past decade for its perfect balance between formal beauty and function.

The rider will be taming this beast from a riding position tailored to create a symbiotic relationship between the body and the bike, for unparalleled feedback through the three points of contact – the saddle, footpegs and handlebars. On the Tuono V4 R. however, the rider sits with less weight taken up by the arms, making the bike less strenuous to ride and extraordinarily nimble and controllable on the road.

The original design of the saddle, which is generously sized and specifically shaped to comfortably accommodate a passenger, blends perfectly with the style of the side fairings and tail fairing.

From the vantage point of the saddle and with the broad tapered handlebars firmly in your grip, you immediately discover that the
2012 Aprilia Tuono V4R Model Highlights

FROM THE BIKE WHICH IS A LEADING ACTOR IN WORLD SUPERBIKE CHAMPIONSHIP, APRILIA EXTRACTS THE FIERCEST NAKED EVER SEEN.

THE ONLY BIKE OF ITS KIND WITH A V4 ENGINE, THE MOST POWERFUL, WITH 167.3 HP, AND THE MOST EFFECTIVE, WITH A COMPLETELY REVISED CHASSIS ARCHITECTURE THAT SETS NEW BENCHMARKS FOR THE CLASS.

A NAKED SPORTS BIKE CAPABLE OF DOMINATING ANY ROAD WITH ITS INDOMITABLE PERFORMANCE AND WITH THE MOST ADVANCED ACTIVE SAFETY FEATURES IN THE SEGMENT.

TRIPLE MAPPING FOR INSTANTLY TAILORING THE PERFORMANCE TO YOUR OWN PREFERENCES.


THE ENGINE

The Tuono V4R is the only naked powered by a narrow V (65°) 4 cylinder engine with unique characteristics. Extremely compact, as slim as a twin-cylinder and installed in an ultra-compact chassis, the 65° V4 engine is the epitome of Italian engineering ingenuity.
The Tuono gives away very little to its RSV4 sibling in terms of pure performance, but in exchange offers a greater fluidity that make it more enjoyable and rewarding to ride on the road and when carrying a passenger.
Tuono V4
Power 167.3 hp at 11,500 rpm
Torque 111.5 Nm at 9,500 rpm
Rev limiter 12,300 rpm in all gears
To achieve these results, a number of different modifications were made to the Aprilia V4 engine:
– New valve timing diagram.
– Fixed intake ducts now 20 mm longer.
– Crankshaft flywheel with increased inertia for improved smoothness and overall balance.
– Shortened gear ratios for the first three gears.
– Engine speed at maximum power reduced to 11,500 rpm on the Tuono V4R

The Aprilia 65° V4 engine specifications in short:
Engine capacity: 999.6 cc
Architecture: 65° V4
Crankcase: monobloc with integrated crankcase liners
Timing system: 4 valves per cylinder operated directly by a camshaft driven by a mixed chain/gear system (lateral timing chain and central gear train)
Fuel system: electronic injection with a single injector per cylinder and integrated independent Ride by Wire system for each bank. Three maps selectable from the handlebar (Track, Sport and Road)
Antivibration countershaft
Compression ratio: 13:1
Gearbox: 6-speed direct-control cassette type gearbox
Clutch: Multiplate wet clutch with mechanical slipper system
Electronic management: Magneti Marelli control unit managing ignition, injection and Ride by Wire system.
The narrow V architecture translates into an engine that is incredibly compact in length, offering advantages in terms of mass centralisation and making it possible to define a chassis architecture centre of gravity that is both very low and almost perfectly centralised in the engine and vehicle for neutral, intuitive behaviour and maximum responsiveness on the road.

The innovative valve timing system (with the chain camshaft driving only the intake camshaft, which in turn drives the exhaust camshaft via a single gear) has allowed the use of extremely compact heads (just 250 mm at the rear of the engine), especially in the area beneath the frame spars, which are thus much narrower than would otherwise be possible.

A countershaft dampens vibrations even more than in a 90° V engine.

The monobloc crankcase with integrated aluminium cylinder liners ensures maximum rigidity and consistent performance.
The electronic management system is another example of the 65° V4 engine's technological supremacy. Full Ride by Wire technology eliminates any direct connection between the throttle grip and the throttle valves, which are entirely controlled by a latest generation Marelli control unit that also controls the ignition and the 4 injectors

Each bank has a dedicated servo unit actuating its own two throttle bodies only. This means that the aperture of the throttle valves and, as a consequence, the quantity of fuel injected, can be controlled independently.

This technology, adapted appropriately for the prevalently road based usage of the Tuono V4, offers immediately tangible benefits to the rider, with triple mapping (adjusting power delivery and maximum power) selectable directly from the handlebar allowing the character of the bike to be modified to suit the rider's personal riding style or the track conditions at any time.

T – TRACK: no compromise. All 167.3 hp of power available at the slightest twist of the throttle.

S – SPORT: maximum fun on the open road. Smooth delivery, maximum power. Torque limited in all gears for fun yet less demanding riding.

R – ROAD: usability in all conditions. Smooth delivery and power attenuated by 25% across the rev range. Greater usability in all conditions. Ideal for the city or wet road conditions.
The transmission has also been designed to the meet most advanced criteria to offer the maximum performance possible. To underscore the racing soul of the 65° V4 engine, it is mated to a cassette gearbox with a wet sump lubrication system (with oil in the crankcase). The wet clutch features a mechanical slipper system for optimised engine braking torque control and stability under hard braking.

CHASSIS

In keeping with the Aprilia tradition of creating state of the art chassis architectures, the aluminium frame of the Tuono V4 R exploits the strength and flexibility of cast and pressed elements in a structure that sets new benchmarks in terms of balance and dynamic efficiency. The result is maximum torsional stiffness and flexional stiffness optimised for improved feedback.

Unlike the previous generation twin cylinder Tuono 1000R, the frame developed for the Tuono V4 R has been completely revised with respect to the unit used in the RSV4 to maximise directional control and stability for a naked capable of over 270 Km/h – on the track, of course – while maintaining the legendary safety and impeccable precision typical of Aprilia frames.

This in turn led to new solutions in terms of chassis geometry, such as modifying the trail and lowering the engine in the frame to lower the centre of gravity, for exceptionally neutral behaviour and truly catlike high speed stability.
This means that the Aprilia Tuono is not just a bike with devastating performance, but one whose greatest strength is precisely the incredible ease with which any rider can access its full potential. The swingarm also uses the same constructional technology as the frame and offers the same perfect balance between flexional and torsional stiffness to contribute to the extraordinary responsiveness of the Tuono V4 R.

The unique construction technology of the frame and swingarm allows them both to proudly flaunt the naturally gleaming colour of brushed aluminium, yet another feature that is increasingly rarer in production bikes that contributes to pure racing look of the Tuono V4.
The mind-blowing naked from Aprilia comes equipped with the best components available on the market: Brembo brake system with radial callipers and 320 mm floating discs at the front (220 mm at the rear), aluminium wheels with a three spoke design weighing 2 Kg less than the five spoke version, fully adjustable Sachs upside down front fork with 43 mm stanchions, and Sachs shock absorber with separate piggy back nitrogen canister featuring adjustable spring preload, compression and rebound damping and length, to modify the setup of the bike to suit different riding styles, roads and loads – including a passenger. The choice of dual-compound tyres is new, with three different sizes approved for the rear wheel: the 190/55 tyre fitted as standard may be replaced with a 200/55 or a 190/50 tyre to explore the full performance potential of the bike – even on the track.
---
2012 Aprilia Tuono V4R – International Specifications/Technical Details
MSRP Price: TBA
Engine type
Aprilia longitudinal 65° V-4 cylinder, 4-stroke, liquid cooling system, double overhead camshafts (DOHC), four valves per cylinder
Fuel Unleaded petrol
Bore and stroke 78 x 52.3 mm
Total engine capacity 999.6 cc
Compression ratio 13:1
Maximum power at crankshaft 167.3 CV (123 kW) at 11,500 rpm
Maximum torque at crankshaft 111.5 Nm at 9,500 rpm
Fuel system: Airbox with front dynamic air intakes.
4 Weber-Marelli 48-mm throttle bodies with 4 injectors and latest generation Ride-by-Wire engine management.
Choice of three different engine maps selectable by the rider with bike in motion: T (Track), S (Sport), R (Road)
Ignition Magneti Marelli digital electronic ignition system integrated in engine control system, with one spark plug per cylinder and "stick-coil" type coils
Starter Electric
Exhaust system 4 into 2 into 1 layout, single oxygen sensor, lateral single silencer with ECU-controlled bypass valve and integrated trivalent catalytic converter (Euro 3)
Alternator Flywheel mounted 420W alternator with rare earth magnets
Lubrication Wet sump lubrication system with oil radiator and two oil pumps (lubrication and cooling)

Transmission 6-speed cassette type gearbox
1st: 39/15 (2,600)
2nd: 33/16 (2.063)
3rd: 34/20 (1,700)
4th: 32/22 (1,455)
5th: 34/26 (1,308)
6th: 33/27 (1,222)

Clutch Multiplate wet clutch with mechanical slipper system
Primary drive Straight cut gears and integrated flexible coupling, drive ratio: 73/44 (1,659)
Secondary drive Chain: Drive ratio: 42/16 (2,625)

Front suspension
Sachs upside down front fork with 43 mm stanchions. Forged aluminium calliper mountings for radial callipers. Completely adjustable spring preload and hydraulic compression and rebound damping. Wheel travel: 120 mm
Rear suspension Double braced aluminium swingarm; mixed low thickness and sheet casting technology.
Sachs piggy back monoshock with completely adjustable: spring preload and hydraulic compression and rebound damping. APS progressive linkage. Wheel travel: 130 mm

Brakes
Front: Dual 320 mm floating stainless steel discs with lightweight stainless steel rotor with 6 studs. Brembo radial callipers with 4 horizontally opposed 32 mm pistons. Sintered pads. Axial pump master cylinder and metal braided brake hoses.
Rear: 220-mm diameter disc; Brembo floating calliper with two 32 mm isolated pistons. Pump with integrated tank and metal braided hose
Wheel rims Cast aluminium wheels with 3 split spoke design.
Front.:3.5″X17″
Rear: 6.00″X17″
Tyres Radial tubeless.
Front: 120/70 ZR 17
Rear: 190/55 ZR 17 (alternative: 190/50 ZR 17; 200/55 ZR 17)

Dimensions (default settings) Max. length: 2065 mm
Max. width: 800 mm (at the handlebar)
Max. height: 1090 mm
Min. height from the ground: 125 mm
Saddle height: 835 mm
Wheelbase: 1445 mm
Trail: 107.5 mm
Steering angle:25°
Kerb weight 183 kg *
Tank 17 litres (4-litre reserve included)
*Kerb weight, without battery and fluids.
---
2012 Aprilia Tuono V4R – US Specifications/Technical Details
USA MSRP Price: $TBA USD
See international specifications listed above.
---
2012 Aprilia Tuono V4R – Canada Specifications/Technical Details
Canadian MSRP Price: $TBA CDN
See international specifications listed above.