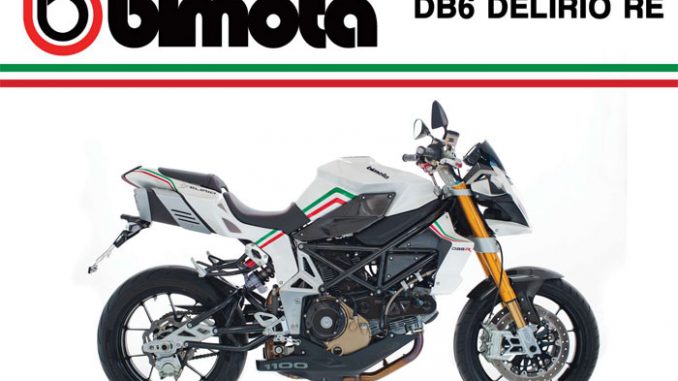 Click photos to enlarge. They make great desktop wallpaper.
2012 Bimota DB6 Delirio RE Review

2012 Bimota DB6 Delirio RE
Handling extreme

Derived from sister faired DB5, DB6 RE also makes maneuverability in narrow its excellence.
Not only to look so; DB6 Delirio RE is a motorcycle with which it is natural to be one.
He gives his best on twisty roads, where it guarantees speed of insertion and very high through the corners, while providing ample room for trajectory correction.

2012 Bimota DB6 Delirio RE Model Highlights
Fully interprets the concept of naked, where the visible parts become elements of a sculpture that is DB6 Delirio. Lines stretched for superstructures that leave in plain view of the engine and the chassis, the dominant elements of this bike minimalist.
The measures very small and the look of the headlight in the front view reminiscent of a hunting dive.
The aggressive look is completed by the DB6 Delirio silencers going to disappear under the seat.
The DB6 Delirio is also proposed in the RE version, where the look is characterized by the Italian tricolor that crosses the line of motorcycle parts and sports techniques, thereby giving it an even more aggressive.
2012 Bimota DB6 Delirio RE Features and Benefits
Technology

It's powered by a Ducati Desmo Twin "L" of 1100 cc, capable of delivering 100 horsepower at 7500 rpm.
The frame is made of composite lattice architecture, the structure is completed with chrome moly billet precious plates.
The range of 50 mm ensures excellent performance both in support that the changes of direction, as well as the rear shock is adjustable in 'hydraulic mechanics and OZ forged aluminum wheels.
Bimota also proposes the R version, which differs from the DB6E well as for the look also for the adoption of radial pumps 18mm for the brake and for a dry clutch, the steering damper positioned on a support of aluminum proceeds from the solid, an increased use of carbon than the E, which ultimately enables a considerable saving of weight.

---
2012 Bimota DB6 Delirio RE – International Specifications/Technical Details
MSRP Price: See your local Bimota dealer for pricing.
Model Motorcycles Bimota DB6 Delirio RE
Valves 2
2-cylinder engine, 4 stroke
Displacement 1078cc
Bore x stroke 94×71, 5 mm
Compression ratio 10,7:1
Power electronic injection by BIMOTA
Electric Start
Power 98hp / 7500 rpm
Rpm Max torque 10.5 kgm/5500rpm
Transmission Chain
Tube frame made of chrome-molybdenum
Front suspension 50mm inverted front forks
Suspension rear shock absorber adjustable in spring preload, rebound and compression
Front brake 2 x 320mm discs, Brembo
Rear brake disc 220mm
Dry weight 168 kg.
Capacity tank 16lt
Speed max 228 km / h
Front tire 120/70-17
Rear tire 180/55-17
Length 2045mm
Width 830mm
Height 1110mm
Seat height 820mm
Wheelbase 1430mm

Bimota S.r.l. Reserves the right to make any kind of modifications to the technical charateristics, equipments and outfits without prior notice.