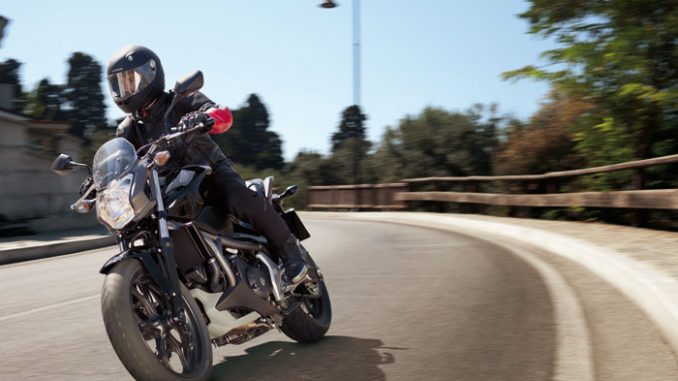 Click photos to enlarge.
They make great desktop images.
– 2012 Honda NC700SA

2012 Honda NC700SA Review
The all-new Honda NC700SA is a bike that you'll want to ride just about every day, and just about everywhere. Its low-revving 670 cc twin-cylinder engine produces oodles of user-friendly torque, making it perfect for the cut and thrust of city traffic. And it sounds and feels like no other engine out there, with a pleasing cadence as you twist the throttle that mellows to a smooth rumble as you settle in to a cruising pace on the highway. Packed with innovative technology and extremely fuel efficient, the engine features forward-canted cylinders and a compact overall size that allow it to be mounted in a way that not only contributes to the NC700SA's low centre of gravity for light, nimble handling, but also opens up a huge storage space where the cylinders and gas tank would be on a conventional bike. Flip up the lockable cover, and drop in your helmet and gloves. You might expect this type of convenience on a big scooter or touring bike, but on a sporty naked-style motorcycle? It's just one of the ways the NC700SA is different from anything you've ever ridden.
The 2012 Honda NC700S is the product of a simple requirement: to deliver a motorcycle that is fun to ride and user-friendly at a reasonable price. The NC700S offers the practicality of a commuter together with distinctive styling of a naked and fun ride-ability, combined with sharp mid-capacity handling and performance.
The development theme for the NC700S was 'New Concept – Fun Naked'. Right from the beginning, the NC700S had to be fun to ride. For this, handling is a key element, and the NC700S offers a direct, intuitive, confidence-inspiring ride for all levels of experience. The low seat position adds to the accessibility of the machine, and the engine appeals to all kinds of rider, with its smooth, responsive power and a strong feeling of low-rpm torque. The result is a machine that brings instant joy to anyone who rides it.
As well as being fun, the machine had to be easy to use and versatile. The riding position gives a high degree of control and freedom; there is also a secure internal storage space large enough to accommodate a full-face helmet, a practical feature not normally offered on a naked. The motorcycle is available with both Honda's antilock Combined Braking System (C-ABS) and the option of the second generation of Honda's Dual Clutch Transmission, which offers fingertip manual operation or the ease of completely automatic functionality.
At the heart of the machine is an all-new purpose-built engine. The liquid-cooled, in-line 2-cylinder 670cc engine is a lightweight and compact unit with a low centre of gravity. It offers a usable power delivery with excellent torque at low to medium engine rpm, combined with low emissions and a truly outstanding level of fuel efficiency.
The NC700S fuses striking, futuristic design, a pure riding experience and low running costs. All this is complemented by the versatility and ease of use that are important for a daily commuting machine. At its core lay the fundamentals of motorcycling; fun, low-cost and mobility.

2012 Honda NC700SA Key Features
Designed to be light and compact, extremely stingy on fuel, and to conserve resources during manufacturing, the all-new 670 cc, liquid-cooled, inline-twin engine used in the NC700SA incorporates numerous advanced and patented technologies.

The engine's inline cylinders are canted forward by 62 degrees to help create a low overall centre of gravity for nimble, confidence-inspiring handling, and also to create room for a convenient central storage area where the cylinders and fuel tank would typically be.

To give the engine a satisfying and distinctive sound and feel, engineers thought way outside the box. A 270-degree crankshaft combined with a uniaxial primary counterbalance shaft creates a pulse much like that of a V-twin. The intake-port layout inside the cylinder head was carefully designed to create an intentional interference between adjacent ports, which results in subtle combustion variations. In addition, the timing for the opening and closing of the intake valves was set separately for each cylinder. The result? An engine that lets you know what it's doing every time you twist the throttle.

To ensure strong acceleration, ease-of-use in the city, and a relaxed character on the highway, the engine delivers exceptionally strong low-rpm performance. The unique design creates a muscular, easy-to-use powerband not unlike that of a big-bore cruiser.

The six-speed manual transmission complements the powerband by using wide gear ratios – no need to be constantly shifting up and down to maintain strong performance.

Through the use of friction-reducing technologies, integrated components (such as running the oil pump using the counterbalance shaft and the water pump using the camshaft, which reduces the number of shafts required), precise PGM-FI electronic fuel-injection and efficient combustion, the NC700SA engine delivers exceptional fuel economy.

The engine's efficient use of fuel enables the use of a smaller-volume, more-compact fuel tank that still allows ample riding range while giving engineers extra freedom to re-think the optimal placement of other components.

The exhaust catalytic converter sits directly beneath the exhaust ports and is activated early when the engine starts. This design lets the combustion gas pass through the catalyst while it is at its hottest, thereby maximizing purification efficiency. In fact, emissions are half of what is required by the strict Euro 3 emissions standard.
Chassis/Suspension
Although lightweight, the diamond-shaped steel-tube frame was carefully designed to be very sturdy while also allowing just enough flexibility to respond smoothly to changing road surfaces. This "tuned flexibility" produces a smooth ride while also letting you feel what the bike is doing. The result? Comfort when you're just cruising, and a sporty, fun ride when you're on your favourite twisty backroad..

Like the engine, the chassis is all about creating a ride that's fun and user-friendly. The seating position is comfortably upright and relaxed, and the chassis geometry allows the NC700SA to nimbly manoeuvre through the city..

Honda's Combined Braking System with ABS (Anti-lock Braking System) provides added confidence during sudden stops or when the road is wet or slippery. Specially designed wave-style brake rotors not only keep unsprung weight low, they also require less energy and use less material during production because the rear rotor fits precisely inside the front rotor, allowing them to be stamped out of a single sheet of stainless steel at once.

Additional Features
The shape of the seat and its low height help to make it easy for you to extend your legs and reach the ground. And the handlebar position provides more room around your knees and arms for greater freedom of movement..

The 14.1-litre fuel tank is accessed beneath the seat at the rear of the bike, and the fuel is stored beneath the rider. The tail cowl has been cut short to bring the mass forward, and handy grips have been integrated into the tail section for passenger security..

Where the fuel tank would be on most bikes, the NC700SA instead has a large-capacity (21 litres), lockable utility compartment that's big enough to hold an XL-size helmet. Don't want to carry all your gear when you arrive at your destination? This handy compartment allows you to quickly stash your helmet, gloves and more out of sight. Need to hop down to the corner store for a few dinner supplies? The NC700SA makes it easy.

2012 Honda NC700SA Features and Benefits
New for 2012
Innovative two-cylinder engine
Developed to provide responsive power and strong torque in a compact package, the new 670cc inline two-cylinder engine also meets the demands of today's environmental concerns by being highly fuel-efficient (78.8mpg) for a tank range of nearly 250 miles.
Versatility and practicality
With its internal storage compartment, flexible riding position and punchy, highly efficient engine, the NC700S is ready for anything, whether city or long distance riding.
Joyous and Intuitive handling
Light in weight, pure and swift in its handling responses, the NC700S is fun and easy to handle thanks to the combination of the steel diamond frame, cast aluminium 17″ wheels and accomplished chassis geometry.
Naked styling
In keeping with a true naked look, the NC700S has minimal styling to emphasise its urban usability.
Optional Dual Clutch Transmission
The NC700S is available with either a conventional manual 6-speed transmission or Honda's Dual Clutch Transmission. The system uses two electronically controlled clutches to deliver swift and very smooth gear changes in a choice of three modes. Manual (MT) allows the rider to shift gears using a handlebar-mounted lever, while automatic mode (AT) offers two settings: S for sporty riding and D for everyday use.
Secure C-ABS braking
Combined Antilock Braking System (C-ABS) is offered as standard on the NC700S.
Model details
Engine
All-new twin-cylinder engine
The liquid-cooled SOHC 670cc twin-cylinder engine has been designed to meet the challenges of the 21st century. It is smooth, clean, fuel efficient and compact, but it is also fun to use, with a strong low-rpm power delivery thanks to its relatively long-stroke SOHC architecture and specially shaped combustion chambers. Further enhancing this satisfying feeling of effortless torque is the crankshaft, which has been designed with high levels of inertial mass. The engine produces a peak power output of 35.0 kW at 6,250rpm but more important is the available torque throughout the rev range peaking at 60.0 Nm at 4,750rpm. What's more, so linear and smooth is the power delivery that even riders new to mid-capacity engines can fully enjoy the strong level of performance.

Practical, efficient and reliable
The in-line two-cylinder configuration is both practical and efficient in terms of space layout, freeing up space within the body of the motorcycle. By reducing the number of parts to a minimum the engine is lighter, more efficient and more reliable. For example there is just one throttle body and one exhaust, despite the two cylinders. Where possible, components are made to do more than one job too. The camshaft also drives the water pump for the cooling system, while the balancer shaft, which ensures smooth, comfortable running, also drives the oil pump.
To further reduce fuel consumption, the engine was developed using stoichiometric analysis. By analysing combustion in this way, the engine has been developed to deliver exactly the fuel/air ratio required for a complete, clean burn at all idle engine rpm. An efficiency target of 78.8mpg per litre was accomplished thanks to these technology developments. Such low fuel consumption target is attractive given the sense of responsibility we all feel towards our environment. It also makes the NC700S more practical on a day-to-day basis, since a fuel-efficient vehicle is cheaper to run and requires fewer fuel stops over a given week of commuter travel.

Clean exhaust emissions
Thanks to the same stoichiometric analysis, used to reduce fuel consumption, the engine also burns extremely cleanly, minimising the emission of harmful exhaust gases. The PGM-FI fuel injection system supplies the optimum amount of fuel and is fully EURO-3 compliant thanks to an oxygen sensor in the exhaust. Finally the high-absorption catalyser has been located close to the engine. As a result the catalyst reaches operating temperature more quickly after a cold start, reducing harmful emissions over a typical journey.

Versatility and practicality
Internal storage; outstanding range
Unusually for a traditional motorcycle, the NC700S features an internal storage space large enough to hold a full-face helmet. The fuel tank holds 14.1 litres – enough for an impressive range of nearly 250 miles between fill-ups. Since this range is due to engine efficiency, not a large fuel tank, it comes without the penalty of additional weight or bulk, and also ensures very low running costs.

Comfort and accessibility
The NC700S uses a riding position similar to that of traditional naked motorcycles, which is ideal for almost every kind of environment. Key to the machine's ease of use is its low seat position, which puts riders of any physical size at ease straight away since they can put a foot down whenever they need to. The riding position also puts the rider firmly in control, with the handlebars only a relaxed reach away. The width of the handlebars offers excellent control at low and high speed, and with 35° of steering lock and a low centre of gravity thanks to the compact engine, the NC700S is perfect for getting through even the tightest city streets. The result is a machine that feels balanced and manageable. Passengers too are made comfortable, with twin grab handles for comfort and security.

Advanced multi-function instrument display
The clear and easy-to-read instrument display features a digital speedometer, a digital bar-type tachometer, a clock, a bar-type fuel meter and two trip meters.
Joyous and intuitive handling
Chassis
Immediate, responsive handling
One of the main objectives of the development team was to create a motorcycle that handles intuitively, one that turns just as you want it to with only the lightest input. Only by making the riding experience as direct and engaging as possible could the NC700S hope to be both a commuter machine and one that owners will ride purely for pleasure.
Steel diamond frame
The frame is a rugged steel diamond frame with the high levels of rigidity required for agile, responsive handling. This type of frame is ideal where space within the machine is at a premium, since it takes up very little volume but offers superb riding dynamics. Front suspension comprises 41mm telescopic forks with hydraulic damping. With 120mm of smooth wheel travel, the forks can soak up the roughest roads while also offering superb control and feedback on smooth surfaces. The rear suspension system uses a monoshock and Honda's proven Pro-Link configuration, which offers an optimised balance of soft initial stroke, for dealing with bumps, together with excellent control throughout the 120mm of wheel travel.
Optimised geometry
With 27° of caster angle and a 1525mm wheelbase, the chassis manages to deliver both reassuring straight-line stability and superb agility in the corners.
Cast aluminium wheels, powerful brakes
The NC700S uses lightweight 17″ cast aluminium wheels and optimised tyre sizes. The tyres are a 120/70 at the front for quick and light steering with plenty of traction when cornering and braking, while the broad 160/60 rear tyre delivers confidence-inspiring grip. To ensure powerful braking performance, the NC700S uses hydraulic disc brakes front and rear. The front brake uses a single large-diameter 320mm disc and the rear uses a 240mm diameter wave design for consistent all-weather performance.

Naked styling
The machine's minimalistic naked styling gives it a rugged look – set to take on tough urban environments.

Optional Dual Clutch Transmission
Optional second generation Dual Clutch Transmission
Honda's Dual Clutch transmission takes ease of use to new heights in the NC700S, offering either manual shifts at the push of a button or fully automatic functionality – just twist and go. As the name implies, the system uses two clutches: one for start-up and 1st, 3rd and 5th gears; and another for 2nd, 4th and 6th. By pre-selecting the next gear using the clutch not currently in use, the system can electronically switch clutches when required to deliver swift, smooth and seamless gearshifts. This smoothness is particularly beneficial when carrying a passenger.
Three modes of operation are available for outstanding flexibility. MT mode gives full manual control, allowing the rider to shift gears with the handlebar controls. Two fully automatic shift modes are also available. D mode is ideal for city and highway riding. In sporty S mode the transmission lets the engine rev a little higher before shifting up, giving greater performance, and also shifts down sooner when decelerating, offering useful additional engine braking.

In either D or S mode the Dual Clutch Transmission also offers immediate manual intervention if required. The rider simply selects the required gear using the MT mode shift buttons, after which the system will continue to act as an automatic transmission. This is particularly useful when preparing to overtake or when approaching a tight corner on a twisty hill road, for example. To ensure the optimum shifting schedule in D and S modes, extensive testing was conducted on all kinds of European roads.
Hassle-free maintenance
Designed to offer convenience and low running costs, the engine and transmission require the bare minimum of maintenance. The optional Dual Clutch Transmission uses heavy duty large-diameter clutches to comfortably deal with the rigours of daily use in stop/start city traffic. After purchase, a first service to check valve clearances is commonplace on commuter motorcycles but the engine requires no such attention. Service intervals are every 8,000 miles, and the engine's highly efficient iridium sparkplugs only require replacement at 32,000 miles. The result is convenient and efficient personal transport with no hassle and low running costs.

Secure Combined Antilock Braking System (C-ABS)
Secure C-ABS braking
Honda is committed to improving motorcycle safety and is proud to offer a Combined Antilock Braking System (C-ABS) as standard on the NC700S. The system dramatically improves braking performance in an emergency situation. The front and rear braking systems on two-wheeled vehicles are usually independent. This means the rider must use just the right amount of front and rear brake, a skill that comes only with experience. C-ABS links the two systems and works to optimise the pressure acting on each brake. The result is strong and safe deceleration. Additionally, C-ABS has full antilock functionality. Should the system detect either wheel is about to lock up and skid, C-ABS momentarily reduces the hydraulic pressure being applied to the relevant brake, ensuring powerful and secure braking in all conditions.
Colours

The 2012 NC700S will be launched in three colours.
– Seal Silver Metallic
– Pearl Sunbeam White
– Graphite Black
Optional equipment
The versatility of the NC700S can be further enhanced with a range of genuine Honda accessories.
35L top box
29L pannier kit
Top box inner bag
Pannier inner bag set
Windscreen
Leg deflector kit
Foot deflector kit
Grip heater kit
12V DC socket kit
Main stand
Alarm
U-lock

---
2012 Honda NC700SA – American Specifications
USD MSRP Price – NA USD
Model not available in the USA
---
2012 Honda NC700SA – Canada Specifications
Candian MSRP Price – TBA CDN
Engine Type Liquid-cooled parallel-twin
Displacement 670 cc
Bore & Stroke 73 x 80 mm
Compression Ratio 10.7:1
Valve Train Chain driven SOHC, 4 valves per cylinder
Fuel Delivery PGM-FI electronic fuel injection
Transmission Six-speed
Final Drive O-ring sealed chain
Front Suspension 41mm telescopic fork; 120 mm (4.7 in.)travel
Rear Suspension Single shock, Pro-Link swingarm; 120 mm (4.7 in.) travel
Tires 120/70ZR – 17 radial front; 160/60ZR – 17 radial rear
Brakes Front 320 mm wave disc with triple-piston caliper; rear 240 mm wave disc with single-piston caliper. Combined Braking System with ABS
Ground Clearance n/a
Seat Height 790 mm (31.1 in.)
Wheelbase 1,525 mm (60 in.)
Curb Weight 215 kg (473 lb) including required fluids and full tank of gas – ready to ride
Fuel Capacity 14.1 litres
Colour Seal Silver Metallic with Thunder Yellow
Warranty 1 year, unlimited mileage, freely transferable warranty; extended coverage available with Honda Plus
---
2012 Honda NC700SA – Europe Specifications
EU MSRP Price – TBA
ENGINE
Type Liquid-cooled 4-stroke 8-valve, SOHC parallel 2-cylinder
Displacement 670cc
Bore x Stroke 73 x 80mm
Compression Ratio 10.7 : 1
Max. Power Output 35 kW/6,250min-1 (95/1/EC)
Max. Torque 60Nm/4,750min-1 (95/1/EC)
FUEL SYSTEM
Carburation PGM-FI electronic fuel injection
Throttle Bore 36 mm
Air-cleaner capacity 5.8 litres
Fuel Tank Capacity 14.1 litres
Fuel Consumption (WMTC mode of 35kW machine)
MT 27.7 km/l (78.2mpg)
DCT 27.9 km/l (78.8mpg)
ELECTRICAL SYSTEM
Ignition System Computer-controlled digital transistorised with electronic advance
Ignition Timing 12° BTDC (idle) ~ 53.9° BTDC (6,600min-1)
Sparkplug Type IFR6G-11K
Starter Electric
Battery Capacity 12V-11AH
Headlights 12V; 60W 1 (High) / 55W 1 (Low)
DRIVETRAIN
Clutch Wet, multiplate
* Wet multiplate, hydraulic 2-clutch
Clutch Operation * D mode/S mode/Manual mode
Transmission Type 6-speed
Primary Reduction 1.731?DCT 1.921
Gear Ratios 1 2.812?DCT 2.666
2 1.894 DCT 1.904
3 1.454 DCT 1.454
4 1.200 DCT 1.200
5 1.033 DCT 1.033
6 0.837 DCT 0.837
Final Reduction 2.687?DCT 2.437
Final Drive Chain

FRAME
Type Diamond; steel pipe
CHASSIS
Dimensions (LxWxH) 2195mm x 760mm x 1130mm
Wheelbase 1525mm
Caster Angle 27°
Trail 110mm
Turning Radius 3.0m
Seat Height 790mm
Ground Clearance 140mm
Kerb Weight 215kg (F: 103kg; R: 112kg)
*227(F: 108kg; R: 119kg)
Max Carrying Capacity 209kg
SUSPENSION
Type Front 41mm telescopic fork, 120mm travel
Rear Monoshock damper, Pro-Link swingarm, 120mm travel
WHEELS
Type Front cast aluminium
Rear cast aluminium
Rim Size Front 17M/C x MT3.50
Rear 17M/C X MT 4.50
Tyre Size Front 120/70-ZR17M/C(58W)
Rear 160/60-ZR17M/C(69W)
Tyre Pressure Front 250KPa
Rear 290KPa
BRAKES
Type Front 320mm single wavy hydraulic disc with 2-piston (* 3-piston) caliper and sintered metal pads
Rear 240mm single wavy hydraulic disc with single-piston caliper and sintered metal pads *DCT version

All specifications are provisional and subject to change without notice.