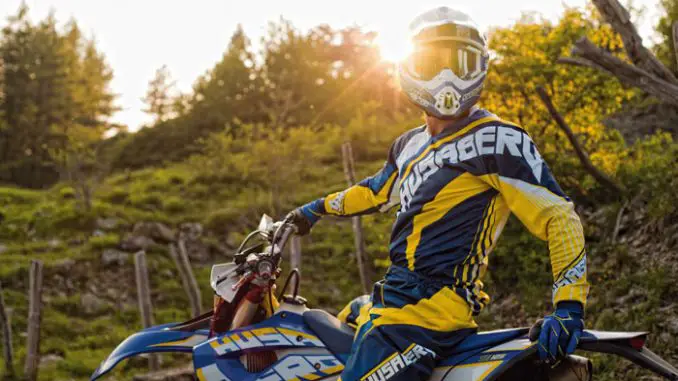 Click photos to enlarge. They make great desktop wallpaper.
– 2012 Husaberg TE125

2012 Husaberg TE125 Review
The youngest member of the Husaberg family rounds off the range at the bottom. This means that both up-and-coming 16 year-old racers and ambitious E1 riders of every age can now at last also use the top quality components that only Husaberg can offer. Lightweight, compact, manoeuvrable – there's not a gram too many on the TE 125.

+ closed cartridge forks
+ unrivalled responsiveness
+ constant damping throughout the entire suspension travel
+ unbeatable power-to-weight ratio typical of a two-stroke
+ the more difficult the terrain, the greater the benefit
+ minimum costs of acquisition and maintenance
+ uncomplicated, tried and tested technology as the basis for maximum enduro fun
2012 Husaberg TE125 Features and Benefits

New handlebars from Neken, with the same shape as before, guarantees supreme stiffness and safety.


Classy triple clamps machined from a single piece are fitted as standard to all Husaberg models. This results in precise clamping of the fork tubes, which supports the flawless function of the forks.


The polyethylene fuel tank on the TE models has been designed for sufficient range combined with enduro ergonomics and hence conveys optimum contact with the bike. With an 11 litre capacity, it is big enough for completing the longest race stages with ease and also allows extended enduro tours.


Unbeatable high-end chassis with sophisticated closed-cartridge technology – extremely sensitive + optimal damping characteristics, just like the "big bikes" + tuned to low weight


The clever liquid cooling system leads the water directly from the cylinder head through the frame triangle via a T-piece and straight to the radiators. This means simple mounting of the radiators, plenty of space under the fuel tank and therefore unhindered air circulation.


The nickel-plated exhaust pipe has been specially designed for enduro use and contributes significantly to the controllable rideability combined with the highest levels of performance. The aluminium main silencer manufactured in a two-component process is fastened perfectly to the subframe with a strong plastic sleeve.


The high-volume airbox optimally provides the engine with fresh, clean air. The generously sized Twin-Air foam air filter can be changed in a matter of seconds – with no tools at all.

A stable and at the same time extremely lightweight design made from high-quality chrome molybdenum steel tubes and profiles ensures that the central tube frame offers an ideal level of strength and flex. This guarantees the greatest degree of directional stability and torsional rigidity.


State-of-the-art braking technology from Brembo. A lightweight, floating two-piston brake caliper at the front and a compact single-piston floating caliper at the rear, combined with ultra-light Wave brake discs, provide for best possible application and maximum braking performance.


New cylinder for even more torque at low revs (TE 300) + very rideable power development + spontaneous punch from low revs for tremendous rear wheel traction + more than enough power in the upper rev range to be able to climb the steepest of slopes with the greatest of ease + engine speed-dependent exhaust control with new reed valve block for even better throttle response: with two additionally supplied control springs that provide adjustable characteristics for power development that can be tuned to be softer and more traction-oriented or more aggressive for spontaneous power.


The digital ignition is factory-fitted with a new and more compact ignition curve switch on the handlebars that allows selection of two different ignition curves while riding + the rider can choose between "soft" – i.e. smoother, more traction-oriented performance – or "aggressive" with noticeably more spontaneous performance.


Electric starter for hardcore enduro use, which, thanks to an extremely clever patent, is hidden behind the exhaust, saving space and well protected, perfect for when the strength of the rider dwindles in treacherous terrain.


Convenient hydraulic clutch actuation from Brembo, optimum application, specially designed for two-stroke characteristics, always with a precise pressure point.


+ compact and extra-lightweight 2-stroke engine with a displacement of 249 cc, 293.2 cc or now with 124.8 cc + enduro-specific engine characteristics + exhaust control regulated by centrifugal force and adjustable ignition allow tuning of the engine characteristics to the needs of the rider or the terrain + robust six-speed transmission designed precisely for real enduro use + smooth hydraulic clutch + patented electric starter

Super-slim ergonomics for optimum freedom of movement, perfect engagement between the rider and the bike enables playful handling, typical Husaberg appearance and fresh graphics

---
2012 Husaberg TE125 – Specifications/Technical Details
MSRP Price: See local Husaberg dealer for special pricing.

Engine
Engine type Single cylinder, 2-stroke
Displacement 124.8 cc
Bore/Stroke 54?/?54,5 mm
Compression ratio
Starter/Battery Kick starter/Kick starter
Transmission 6 gears gears
Fuel system Keihin PWK 36S AG
Control Exhaust control
Lubrication Mixture oil lubrication 1?:?60
Engine Oil Motorex, SAE 15W-50
Primary ratio 23?:?73
Secondary drive 14?:?42 (13?:?50)
Cooling Liquid cooling
Clutch Wet multi-disc clutch, hydraulically operated
Engine Management System Kokusan

Chassis
Frame Double cradle perimeter design 25CrMo4
Subframe Aluminium
Handlebar Neken, Aluminium Ø 28/22 mm
Front suspension WP-USD Ø 48 mm Closed Cartridqe
Rear suspension WP-PDS DCC shock absorber
Suspension travel front/rear WP-USD Ø 48 mm Closed Cartridqe
Front/rear brakes Disc brake Ø 260 mm/Disc brake Ø 220 mm
Front/rear rims 1.60 x 21″/2.15 x 18″ DID
Front/rear tires 90/90-21″; 120/90-18″
Chain X-Ring 5/8 x 1/4″
Silencer Aluminium
Steering Head Angle 63.5°
Wheel base 1,475 +/– 10 mm
Ground clearance 385 mm
Seat height 990 mm
Tank capacitiy approx. 11 litres
Weight approx. 97 kg



*Specifications subject to change without notice.
---
2012 Husaberg TE125 – Press Release
Husaberg model year 2012 is about to hit the trails

For model year 2012 Husaberg will be 100% Enduro and with the addition of a sixth model to the Enduro line-up the Swedish brand once again addresses a completely new target group.


In Model Year 2012 Husaberg clearly focuses on its core competence again – Enduro. From the very beginning back in 1988, when a couple of Swedish Enduro enthusiasts decided to develop and build a radically new Enduro machine, which then became known as the first Husaberg, up until today Enduro was always the brand's inner core. Be it in terms of sales or in terms of racing success, the FE and TE Enduro bikes have always been the brand's most valuable assets and therefore the decision was taken to go "back to the roots" and become 100% Enduro again.
A new model for new Husaberg riders
Husaberg wants to open up access to the brand for even more Enduro enthusiasts. Therefore the model range is further expanded by the addition of a new model, the TE 125.

After the bigger-bore 2-stroke models last year which have proven very successful in racing (victory at Hell's Gate, Tough One, Extreme Lagares and Vice-World Champions title in the Indoor Enduro World Championship) as well as in sales right away, this new addition to the Husaberg model range will attract even more new customers to Husaberg. The passionate 125cc riders on one hand and, even more importantly, the young Enduro enthusiasts and racers from the age of 16 on the other hand. It is the next logical step for Husaberg to become a full range 100% Enduro brand attracting new young customers.
The TE 125 is unbeatable in terms of easy handling and with the top of the range components like the closed-cartridge fork, machined triple clamps and translucent 11 litre tank it shares with its siblings will be an easy choice for all E1 racers who want the best price/performance ratio of the class.
New look, better "Husability"

The look of the 2012 model range has been refreshed not only by new graphics but also by very useful changes and additions. A very convenient change which also contributes to the fresh and light overall appearance of the bikes is the now completely translucent fuel tank for all FE and TE models which makes it even easier to determine the fuel level in the tank. As the yellow coated frame might only look good the addition of very stable MX handguards offers excellent protection and further underlines the high level of equipment offered as standard on the Husaberg models like the frame protection (all models) and the engine protection (all models but TE 125).
Only the best components

Of course Husaberg remains true to its premium standards and therefore all models feature the top of the range suspension with a closed-cartridge front fork and the fully adjustable PDS shock. The fork is held in place by machined triple clamps whereby the upper triple clamp is a new, lighter and more rigid version offering even better clamping characteristics for the 2012 models.
The high performance brakes featured on the 2012 Husaberg models are again supplied by Brembo, the shrouds are manufactured using the latest in-mould technology making them more resistant to wear and the hydraulic clutch actuation and the electric start button (all models but TE 125) are mounted on an extremely rigid Neken aluminium handlebar.
The big-bore 2-stroke models TE 250 and TE 300 receive a new reed valve block for even better throttle response and the TE 300 also features a new cylinder for increased bottom-end power. The standard on-the-fly ignition switch is replaced in model year 2012 by a new, smaller version so far only available from Husaberg's accessories programme.
Last but not least Husaberg will be expanding the Husaberg Factory Team's long-standing cooperation with Michelin on to the standard bikes by equipping all models from model year 2012 with Michelin Enduro Competition III tyres.
Value for money

Although still using only the best components available on the market and not compromising any detail when it comes to build quality, focusing on the core Enduro models, complimenting better sourcing terms resulting from a steadily growing sales volume over the last 3 years, Husaberg can now pass on these cost benefits to its Husaberg riders with more attractive retail prices* for model year 2012.
All news and details about the 2012 models are available here on Total Motorcycle website.
* price reductions may vary or not be valid in all countries