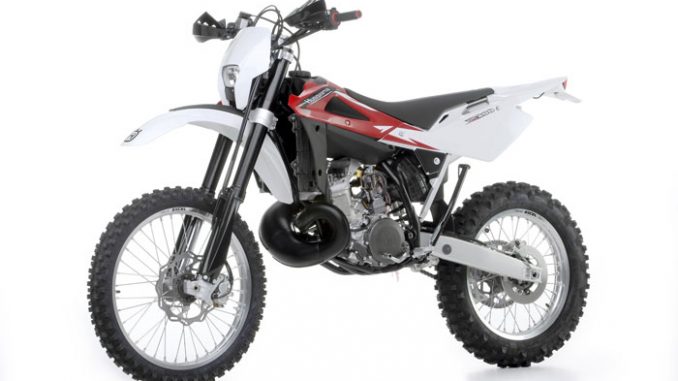 Click photos to enlarge.
They make great desktop images.
– 2012 Husqvarna WR300 Review

2012 Husqvarna WR300
The outstanding performance of the WR300 pairs the light weight of a two-stroke with ground-gripping proficiency of a four-stroke. It is the race weapon of choice for Husqvarna's E3-class World Enduro Championship riders because it is the ultimate power-to-weight ratio; smooth, linear and fast-revving power pours on smooth while handling remains nimble and accurate.

WR 300: the winning alternative!
One thing is sure: the Husqvarna CH Racing Team riders like to go against the grain. The WR300 is the bike of choice for Sebastien Guillaume. A choice that might seem daring, but the French champion surrounded by big, powerful 500 cc four-stroke machines – has for years taken his place on the podium of the E3 class at the International Six Days Enduro Championship.

Because Guillaume likes his enduro tough, for real men, and that means the Husqvarna WR300, designed specially on the basis of his experience at the WEC. Indeed for a long time the Husqvarna "300" was simply a suped-up version of the WR250. When in 2008 it entered the Husqvarna price list as a model, the WR300 was immediately taken to heart by professionals and fans alike.
NEW HUSQVARNA WR250 AND WR300
Husqvarna continues the revewal of his range for the next commercial season.

The brand new WR250 and WR300 demonstrate Husqvarna's ongoing commitment to two strokes.

A series of important upgrades to the WR 250 and WR 300 learned from World Enduro racing have benn incorporated. Compared on the 2010 models, readily visible changes include news graphics, new rear racing mudguard with an integrated LED tail light and a nee reinforced mount for the headlight/front number plate. These changes give the same race-ready look of the enduro models
campaigned by World Enduro frontrunner Antoine Meo and match the looks of the rest of the 2012 Husqvarnas.

Less visible, but even more important from a technical point of view is the new Ducati Energia ignition. This ignition allows for smoother power delivery and improved performance for both WR 250 and WR 300 displacements. Husqvarna riders in warmer climates certainly appreciate the new thermostat which optimizes the working temperature of the engine.

In addition to the engine improvements, both bikes get revised rear suspension settings ( based on the works bikes), as well as improved airbox.
2012 Husqvarna WR300 Features and Benefits
The new WR300 is the king of the E3 class. Improved with a smoother power delivery giving a bike which is easier to ride for longer, without sacrificing the fun factor a 300 2-Stroke should always have!

New ignition system
Smoother Power Delivery
New Suspension Settings
Improved Air Box Design
Maximum two-stroke power
The new WR300 is the largest engine capacity 2-stroke in the Husqvarna range, yet it has a surprisingly linear and progressive power delivery. The engine is powerful, always ready and responsive to minimum throttle changes, but not so explosive as to be demanding to the point that only a pro can handle it. In fact it immediately became an alternative – light, manageable, and ? let's face it, money is a factor too – more economic, for E3 class pro bikers, or fans of extreme enduro. The engine is closely based on the crankcase of the WR250, which houses a larger bore cylinder (72 mm, giving an engine capacity of 293.1 cc). All component parts are top of the range: Ducati Energy digital ignition, Mikuni TMX38 carburettor and V-Force reed valve are just the more obvious examples. The five speed gearbox performs well across the range of power supplied by the engine.
Mechanical design in common with the 250
The WR300 and WR250 share the same mechanical design: same steel tubing chassis, same swingarm and linkage, same suspension. The Kayaba forks are hydraulically adjustable for both compression and rebound, the monoshock is a Sachs. The 2012 version benefits from the same updates common to the range: chassis painted black, anodised silver Excel hubs and redesigned graphics. A new look for a bike that remains essentially the same and technically unchanged, which says a lot about how much work has already gone into fine tuning, testing and finishing in the past. The WR300 and WR250 also share a common layout and all component parts: Brembo brakes – large diameter (260 mm) front daisy wheel Braking with twin piston floating calipers – while the rear disc (220 mm) is floating and has no apertures, as preferred by Guillaume and other riders, to ensure maximum control on muddy terrain.
---
2012 Husqvarna WR300 – North American Specifications/Technical Details
MSRP Price: $6,999 USD
DIMENSIONS/WEIGHT/CAPACITIES:
Wheelbase: 58.46 in.
Overall Length: 88.98 in.
Overall Width: 33.07 in.
Seat Height: 38.76 in.
Rake: 27 degrees
Trail: 3.93 in.
Ground Clearance: 13.58 in.
Curb Weight (no gas): 235.9 lbs.
Fuel Capacity: 2.5 gallons
Oil Capacity: 0.84 quarts
FRAME:
Chromoly steel single-tube frame cradle (round tubes); light aluminum alloy sub frame
SUSPENSION:
FORK – Kayaba 48mm open-cartridge fork with fully-adjustable compression and rebound damping. Upside down (USD) fork features 11.8 inches of front wheel travel.
SHOCK – Sachs single shock with remote reservoir, adjustable spring preload, compression and rebound damping. Shock delivers 12.0 inches of travel.
BRAKES:
Front: Braking 260mm wave rotor, Brembo dual-piston floating caliper; Hydraulic actuation.
Rear: Braking 220mm fixed disc, Brembo single piston floating caliper; Hydraulic actuation.
RIMS/TIRES:
Front: 1.60×21 Excel rim, 90/90-21
Rear: 2.15×18 Excel rim, 140/80-18
ENGINE:
Type: Single-cylinder, two-stroke
Head: Power valve with mechanical control on the exhaust port
Displacement: 293.1
Bore x Stroke: 72 x 72mm
Compression Ratio: 6.9:1
Starting: Kick start
Clutch: Wet multi-plate with mechanical control
Cooling: Liquid, 2 radiators
IGNITION: CDI electronic with variable advance
FUEL SYSTEM: 38mm Mikuni TMX carburetor
LUBRICATION: Fuel/oil pre-mix of 50:1
TRANSMISSION: 5 speed
Ratios:
1st 30/14
2nd 28/16
3rd 23/16
4th 23/19
5th 20/19

---
2012 Husqvarna WR300 – Australian Specifications/Technical Details
AU MSRP Price: See dealer for pricing.
Engine
Type Single cylinder, 2-stroke, reed valve and H.T.S. valve with mechanical control on exhaust port
Bore 72.0 mm
Stroke 72.0 mm
Displacement 293.1 cc
Compression ratio 6.9 : 1
Starting Kick
Cooling Liquid-cooled
Radiator 2
Lubrication Premix 50 : 1
Ignition C.D.I. electronic, analogue type with variable advance
Spark plug type NGK BR 8EG
Spark plug gap 0.6 – 0.7 mm
Carburetor Mikuni TMX 38
Clutch Wet, multi-plate type, mechanic control
Driving disc number 8
Driven disc number 7
Chassis
Type Steel single tube cradle with steel round tubes; Rear frame in light alloy
Front suspension KAYABA USD telescopic hydraulic fork with advanced axle, compression and rebound stroke adjustment
Fork leg diameter 48 mm
Fork travel 300 mm
Rear suspension SACHS Progressive "Soft Damp" type with single hydraulic shock absorber; spring preload adjustment. Compression and rebound adjustment (compression stroke – double adjustment)
Rear wheel travel 320 mm
Front brake 260 mm fixed disc "wave" type with hydraulic control and floating caliper
Rear brake 220 mm fixed disc "wave" type with hydraulic control and floating caliper
Rim front 1.60″ x 21″, light alloy
Rim rear 2.15″ x 18″, light alloy
Tyre front 90/90-21″ MICHELIN Enduro Competition 3
Tyre rear 140/80-18″ MICHELIN Enduro Competition 3
---
2012 Husqvarna WR300 – International Specifications/Technical Details
MSRP Price: See dealer for pricing.

Dimensions, weight, capacities
Wheelbase58.46in
Overall length88.98in
Overall width33.07in
Overall height51.18in
Seat height38.76in
Min. ground clearance13.58in
Trail3.93in
Kerb weight, without fuel227.1lb / 103kg
Fuel tank capacityU.S. Gallons 2.5 / Imp. Gallons 2.09
Transmission oilU.S. Gallons 0.84 / Imp. Gallons 0.70
Engine
TypeSingle cylinder, two stroke
Bore2.83in
Stroke2.83in
Displacement17.87cu.in / 293,1cc
Compression ratio6.9:1
StartingKick starter
CoolingLiquid cooled
Water radiator No. 2
Lubrication
EngineFuel-oil premixture of 50:1
Ignition
TypeElectronic, with adjustable advance
Spark plug typeNGK BR 8EG
Fuel system
TypeReed valve
Brand and typeMikuni TMX 38
Clutch
TypeWet, multiplate type; mechanical control
Transmission
TypeConstant mesh gear type
Number of gears5
Secondary drive
Transmission sprocketTeeth 13
Rear wheel sprocketTeeth 48
Transmission ratio3,692
Driving chain
Manufacturer and typeRegina ORN – A – 5/8X1/4?
Frame
TypeSingle tube with Cr Mo Steel; Rear frame with aluminum alloy
Front suspension
TypeUpside-Down hydraulic fork; Hydraulic regulation for compression and rebound
Fork legs dia.1.89in
Travel on legs axis11.8in
Front fork manufacturerKayaba
Rear suspension
TypeProgressive with single hydraulic shock absorber; spring preload adjustment, compression and rebound adjustment
Wheel travel12.0in
Shock absorber manufacturerSachs
Brakes
FrontFixed disc, "Wave" type, with hydraulic control and floating caliper
Disc dia.10.24in
Hydraulic control manufacturerBrembo
Brake disc manufacturerBraking
RearFixed disc, "Wave" type, with hydraulic control and floating caliper
Disc dia.8.66in
Hydraulic control manufacturerBrembo
Brake disc manufacturerBraking
Wheels
FrontAluminium alloy
Size1.6 x 21″
BrandExcel
RearAluminium alloy
Size2,15 x 18″
BrandExcel
Tires
FrontMichelin Enduro Competition 3
Size90/90-21″
RearMichelin Enduro Competition 3
Size140/80-18″
Internal ratios
1st2,142 (30/14)
2nd1,750 (28/16)
3rd1,437 (23/16)
4th1,210 (23/19)
5th1,053 (20/19)
Primary drive
Engine sprocketTeeth 27
Clutch gearTeeth 69
Transmission ratio2,555
Electrical equipment Voltage12V