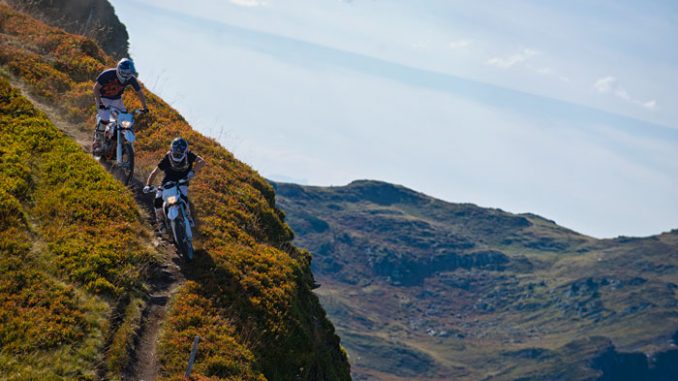 Click photos to enlarge.
They make great desktop images.
– 2012 KTM Freeride 350 Review

2012 KTM Freeride 350
Cross-country motorbiking is tough and extreme, Enduro riders need the fitness of a mountain goat and the bike control of a circus
artist. As of 2012, all that is mud under the bridge. Curtains up for the new lightness! The new KTM Freeride 350 delivers pure riding fun on short trips to the city centre and makes a great holiday companion that you can strap to the rear of a camper van.

With its forward-looking concept, the KTM Freeride 350 is an icon for a new off-roading dimension: extremely easy handling, a
low seat-height, pronounced user-friendly ergonomics and a very low weight of under 100kg ensure that the rider stays on top of
things even on the most difficult trails. He can stay just as cool in rough terrain as on narrow single trails and wide gravel tracks.

The ideal power plant for this concept is KTM's modern, 350cc DOHC 4-stroke engine, specially re-designed for the Freeride
350 to score in any situation with an easily controlled, torque-oriented power delivery.
Everything for lightness:

revolutionary frame concept The backbone of the Freeride 350 is a completely new composite frame made of top quality chrome-molybdenum steel and forged aluminium components. It combines the sections of the front steel frame with multi-functional aluminium profiles. A large amount of steering lock helps the rider gain confidence quickly, as great an advantage in thick city traffic as in tough
terrain. The high-tensile polymer rear subframe is connected to the main frame by a secure triple link.

The suspension components of the Freeride 350 have been specially designed for this bike and are top quality, as befitting a genuine KTM. New, 43mm WP USD front forks ensure excellent response and damping, while their top-drawer, CNC-machined triple clamps guarantee outstanding stability.
On the rear, a newly developed PDS monoshock is directly linked to an also brand-new swing-arm, making for supreme ride comfort and optimum ground contact. True to KTM's "design follows function" philosophy, the focus of development lay mainly with practical ergonomics. The result is unlimited mobility due to very slim seat and spoiler lines as well as a bodywork with superbly defined contact patches between rider and machine.

Besides the utmost mobility, the long, slim seat offers a lot of sitting comfort for a bike for this purpose. Thanks to an integral seat release, it can also be easily unlocked for access to the tank, air filter and electrics. Compared to competition Enduros, a seat
height of only 895 mm makes sure the rider's feet reach the ground a lot easier, which also means more off-road confidence.

Remarkable, and typical of the Freeride 350's versatility are the eccentric footpeg brackets. Bolted to the frame, they allow to change the offset by simply rotating them 180 degrees. This also changes the leverage on the pegs to change the bike's traction and cornering behaviour.

Powerful and effortless

The heart of the Freeride 350 is based on the successful engine of the 350 EXC-F as first presented in 2011. However, for the new vehicle concept, KTM gave it a different tune. In order to save even more weight and space, the kick starter had to go. Further weight is saved by using an extra-light, die-cast aluminium crankcase. For enhanced durability, the cylinder head is equipped with steel valves. When resizing the exhaust and airbox, the engineers deliberately focused on torque instead of racing performance to gain the most efficient power delivery. In rough terrain, this conserves the rider's strength and ensures maximum traction. In the Freeride tune, the state-of-the art engine with an electronic Keihin fuel injection has 17kW (23hp) – easily enough to climb even the steepest inclines with ease. So the re-tuned engine always offers sufficient power reserves. Specially adapted to the 350cc engine, the tough 6-speed gear box is distinguished by easy and precise gear shifting, while its short gearing ensures a great acceleration from low engine speeds. The new hydraulic clutch mechanism, also specially developed for the Freeride, adds a previously unknown lightness. In addition, an optional map select switch allows to activate different power delivery modes.
A further unique feature is the exhaust system: Protected by the frame and a solid underride guard plate, the exhaust is guided inside a central header pipe below the engine. Dual aluminium silencers each contain their own catalytic converter.

Freeride 350. Hop on and enjoy off-roading. Enduro has never been this easy.

2012 KTM Freeride 350 Features and Benefits
See Above
---
2012 KTM Freeride 350 – International Specifications/Technical Details
MSRP Price: See KTM dealer for pricing.

ENGINE

Engine type
Displacement
Bore/stroke
Compression ratio
Starter /battery
Transmission
Carburetor
Control
Lubrication
Gear ratios
Primary ratio
Final drive
Cooling
Clutch
Ignition


CHASSIS


Frame
Subframe
Handlebar
Front suspension
Rear suspension
Suspension travel front/rear
Front/rear brakes
Front/rear rims
Front/rear tires
Chain
Silencer
Steering head angle
Wheel base, approx.
Ground clearance, approx.
Seat height, approx.
Tank capacity, approx.
Weight, without fuel, approx.

 

Single cylinder, 4-stroke
349.7 cc
88/57,5 mm
12,3:1
Electric starter / 12V 4Ah
6 gears
Keihin EFI, throttle body Ø 42 mm
4 V / DOHC with finger followers
Pressure lubrication with 2 oil pumps
14:32 16:26 20:25 22:23 25:22 26:20
24:73
11:48
Liquid cooling
Wet multi-disc clutch, Fromula hydraulics
Keihin EMS


 

Perimeter steel-aluminium composite frame
High-strength polyamide/ABS plastic
Aluminium Ø 28/22 mm
WP-USD Ø 43 mm
WP-PDS shock absorber
250/260 mm
Formula disc brakes Ø 240/210 mm
1,60 x 21"; 2,15 x 18" GIANT RIMS
90/90-21″; 4.00-18 Dunlop D 803
X-Ring 5/8 x 1/4″
2 x Aluminium
67°
1418 ±10 mm
325 mm
895 mm
5.5 l
99.5 kg
---
2012 KTM Freeride 350 – American Specifications/Technical Details
US MSRP Price: See KTM dealer for pricing and availability

To be annouced. See International Specifications.

---
2012 KTM Freeride 350 – Canada Specifications/Technical Details
Canadian MSRP Price: See KTM dealer for pricing and availability

To be annouced. See International Specifications.